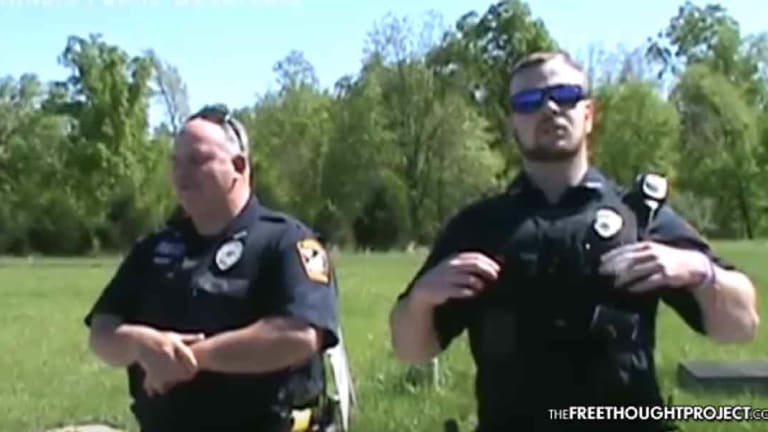 WATCH: Man Arrested Because Cops 'Fear for Their Lives' for Being Filmed
Cops claimed that a man filming them was causing an FBI agent to fear for his life, so he was arrested for making a video of police.
Marion, IL - Photography activists were recently arrested for filming in public. Calling themselves Southern Illinois Public Observers were originally told they were free to leave but then the unidentified law enforcement officer blocked their egress.
After they were impeded, their identification was demanded. They were told they were "temporarily" detained. They responded by saying they wanted to know for what crime they were being detained, yet none of the officers could "articulate" what crime for which they were being detained.
Another officer chimed in and said, "You do realize that if someone comes out here and says that you're alarming them by filming them you can be charged with disorderly conduct?"
Then, what appears to be an FBI agent says that, "I am telling you, officer, and I am telling them that I feel alarmed that they are filming my building without identifying who they are. I have concern for the building and the residents of that building."
An activist chimed in and said, "You have no reasonable expectation of privacy," he stated indicating that by being in public and interacting with the activists, he cannot claim to be conducting official FBI business which their filming activities would impede, according to the law.
Later, a sergeant with the police force arrived and said "we have a victim of disorderly conduct. Someone at the FBI office is disturbed by your behaviors. So at this point, you're being arrested."
The citizens' right to film the police is a legal precedent, established in Glik v Cunniffe, where the court held that "a private citizen has the right to record video and audio of public officials in a public place."
In that case, the court went on to say:
"…we have previously recognized that the videotaping of public officials is an exercise of First Amendment liberties," affirming Glik's constitutional right to videotape public officials in public places.
The court went on to state that the right to film public officials in public places was clearly established a decade prior to the case, which would mean it was already established as early as 1997.
In spite of court rulings, the myriad of lawsuits against police, and the sheer negative publicity given to departments for police attacking those who would film them -- the abuse continues.
If you or someone you know is planning to attempt to film cops, here's some things you need to know. According to the ACLU's guide to photographing in public;
TAKING PHOTOGRAPHS AND VIDEO OF THINGS THAT ARE PLAINLY VISIBLE IN PUBLIC SPACES IS A CONSTITUTIONAL RIGHT—AND THAT INCLUDES TRANSPORTATION FACILITIES, THE OUTSIDE OF FEDERAL BUILDINGS, AND POLICE AND OTHER GOVERNMENT OFFICIALS CARRYING OUT THEIR DUTIES.

UNFORTUNATELY, LAW ENFORCEMENT OFFICERS HAVE BEEN KNOWN TO ASK PEOPLE TO STOP TAKING PHOTOGRAPHS OF PUBLIC PLACES. THOSE WHO FAIL TO COMPLY HAVE SOMETIMES BEEN HARASSED, DETAINED, AND ARRESTED. OTHER PEOPLE HAVE ENDED UP IN FBI DATABASES FOR TAKING INNOCUOUS PHOTOGRAPHS OF PUBLIC PLACES.

THE RIGHT OF CITIZENS TO RECORD THE POLICE IS A CRITICAL CHECK AND BALANCE. IT CREATES AN INDEPENDENT RECORD OF WHAT TOOK PLACE IN A PARTICULAR INCIDENT, ONE THAT IS FREE FROM ACCUSATIONS OF BIAS, LYING, OR FAULTY MEMORY. IT IS NO ACCIDENT THAT SOME OF THE MOST HIGH-PROFILE CASES OF POLICE MISCONDUCT HAVE INVOLVED VIDEO AND AUDIO RECORDS.
As for video, the ACLU recommends;
NO MATTER WHO YOU ARE YOU HAVE THE FIRST AMENDMENT RIGHT TO:

PEACEFULLY ASSEMBLE AND PROTEST IN PUBLIC SPACES AND PHOTOGRAPH AND VIDEOTAPE THE POLICE OR ANYTHING ELSE IN A PUBLIC SPACE.

HERE'S THE DEAL:

PUBLIC SPACES INCLUDE STREETS, SIDEWALKS, AND PUBLIC PARKS.
PRIVATE PROPERTY OWNERS CAN SET RULES FOR PUBLIC ENTRY (LIKE A THEATER SAYING "NO CELL PHONES").

THE RIGHT TO TAKE PHOTOS DOES NOT GIVE YOU THE RIGHT TO:

GO PLACES YOU'RE NOT OTHERWISE ALLOWED, RECORD AUDIO OF OTHER PEOPLE'S PRIVATE, CONVERSATIONS, TRESPASS, OR INTERFERE WITH POLICE ENGAGED IN LEGITIMATE LAW ENFORCEMENT OPERATIONS.

POLICE OFFICERS MAY NOT: CONFISCATE OR DEMAND TO VIEW YOUR DIGITAL PHOTOS OR VIDEOS WITHOUT A WARRANT, OR DELETE YOUR PHOTOS OR VIDEOS UNDER ANY CIRCUMSTANCES.

IF YOU'RE STOPPED OR DETAINED FOR TAKING PHOTOS:

BE POLITE.
DON'T RESIST.
ASK, "AM I FREE TO GO?"
IF THE OFFICER SAYS "NO," YOU ARE BEING DETAINED.
IF YOU ARE DETAINED, ASK WHAT CRIME YOU'RE SUSPECTED OF COMMITTING.
UNTIL YOU ASK TO LEAVE, BEING STOPPED IS CONSIDERED VOLUNTARY.
It's perfectly reasonable and acceptable to remind the police officer that "taking photographs is your First Amendment right" and "does not constitute reasonable suspicion of criminal activity" according to the American Civil Liberties Union.