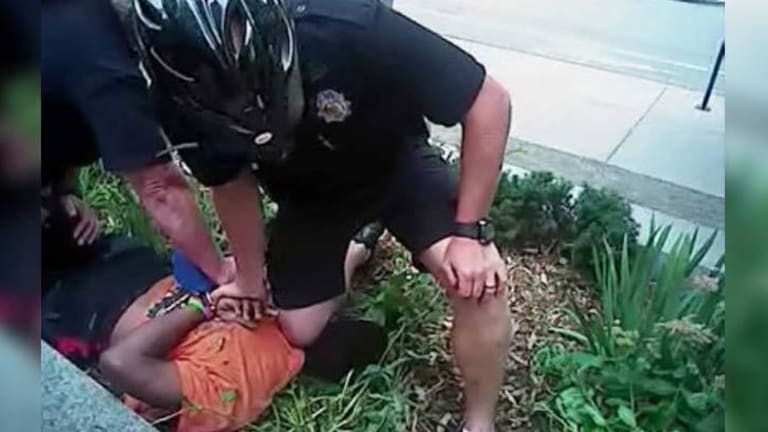 75% of Denver Cops Aren't Turning on Body Cams in Use of Force Contacts, This is Why
The camera doesn't lie, which is proving to be a significant inconvenience for some officers; apparently 3 out of every 4.
The camera doesn't lie, which happens to be a significant inconvenience for some officers.
Denver, CO -- A local news team in Denver has obtained video twice in just one week of officers brutalizing individuals. Both time the officers were disciplined after it was exposed.
The latest cop to be caught using excessive force on an arrestee is officer Chad Sinnema. Sinnema was suspended for a mere four days after using force that could have killed a man back in August.
CBS 4 obtained video from a Denver police department body camera that was rolling Aug. 22, 2014, when officers apprehended a suspect in a domestic violence incident in downtown Denver.
During the arrest, the suspect resisted, according to police, by kicking and pushing at officers. However, that is not seen on video, nor were any of the officers injured. However, it was after he was subdued when Sinnema's use of excessive force came out.
According to Sinnema, his knee was on the back of this man's shoulders when he was holding him down.
"I initially held him down by placing my knee on the back of his upper shoulders … I again applied pressure to his upper shoulders with my knee …" Sinnema reported.
However, the video seems to show that for several minutes, Sinnema actually had his knee on the back of the man's head and neck. At one point during the video, once the cops' loosened their grip on the suspect, he shouts "I'm trying to breathe … trying to live … trying to breathe."
The disciplinary letter states "Officer Sinnema violated the departmental rules and regulations when he restrained the arrestee by placing his knee on the suspect's neck. Officer Sinnema had other force options available that did not require the level of force he used. Officer Sinnema used 'inappropriate force in making an arrest or dealing with a prisoner.' "
A report conducted by the Office of the Independent Monitor, suggests that the videos we see, account for only a portion of the actual brutality.
In their report, the OIM examined a six-month period of body camera usage within the DPD. During that six-month trial run for body cameras in the Denver Police Department, only about one out of every four use-of-force incidents involving officers was recorded.
Cases where officers punched people, used pepper spray or Tasers, or struck people with batons were not recorded because officers failed to turn on cameras, technical malfunctions occurred or because the cameras were not distributed to enough people.
Predictably the DPD contests the numbers in the report.
Nick Mitchel, who spearheaded the report, praised the DPD for taking steps to outfit its officers with cameras.
However, the monitor's office found gaps in the pilot program and offered nine recommendations to improve it, including additional training and more widespread use among the ranks, according to the post.
Mitchell evaluated 80 use-of-force reports filed by officers working in District 6 during the pilot project. There was recorded footage of just 21 cases, the monitor's report said.
That means that only 1 in 4 officers was willing to hold themselves accountable. If police are willing to commit such horrible acts on camera, we can only imagine what happens when those cameras are deliberately turned off.
Unfortunately, the "malfunctioning" or "forgotten" body camera excuse, is not isolated to the Denver police department.
In February, the Free Thought Project exposed St. Louis cops who were caught on camera turning off their cameras, just before pummeling a man.
Last year we also reported on the New Orleans police officer who turned his body camera off just prior to shooting a man in the head during a traffic stop.
Even when the body cameras are rolling, officers are aware and will turn away as not to film their fellow officers committing crimes. This was the case in Orlando, FL where police were caught on cell phone and body cam severely beating a handcuffed veteran, who had committed no crime. In the video, we can see the officer turn away from the beating as not to record his fellow officer laying waste to this innocent Air Force veteran.
A report last year exposed the LAPD in a massive body scam scandal. It showed that half of all the officers were disabling their recording devices. 
Even when the citizens try to force accountability, there are those officers who will resist. That is why it is so important to film the police.
Even when grand juries refuse to indict officers who maim and kill on camera, at least the world still sees the injustices. Only light will show the darkness and sunlight is the best disinfectant.