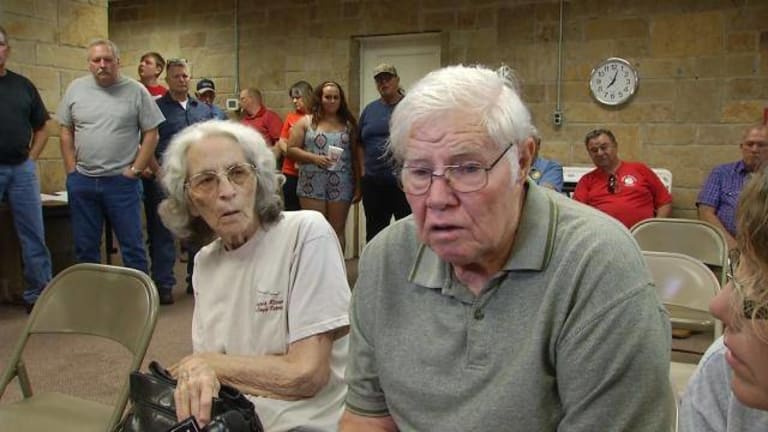 78 Year Old Man Beaten and Pepper-sprayed by Cop on Ride Home From Church
John Vibes
June 18, 2014
A 78 year old man was recently pulled over by police on his way home from church. The officer apparently pulled the old man over because he was driving on the wrong side of the road.
According to 78 year old Charles Griffith and his wife Joy, the situation was hostile from the minute he was pulled over.
When Charles was pulled over he wasn't exactly sure what to do because he had never been in trouble before, so he got out of the car to wait for the officer. The officer then approached the car aggressively ordering him to get back into the car.
"He come up there and said, 'get back in the car,' and I did. He wanted to see my driver's license and he just started saying he was going to take me to jail and this kind of stuff. I hadn't did anything wrong... I had never been in trouble or nothing" Griffith told reporters after the incident.
While the officer left him in the car, his legs began to cramp up so he opened his door so he could extend his legs outside while he waited. It was then that things took a turn for the worse.
"Then he told me sit back down, and then he tried to get me up, twisted my arm," Griffith said.
At this point the officer felt that it would be appropriate to douse the old man and his wife with pepper spray.
"She was sitting in the car when they pepper sprayed me, and I was afraid they were going to get her," Charles said.
"Yeah, they sprayed me in the face when I was still sitting in the car," his wife, Joy Griffith said.
The old couple were sent to the hospital after the encounter, bloodied, bruised and burned from the pepper spray.
After the incident broke the news, local residents were outraged, and the town's police chief Mike Smith defended the actions of the officer, stating that the old couple were disobedient.
"The officer stopped this individual, but this individual may not have been as compliant as everyone thinks he was." Police Chief Mike Smith said.
The officer has been given a paid vacation pending the outcome of an internal investigation.
John Vibes is an author, researcher and investigative journalist who takes a special interest in the counter culture and the drug war. In addition to his writing and activist work he is also the owner of a successful music promotion company. In 2013, he became one of the organizers of the Free Your Mind Conference, which features top caliber speakers and whistle-blowers from all over the world. You can contact him and stay connected to his work at his Facebook page. You can find his 65 chapter Book entitled "Alchemy of the Timeless Renaissance" at bookpatch.com.