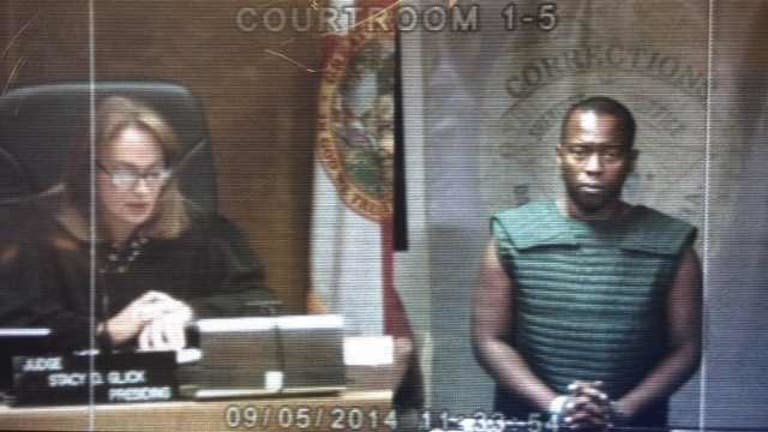 8 Cops & Judges Caught Wasted And Out Of Control
Every day, police officers and judges are responsible for putting non-violent people in cages for victimless crimes.
Also every day, there are many police officers and judges who use their position in the system to get away with the very same things that they lock people up for. This happens all of the time, but a bureaucrat doesn't really end up on the wrong side of the law unless they do something very public, and very obnoxious.
In the past few months we have noticed a hand full of stories where cops and judges have found themselves on the other end of the drug war. Most of these individuals only got caught up because their actions were so out of control that it was impossible for their accomplices to ignore.
A Baltimore County cop was charged with attempted robbery and possession of narcotics after he busted in the door of a drug dealer's home in an attempt to steal his stash of Oxycodone. Just after the incident occurred, the owner of the home called 911 to report that someone claiming to be a police officer was trying to kick in the door of his apartment.
Not long after the attempted robbery, officer Joseph Stanley Harden, of the Baltimore County Police Department was pulled over for speeding. According to the police report, the officers that had pulled him over noticed that he matched the description of the suspect that was given by witnesses at the scene of the attempted break in. Harden was immediately arrested by police even though he was wearing his BCPD badge at the time of the arrest.
Recently, a Texas appeals court judge named Nora Longoria was caught going just over the speed limit while traveling drunk in her Lexus late one evening. When she was pulled over by police she immediately flashed her badge and told them that she was a judge.
She had plainly admitted to drinking at least 5 beers before getting behind the wheel, expecting that her badge would grant her extra rights, specifically the right to drive drunk. It is also important to point out that if she said she had 5, then she probably actually had 12.
For some reason, the police actually didn't give the judge the type of leniency that is seen in most cases like this. When the 49 year old judge realized that she was going to be taken to jail, she began to cry and plead with the police for special treatment.
"Please let me go home. I live a couple of miles away … you are going to ruin my life. I worked hard for 25 years to be where I am today," she told police, according to court documents.
Judge Dean L. Wilson of Perry County, Ohio got in a car accident while drunk last month, and was charged with a DUI. Wilson is well known in his community for being harsh on drunk drivers, and even goes so far as to conduct court cases in schools so students can see drunk drivers get prosecuted.
Each year, Wilson moves his court room to New Lexington High School specifically for drunk driving cases, to set an example for the children.
Miami police officer Christopher Vital was arrested recently in Miami Beach on suspicion of drunk driving and possession of drugs. Now he is facing charges for driving under the influence, driving with a suspended license, possession of narcotics and criminal mischief.
The police report stated that Christopher Vital was off duty while driving his personal vehicle at nearly 100 miles per hour when he was noticed by police.
When he was finally stopped, police noticed that he was drunk, and when they searched his vehicle they found marijuana, heroin and cocaine.
California State Senator Ben Hueso was recently arrested for drunk driving, just hours after voting on a bill that would cripple services like Uber and Lyft that allow people to get rides from neighbors who are willing to drive them.
The senator voted on "Assembly Bill 612″ which would place a number of new regulations on ride-sharing companies. Earlier this month, Sidecar CEO Sunil Paul said that the bill "would literally spell the end of the ride-share industry."
Ironically, if Hueso would have used one of these ride services, he could have actually avoided his arrest.
Kevin Edward Brown, a 16-year veteran of the Indianapolis Metropolitan Police Department, was arrested after it was reported that he drove drunk through a White Castle drive-through, with his sirens and lights blazing. He was charged with two counts of drunk driving, including one count of operating a vehicle while intoxicated and endangering a person.
This is actually not the first time that Brown had been arrested for drunk driving. Last August he was arrested and received nine months of probation and a temporary suspension from the police department for the same offense.
Brown is also the fourth IMPD officer since May to face drunken driving charges.
Miami Beach Police officer was recently taken to the hospital in the middle of one of his shift, so his supervisors could take his blood to determine whether or not he was drunk while moonlighting at a South Beach nightclub.
According to Miami Beach Police, on Monday they received an anonymous call around 4:30 a.m. saying that police sergeant Mike Muley was totally intoxicated in full uniform while working at Mango's Tropical Cafe.
The next day tax dollars were spent setting the nightclub up like a crime scene, complete with evidence stickers and crime scene investigators.
A Florida police officer was arrested Saturday night after a domestic dispute with his wife. Police were called to the Mahaffey Theater in Pinellas County, Florida, because Deputy Jeffrey De Cresie was reportedly drunk and verbally abusing his wife outside of the theater.
According to the police report, De Cresie refused to stop yelling at his wife when he was approached and became hostile with the officers that responded to the scene. His eyes were allegedly bloodshot and his speech was angry and slurred. The police report also noted that the deputy had dared the arresting officers to take him to jail.
Surprisingly, the officers did actually end up taking him to jail, although the stay was far shorter than you or I would experience if we had been arrested under the same circumstances.
John Vibes is an author, researcher and investigative journalist who takes a special interest in the counter culture and the drug war. In addition to his writing and activist work he is also the owner of a successful music promotion company. In 2013, he became one of the organizers of the Free Your Mind Conference, which features top caliber speakers and whistle-blowers from all over the world. You can contact him and stay connected to his work at his Facebook page. You can find his 65 chapter Book entitled "Alchemy of the Timeless Renaissance" at bookpatch.com.