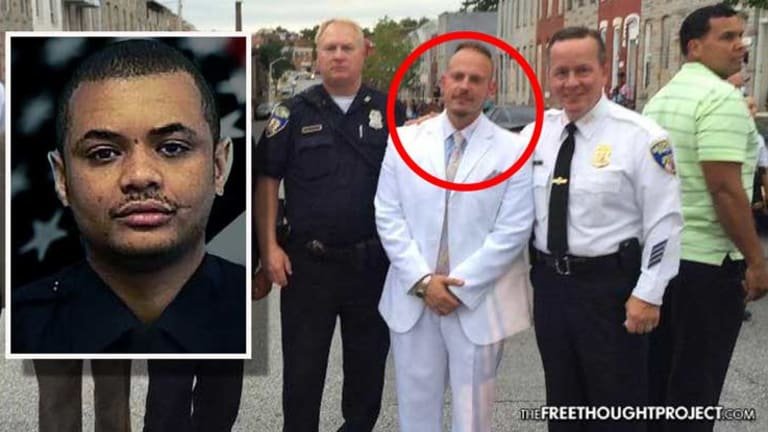 Baltimore Dept Switched Out Whistleblower Cop's Partner The Day He Was Murdered With his Own Gun
As Baltimore police try to solve the mysterious murder of a detective, the city's police commissioner appears to be missing some of the most crucial details
Baltimore, MD -- Over the holiday weekend, the Baltimore Police Department has been scrambling to manage the media frenzy surrounding the mysterious death of Detective Sean Suiter. As we reported, Suiter was a whistleblower against officers in his own department and was set to testify against them in a massive corruption case just one day after his murder.
This revelation cast suspicion on the department itself and pointed to a possible conspiracy and cover-up. As expected, Commissioner Kevin Davis of the Baltimore PD came out strong against these accusations, which were even circling in the mainstream media after news of Suiter's status as a whistleblower went public.
However, Davis seems to be contradicting facts that are on public record as more details about the case rise to the surface. On November 22, Davis held a press conference where he said he wanted to "address rumors that were circulating in the media," and assured reporters that Suiter's death was not a part of a "conspiracy."
In that press conference, Davis attempted to play dumb about the ongoing corruption case in which Suiter was a witness, despite the fact that this was a high profile internal affairs trial that any police commissioner would be well aware of, especially on the week court proceedings were scheduled to happen.
It is odd to think that a police commissioner would be unaware of all of the players involved in a massive corruption case that was being brought against his department that week. However, the most suspicious thing about the press conference with Davis was his description of the officer who was on patrol with Suiter at the time of the shooting.
"The evidence refutes the notion that detective Suiter's partner was anything but just that, his partner.The BPD and FBI do not possess any information that this incident...and it appears to be nothing more than a spontaneous observation of a man behaving suspiciously and a spontaneous decision to investigate his conduct...is part of any conspiracy," Davis said.

On November 22, Commissioner Davis made the claim to the media that Suiter was with his partner at the time of the shooting. However, back on November 16th, the Baltimore Sun reported that Det. Jonathan Jones was Suiter's partner in the homicide unit, and that Jones happened to be off from work the day of the shooting. They even did an interview with him about his relationship with Suiter.
According to the local activist group, Baltimore Bloc, the actual officer who was with Suiter at the time of the shooting was Detective David Bomenka, who is seen in photos taken in 2015 standing directly next to Commissioner Davis wearing a flashy white suit instead of a uniform. Baltimore Bloc also found that Bomenka is Facebook friends with one of the officers who is involved in the indictment, and while this could just be because they work at the same department, it is important to consider.
Suiter was not with his actual partner when he was shot, and the commissioner should have had this information about this the day it happened, if not by the time it was published in the Baltimore Sun on November 16. If he did not know about it by then, he would have had a whole week to get this information by the time he gave his press conference on November 22. Commisioner Davis is either the most clueless and incompetent police officer to walk the earth, or he is hiding something.
This is the longest that a manhunt for the killer of a Baltimore police officer has gone on without an arrest or viable suspect. Previously, the record was held by a suspect who fled to Oklahoma over 50 years ago, before the introduction of big brother cameras and tracking technology, and he was caught in just five days. Cop killers do not get away with murder in Baltimore—but everyone else seems to. The homicide clearance rate for civilans is abysmally low, with barely a quarter of the city's killings being solved.