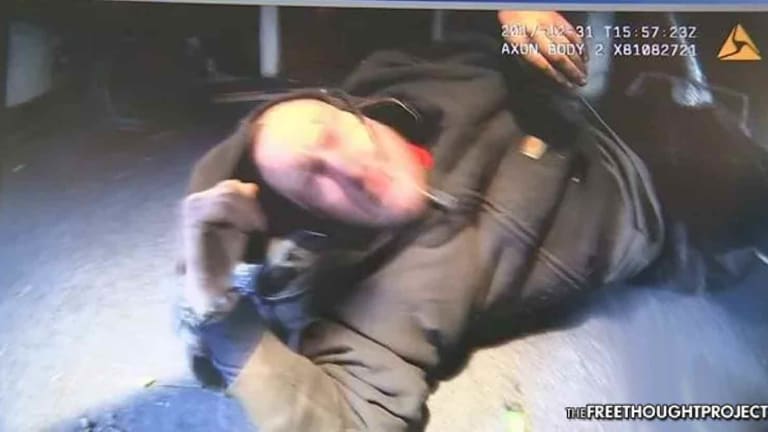 SHOCK VIDEO: Officers Step in to Stop Fellow Cop's Attack On An Innocent Man
Body camera footage released this week shows what happens when good cops step in and stop bad cops from senseless beating innocent people.
North Haven, CT — All too often, as the Free Thought Project has reported at length, police officers will stand by and do nothing as their fellow cops beat handcuffed women, manhandle children, and otherwise deprive non-violent and often entirely innocent individuals of their civil rights. The incident in this story, however, is not one of those times.
Body camera footage has just been released showing what police are supposed to do when they see a fellow officer creating a victim out of a non-violent person—step in and stop it. Now, North Haven Police Department Sgt. Michael Cirillo has been charged after good cops stepped in and prevented him from causing further harm to a man who posed no threat at all.
On New Year's Eve, the North Haven PD was investigating a burglary and harassment complaint late that morning. Cirillo was one of the responding officers.
As the body camera video shows, without provocation, Cirillo charged the suspect, who was identified as Vincent Terrone. He shoved him down and then put him in the headlock and was about to inflict even more pain just as the other officers forced him to get off Terrone.
Cirillo claimed that Terrone had sent threatening messages to his girlfriend which caused him to lash out. However, Terrone was seen on video noting that he had no idea who Cirillo was.
The other North Haven officers then escorted Cirillo upstairs and even went so far as to disarm the violent cop. In the video we can hear Cirillo apologize to the the officers.
"Sorry about all this man," Cirillo said. "It is what it is, we'll go from here, right?"
Instead of protecting his fellow blue brother and attempting to delete the body camera footage or trying to fabricate a lie to claim Terrone had done something wrong, the officers actually arrested a man for a crime that day—and that man was one of their own.
"You do something dumb, you suffer this consequences, that's how it works," one of the officers said in the video.
According to reports, police said Terrone was taken by ambulance to "Yale-New Haven Hospital for evaluation and treatment of his injury complaint." Police said he "was injured in the area of his lower back due to the confrontation with Cirillo."
After the attack, Hamden Chief of Police Thomas J. Wydra released a statement on the arrest of one of his officers.
"I was immediately made aware of the arrest of Sergeant Michael Cirillo on December 31, 2017 by the North Haven Police Department. Based on the circumstances involved in the incident as I understand them, Sergeant Cirillo was promptly placed on modified duty and relived of all police powers and authority, pending the outcome of an internal investigation which was initiated forthwith," Wydra wrote.
According to reports, police did not have enough information to charge Terrone with a crime. However, Cirillo was charged with third-degree assault, booked, and released on a promise to appear.
In an unprecedented show of forgiveness, Terrone went to the New Haven police station on his way out of town and told officers that he would like to withdraw all charges against Cirillo for the attack.
As of Tuesday, the department has yet to release a statement noting that the charges against Cirillo had been dropped.
Below is a perfect example of police accountability. When all officers act like the ones pulling their fellow cop off of Terrone, police brutality will start to fade away.