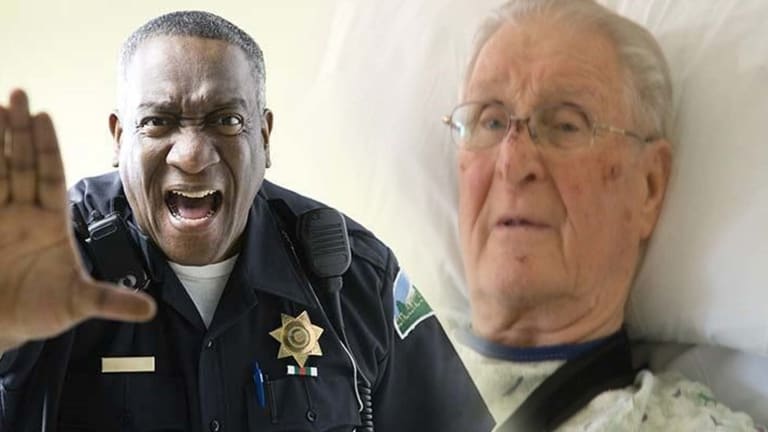 83-year-old Grandpa Forgot to Use His Blinker, So Cops Put Him in the Hospital
An 83-year-old grandpa was put in the hospital by two cops he simply wanted to talk to, after he failed to use his turn signal.
"The next thing I know, I was down on the ground."
Antrim County, MI -- Failing to use a blinker for a u-turn has ended with a stay in the hospital for an 83-year-old business owner in Antrim County. Bar owner, Larry Sevenski found out the hard way that police in America can and will escalate violence when it is entirely unnecessary -- even against the elderly.
Last week, Sevenski got a call from customers informing him that state troopers were parked outside of his pub, Larry's Seven-Ski Inn. So, this business owner of 50 years decided to go talk to the police. He had no idea that this decision would end up with charges and a stay in the hospital.
Sevenski only wanted to ask the police if there was a problem. However, as he drove over to the two police vehicles, he failed to use his turn signal -- a move which apparently angered the cops -- so they pulled him over.
When Sevenski got out of his vehicle to talk to the police, he was immediately met with force.
"They said I couldn't talk to them. I was breaking some kind of law, I don't know. It got crazy, all at once," says Sevenski.
According to police, Sevenski didn't comply with their commands fast enough and got out of his vehicle. So, they put him in the hospital.
According to the Michigan State police, the 83-year-old grandpa was a threat to officers.
"The subject then grabbed ahold of the trooper's wrist and proceeded to make a fist in an assaultive motion. At that point, the trooper initiated his defensive tactics techniques and brought the subject to the ground," says 1st Lt. Mark Harris, Michigan State Police Gaylord Post.
However, according to Sevenski, he says he just wanted to talk to the troopers.
"They handcuffed me, and they hurt very bad because I have a reversed shoulder and I can't put my arm behind my body," explains Sevenski. "Everybody's worried about me. I've been worried about me, too. Just don't know what I did wrong."
Naturally, police have justified the violence against the elderly man because he did not immediately curtsey and obey every command given by the officers -- who Sevenski only wanted to engage in conversation.
Lt. Harris says, "If he would have complied with the orders of the trooper, got back in the car and not become aggressive and assaultive, he would not have ended up on the ground."
The 83-year-old man, for allegedly failing to obey every single command given by the officers, was assaulted to the point of needing surgery on his arm and had a broken nose.
According to FOX 32, the Antrim County prosecutor is reviewing a report for charges of assault and resisting and obstructing a police officer.
Sevenski was given a traffic ticket for not using his turn signal.
In the land of the free, 83-year-old grandpas can and will be beaten by police and hospitalized for trying to have a conversation.