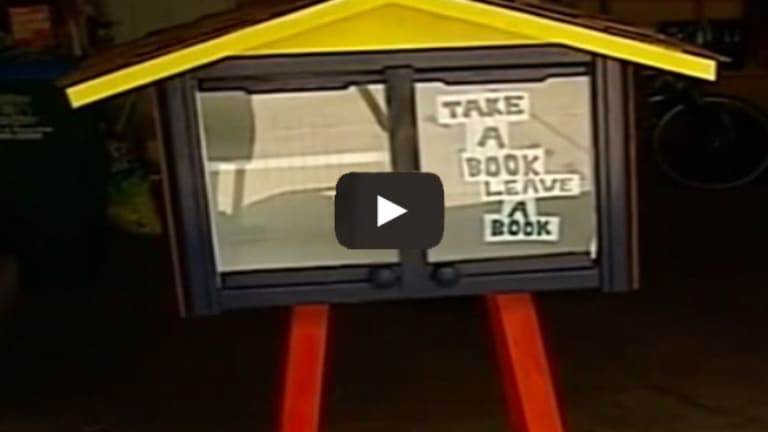 Brave Government Officials Protect Residents From 9-year-old Boy's Free Front Yard Library
John Vibes
June 22, 2014
A 9-year-old boy in the suburbs of Kansas City, Kansas recently tried to do something good for his community, and the government shut him down. Some time ago, young Spencer Collins opened up a free library in his front yard, for anyone in his neighborhood to use, and it was actually fairly popular.
The "library" was really nothing more than a book case, but is was a great idea. The bookcase allowed people to leave a book and take a book, so neighbors could share books with one another for free. Unfortunately, some nosy neighbors didn't seem to like what Spencer was doing with his own family's property and they actually reported his library to the local government.
The government responded by ordering the family to shut down their son's library, or face financial penalties.
"When we got home from vacation, there was a letter from the city of Leawood saying that it was in code violation and it needed to be down by the 19th or we would receive a citation," said Spencer's mother, Sarah Collins. 
Young Spencer has been unfazed by the government bullying and has already been thinking of ways that he can beat the system. Since the law that he was shut down under prevents free standing structures, Spencer suggested to reporters that maybe he could hang his library from the air with a rope so it wasn't touching the ground. Spencer also plans to take his case up with the courts.
"I would tell them why it's good for the community and why they should drop the law," he said. "I just want to talk to them about how good it is."
The fact that Spencer and his family are forced to jump through all of these hoops in order to do what they want with their own property is a sad example of how property rights are totally disregarded in American democracy.

John Vibes is an author, researcher and investigative journalist who takes a special interest in the counter culture and the drug war. In addition to his writing and activist work he is also the owner of a successful music promotion company. In 2013, he became one of the organizers of the Free Your Mind Conference, which features top caliber speakers and whistle-blowers from all over the world. You can contact him and stay connected to his work at his Facebook page. You can find his 65 chapter Book entitled "Alchemy of the Timeless Renaissance" at bookpatch.com.