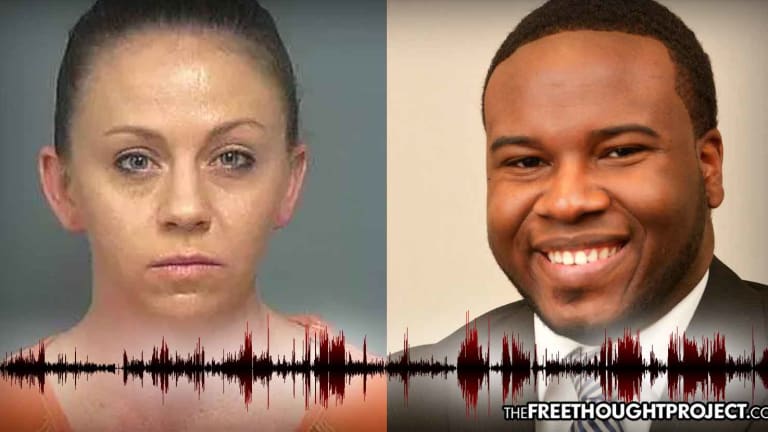 'Very Fast to Shoot': 911 Call After Officer Amber Guyger Killed Botham Jean Has Been Leaked
Police refused to release the 911 recording from the night officer Amber Guyger walked into Botham Jean's apartment, but a local media outlet has somehow obtained it.
Dallas, TX — It has been months since off-duty Dallas police officer Amber Guyger walked into the apartment of Botham Jean and killed him. Since then, police have refused to release any pertinent details in regards to the case, including the 911 call made by Guyger after she killed Jean. However, WFAA news was somehow able to obtain a copy of that recording and it is now public.
For the first time, the entire 911 call has been published online. Up until now, only police have had access to it. Not even Jean's family has been allowed to hear it.
As TFTP reported, Amber Guyger was off duty but still in uniform when she entered Botham Jean's apartment and shot him in cold blood. She claims she accidentally went into the wrong apartment and thought she saw an intruder. However, the attorney for the Jean family — after listening to the 911 recording — pointed out how fast she shot Jean after entering, claiming she didn't have time to even question the "intruder."
"There was nothing in that video or the recording where she ever indicated she thought Botham was trying to harm her," the family's civil attorney Daryl Washington said. "She was very fast to shoot without asking very many questions." 
"I always hesitate to say things are racial, but I think what happened is she saw an African-American male and she responded and she shot him," Washington said.
The 911 call is nearly six minutes long and one line that is consistently repeated throughout it — 19 times — is "I thought it was my apartment."
"This is an off duty officer," Guyger tells the operator. "Can I get, I need to get EMS."
"Do you need police as well or just EMS?" the operator responds.
"Yes, I need both," Guyger says, heavily breathing.
"What's going on?" the operator asks.
"I thought I was in my apartment and I shot a guy thinking he was, thinking it was my apartment," Guyger says.
"You shot someone?" the operator asks.
"I thought it was my apartment. I'm [expletive]," Guyger responds. "Oh my God. I'm sorry."
"I'm Amber Guyger," she says, sounding as if she's becoming increasingly frantic. "I need, get me. I'm in."
"We have help on the way," the operator says.
"I know," Guyger responds.
Seemingly unconcerned for the innocent man she just murdered in cold blood, Guyger starts talking about "losing her job."
"I'm going to lose my job. I thought it was my apartment," she said.
"Hey bud, hey bud, hey bud," she tells Jean. "Come on."
Guyger told police that she attempted to provide first aid, but none of it helped. What's more, video showed her pacing outside of the apartment while she was on the phone with 911 — not helping Jean.
Toward the end of the call, Guyger tries to comprehend how she got inside the apartment, saying, "Oh my God. How did I put the…how did…how did I…I'm so tired."
According to police — who continue to attempt to spin this story into some tragic mistake — Guyger accidentally went into the wrong apartment, mistook Jean for an intruder and killed him.
"Guyger entered the building and walked down the fourth-floor hallway to what she thought was her apartment," according to the arrest warrant. "She inserted a unique door key, with an electronic chip, into the door keyhole. The door, which was slightly ajar prior to Guyger's arrival, fully opened under the force of the key insertion."
"Guyger drew her firearm, gave verbal commands that were ignored by ... Jean," according to the warrant. "Guyger fired her handgun two times striking [Jean] in the torso. Guyger entered the apartment, immediately called 911, requesting police and EMS, and provided first aid to ... Jean.
"Due to the interior darkness of the apartment, Guyger turned on the interior lights while on the phone with 911. Upon being asked where she was located by emergency dispatchers, Guyger returned to the front door to observe the address and discovered she was at the wrong apartment," according to the arrest warrant.
Given all the details in the arrest warrant about what transpired on the 911 call, it seems that if the department was interested in transparency, that they would have immediately released the recordings. However, the department and the city seemingly could not care less about being transparent and the recordings had to be released by media, not police.
The Dallas Morning News reported in October that the city claimed that they can't release the 911 calls because it would ruin their investigation. However, many departments across the country quickly release 911 call recordings soon after they are made and this doesn't seem to hinder their investigation at all.
But it's not just 911 recordings. According to the Dallas Morning News, other records that police and prosecutors refuse to release include: Guyger's personnel file, records related to her shooting of a man she said took her Taser during a struggle in 2017, Guyger's clock-in and clock-out times the day of the shooting, Guyger's annual salary, previous administrative leave with the department, other 911 calls about the shooting, Guyger's work schedule, body camera and dash camera videos, and any off-duty jobs she was approved to work.
They have also refused to release the results of her drug and alcohol tests the public was told she was given that night.
On the contrary, however, the police had no problem releasing information about the victim. On the day this mother had to bury her son, police chose to release the results of the search warrant from his apartment, claiming they found a tiny bit of pot. 
Adding to the insidious nature of their "investigation" is the fact that no search warrant was ever executed on Guyger's apartment. Why is that?
While we don't know their exact reasoning behind keeping the 911 recordings secret, we do know that there is conflicting information about what really happened, up to and including the fact that witnesses dispute Guyger's claims.
"Independent witnesses have already come forward to say that they heard this officer pounding on the door and demanding to be let in," Lee Merritt, one of the attorneys representing the Jean family, told ABC News. "The contradictions begin to build from there."
The special privilege began from the start as it would take police three days to arrest Guyger after she killed Jean and even then, she was merely charged with manslaughter. However, months later, a grand jury indicted the officer for murder.
Since the beginning of this case, the only person police seem to be interested in "investigating" is the victim. The only information they have released to the public in regard to the shooting is about the victim. If we are to believe the rest of this information is being kept secret to keep from tainting the investigation, judging by the information already released, it is clear who's going to benefit from it and it most certainly won't be Botham Jean's family.