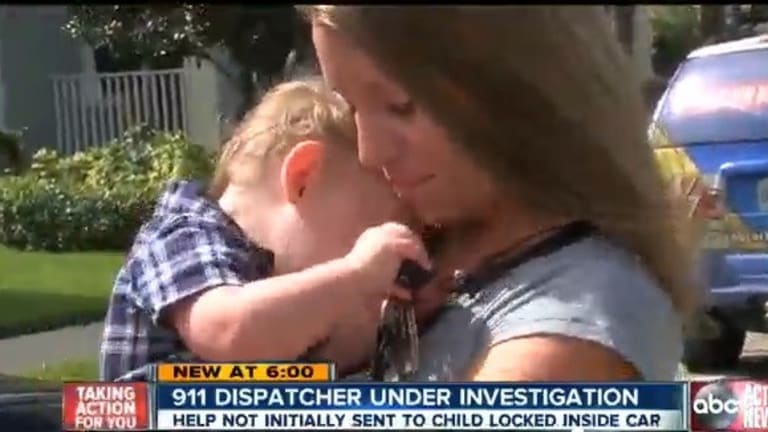 Too Much Revenue to Generate? 9-1-1 Dispatcher Tells Mom Police Can't Help Baby Locked in Hot Car
A Florida mother was recently told by a 911 dispatcher that the police could not help her get her baby out of a locked car on a hot day. Shana Dees had gone shopping with her 10-month-old child Jack and when they returned to her car, she put him in his car seat and walked across the parking lot to put away her cart.
When she returned to her car, she realized that Jack had taken her keys without her knowledge and locked himself in the car. Not knowing what to do, she immediately dialed 911, but when she got in touch with an operator, she was told that the police could not help her with her problem.
"They won't be able to gain access to the car unless the child is in some sort of distress." the 911 Dispatcher said. After that the dispatcher hung up on her without warning.
Laura McElroy of the Tampa Police Dept. told reporters that "the dispatcher absolutely made a mistake, this is not the way we do business."
"The dispatcher should've kept the mother on the line, should've found out where she was and then immediately dispatched both a police officer and fire rescue," McElroy added.
After about 10 minutes, a bystander called 911 again for help, but an emergency vehicle was not able to show up before another bystander broke a window with a wrench to rescue the baby.
Apparently the police had too much revenue to collect to be interested in saving babies.
John Vibes is an author, researcher and investigative journalist who takes a special interest in the counter culture and the drug war. In addition to his writing and activist work he is also the owner of a successful music promotion company. In 2013, he became one of the organizers of the Free Your Mind Conference, which features top caliber speakers and whistle-blowers from all over the world. You can contact him and stay connected to his work at his Facebook page. You can find his 65 chapter Book entitled "Alchemy of the Timeless Renaissance" at bookpatch.com.