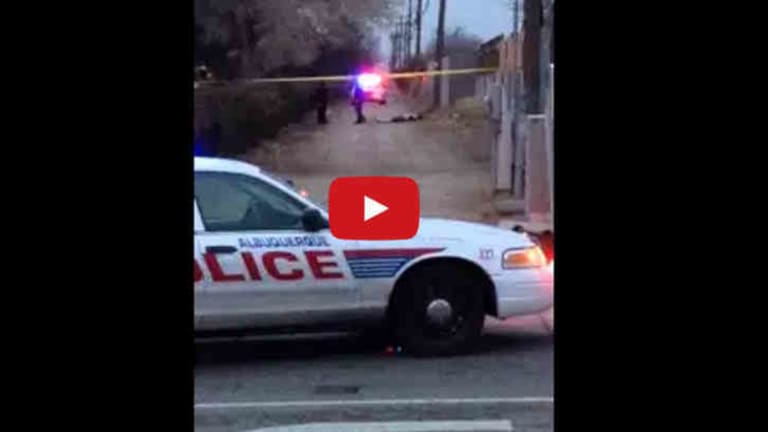 APD Refuse to Allow DA into Briefing After Another Police Killing Challenged by Witnesses
Albuquerque, NM-- The third officer involved shooting by Albuquerque Police of the year occurred on Tuesday evening, just one day after District Attorney Kari Bradenburg announced she is seeking murder charges against the two officers involved in the shooting of James Boyd last year.
Tuesday also marked the anniversary of Ken Ellis' death at the hands of this department. The APD has killed 28 people since Ellis' death five years ago.
Last week, true to the department's "shoot first, ask questions later" style, Lt. Greg Brachle shot an undercover officer during a drug bust over $60 worth of meth.
Albuquerque police spokeswoman Celina Espinoza has stated the fleeing man fired shots at the officers, and at least one officer returned fire, killing the suspect. The department alleges the man was wearing body armor, and his weapon was found near his body. They have not released many further details, including the mans name.
Witnesses are already disputing the departments claims of body armor. This witness reports that he saw the body within one minute of the last shot being fired and that his shirt was lifted partially up due to the way he was positioned.
"If he had body armor he was holding, maybe that's the case, I never saw it. I saw his body a minute afterwards. I saw his material shirt halfway folded up his body as he was laying there like this. I did not identify any body armor on him." one witness, named Patrick, stated.
Patrick also recounted his neighbor seeing the cop firing upon the suspect with civilian cars between the officer and his target. He also states that the officers did not interview any of the witnesses. Patrick did hear an officer arguing with one witness about how many shots were fired, however. The officer was reportedly claiming there were four to five shots, while witnesses seem to be in agreement in hearing at least twelve.
"I realized alot of APD was around, I was sure there was going to be a shooting and I didn't want to be close by. So I went home, and it was like one or two minutes afterwards that I was pulling in my driveway and I heard a bunch of gunshots... around 10... something like that. Ten or fifteen. I didn't count them but, there were quite a few." another witness recounted.
In a bizarre turn, a Chief Deputy District Attorney was also barred from attending a briefing regarding the shooting. The police reportedly told the office that "legal advice was not needed", KOB4 reports.
A memorandum of understanding between the DA's office and the APD calls for the office to be part of the briefings, and Brandenburg "feels this violates the MOU" KOB4 also reported.
Brandenburg is persuing charges against the officer's who shot James Boyd last year after discussing their plans to do so.
We spoke to Brandenburg just hours before this latest shooting and when asked about the case she stated:
"All I can tell you is that we believe that we have probable cause, and we decided to use the preliminary hearing as a means of moving forward because it would offer everyone the most transparency and we all would have that information. The public, the court, and the defendants would have an opportunity to present their evidence and cross examine."
Barring her office from the briefings seems an awful lot like the beginnings of another petulant police protest, similar to the one that has backfired so heavily for the NYPD.
We will have more information on Brandeburg's bravery regarding the Boyd case up soon, stay tuned.