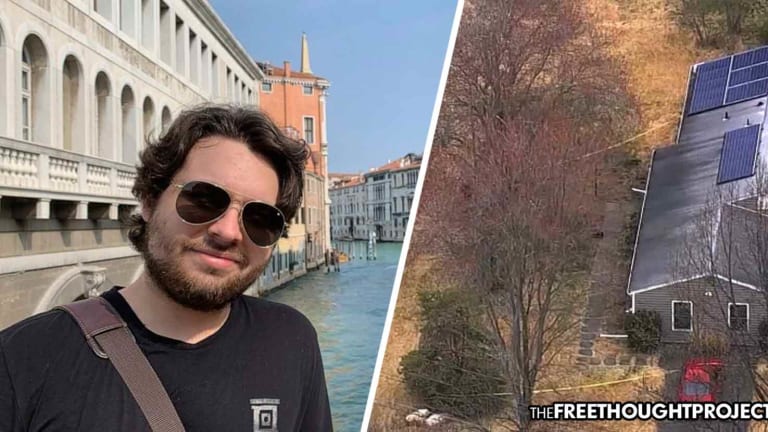 Liberty Activist 'Murdered as He Slept' by SWAT Team Seizing His Guns—Lawyer
A proponent of the Constitution with no criminal record was gunned down in his sleep by cops there to take his guns, according to the family's attorney.
Silver Spring, MD — Duncan Lemp was a talented computer programmer who was raising money to form a startup company to go out on his own. This 21-year-old proponent of the Constitution had his entire life ahead of him. However, because the state of Maryland wanted to take his guns, he was killed in his own home — gunned down in his bed as he slept, according to his attorney.
"He was a talented, smart guy. Super nice. Didn't deserve to get shot," said Samuel Reid, whose Canadian software company employed Lemp as an independent contractor.
According to police, at approximately 4:30 am on March 12, members of the Special Operations Division – Tactical Unit were in the process of serving a high-risk search warrant related to firearms offenses at an address in the 12200 block of St. James Road in Potomac. During the warrant service, the suspect confronted the officers and was fatally shot by an officer assigned to the Tactical Unit.
Despite police claiming the warrant was high risk, Lemp's family, who says they read the warrant, claim it said nothing about a high risk. What's more, Lemp and his girlfriend who was also shot during the raid, have no criminal record, according to his family.
Police claim Lemp was not allowed to possess the firearms he owned, so they raided his house to take them.
"Detectives were following up on a complaint from the public that Lemp, though prohibited, was in possession of firearms," the release says without elaborating.
In the process, according to Rene Sandler, an attorney for the family, police opened fire through an outside window and murdered Lemp and shot his girlfriend as they slept.
According to ABC, Sandler said the family believes police fired gunshots, not a flashbang or other projectile, from outside the home, including through Lemp's bedroom window, while he and his girlfriend were sleeping. Nobody in the home heard any warnings or commands before police opened fire, she said.
"There is no warrant or other justification that would ever allow for that unless there is an imminent threat, which there was not," Sandler said.
"The facts as I understand them from eyewitnesses are incredibly concerning," she told The Associated Press.
As ABC reports, the warrant that police obtained to search the Potomac home Lemp shared with his parents and 19-year-old brother doesn't mention any "imminent threat" to law enforcement or the public, Lemp's relatives said in a statement released Friday by their lawyers. Nobody in the house that morning had a criminal record, the statement adds.
"Any attempt by the police to shift responsibility onto Duncan or his family, who were sleeping when the police fired shots into their home, is not supported by the facts," the statement says.
This case appears to be crystal clear. Police claimed Lemp's guns were illegal, raided his home to take them, and killed him in the process. He had harmed absolutely no one.
TFTP found Lemp's Instagram account and his personal website. The show that this young entrepreneur was a talented computer programmer as well as a proponent for liberty. In one of his posts, Lemp posted a photo of two AR-style rifles with the quote "Sic Semper Tyrannis." The phrase translates literally as "thus always to tyrants". The idea is that a tyrant always meets a dire end, which is just and should be expected.
It was likely this post that set the officers on their path that ended with the alleged murder of Lemp.
The police department's news release says the "facts and circumstances of the encounter" are still under investigation and are ensuring the public that an outside agency will review all the facts.
"An established agreement between the Montgomery County State's Attorney's Office and the Howard County State's Attorney's Office stipulates that when an officer-involved shooting involving injury or death occurs in one county, the other county's State's Attorney's Office will review the event," police said.
If history is any indicator, however, police will rule this killing justified after they investigate themselves.
"He was pro-America and supported wholeheartedly all the protections of the Constitution," the family's attorney said. "We believe that the body camera footage and other forensic evidence from this event will support what Duncan's family already knows, that he was murdered."