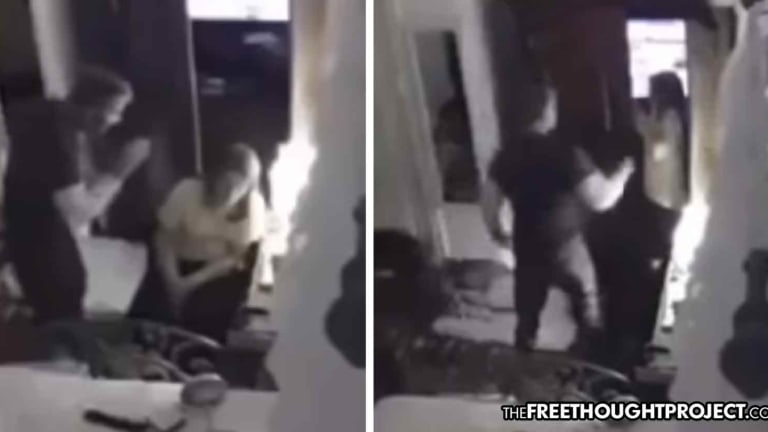 After Cops Refused to Help, 14yo Girl Installs Camera, Catches Abuser Trying to Kill Her and Her Dog
After being repeatedly ignored by cops, a Florida teen took matters into her own hands to catch and stop her abuser, and it worked.
Destin, FL — Police, we are told, will help us when we call them. Sadly, however, that is not always the case. Over the years, TFTP has reported on multiple instances in which people have called the cops for help only to be ignored. In some of these cases, those who needed help ended up dying. A 14-year-old girl in Florida — who didn't want to die from being ignored — was tired of cops not helping, so she took matters into her own hands. The result was a horrifying video of abuse, but it was finally enough for police to pay attention.
Damon Richard Becnel, 47, of Destin, a well-known local businessman, and president of Sandestin Police Department Inc., is a bad person. His daughter, who is only 14, knew how bad of a person he was and tried to tell police on multiple occasions. However, they never listened and this forced the girl to take matters into her own hands.
Last month, Becnel's daughter installed cameras in her home to catch her abusive father in the act. She was successful.
As the Destin Log reports:
The video shows the victim and two dogs in a bedroom. Becnel can be seen pulling out a knife and threatening one of the dogs while yelling, "I will cut this (expletives deleted) dog's eyeballs out, I'll (expletive deleted) do it," the arrest report said.

Becnel later could be seen striking the dog and grabbing it by the throat and throwing it to the floor while the child yells at him to stop. The arrest report said he grabbed his daughter by the hair and pushed her head toward the bed, where it struck the bed frame.
The victim's mother, Allison Tringas, called her daughter "absolutely my hero," and told WEAR the teen has tried for years to get someone to do something about the abuse but was ignored either through negligence or corruption.
"Nothing was done. Nothing has ever been done to help my daughter," said Tringas.
Tringas said she and her daughter tried reporting the abuse for years, but she said authorities did not believe them, so this vigilant young girl took matters into her own hands and filmed her abuser in the act.
"I was horrified. Absolutely horrified," said Tringas, talking about her response to seeing the videos for the first time.
Tringas explained to local news that Becnel has lots of connections and often escapes accountability for his crimes. Case in point: despite this horrifying abuse captured in the video below, Becnel was released on a measly bond of just $4,000. The man tried to cut the eyeball of a dog out while beating and threatening to kill a 14-year-old child and police let him walk for $4,000. Meanwhile people are rotting behind bars for possessing a plant and unable to pay their extremely high bail bonds.
"She is one strong and one smart little girl and I couldn't be more proud of her," said Tringas, who is divorced from Becnel and doesn't have custody rights. "I would hate for justice not to be served and the system, again, fail my precious daughter."
Following the arrest, the girl's mother filed a Petition for Injunction Against Domestic Violence on behalf of her daughter. As the Destin Log reports:
The petition claims Becnel was intoxicated when he assaulted the teen and the dog and at one point during the confrontation, when she was pinned against a closet door, she "asked Damon if he was going to kill her, to which he replied 'maybe.' "

It states Becnel prevented the girl from leaving the home and took away her cell phone.

″(She) escaped Damon's house while he was asleep and walked miles to Walmart in Destin, purchased a burner phone and called her babysitter," the petition states.

The petition accuses Becnel of continuing to harass his daughter, and having a lawyer call her to warn her "not to say anything about this event because she will end up in foster care."
After multiple judges recused themselves from the case due to their connections to Becnel, this child abusing businessman finally has a court date. Becnel is scheduled to be tried March 9 on the felony charge of child abuse and misdemeanor charge of cruelty to animals.
As you watch the video below, remember that police were reportedly told multiple times that this abuse was happening and they chose to look the other way. Only because this girl took matters into her own hands is she now safe. Hopefully this child and animal abuser's connections do not spare him from accountability.
WARNING: THIS VIDEO IS DISTURBING.
" width="560" height="315" frameborder="0" allowfullscreen="allowfullscreen">