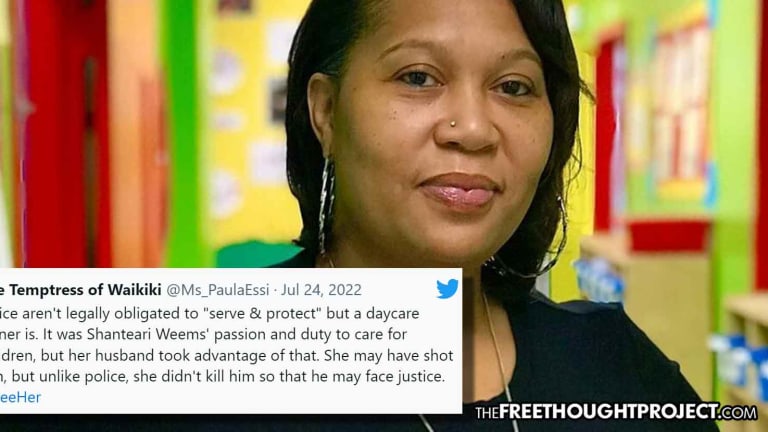 After Police Ignored Her, Woman Shoots Cop Husband for Sexually Abusing Kids at a Daycare She Owns
"She's placed complaints to the proper authorities before... and her cries for help went unanswered"
A former Baltimore cop and his now-estranged wife are both currently sitting in a Maryland jail and the story of how they got there is quickly becoming a viral cause for support. Shanteari Weems, 50, shot her husband, James S. Weems Jr., 57, in the head, after learning that he allegedly sexually abused multiple children at the daycare she owns in Baltimore County.
#FreeShanteari is now trending on Twitter as the internet and public at large demand her release from jail. Many are also asking how they can contribute to her legal defense since GoFundMe deleted her fundraiser.
The Weems' story unfolded last week on July 20 and July 21 when Shanteari began receiving text messages from the parents of children she looks after at her Lil Kidz Kastle daycare. The parents were informing her that James had been molesting children at the daycare.
According to court documents, Shanteari said during an interview with police that she had received "multiple messages and phone calls from parents and teachers" about molestation at her daycare.
Qiana Johnson, who led a group of protesters outside of Shanteari's courtroom appearance on Monday, said Shanteari had tried to go the traditional route and report her child molesting husband to police — but her reports fell on deaf ears — so she took matters into her own hands after the cops ignored her.
"She's placed complaints to the proper authorities before... and her cries for help went unanswered," Johnson told WUSA9. "Our public, our government, did not keep her or the children safe."
Shanteari had apparently planned to "hurt" James at the hotel that weekend and when she confronted him, he allegedly came toward her at which point she shot him, twice — non-fatally.
According to the Baltimore Banner, D.C. police also found a notebook in the hotel room with handwritten notes in which the author wrote that they wanted to shoot the victim but not kill him, but maybe cause paralysis, and that they "want these kids to get justice." The notebook also included an informal will distributing belongings.
After shooting James, a subsequent standoff ensued and Shanteari barricaded James and herself in the hotel room. When police attempted to gain entry into the room, she reportedly screamed: "If you come in, I'm going to shoot myself." And when they asked about her husband, she yelled, "F him—he's a child molester!"
With police at the door, James yelled for help and Shanteari allegedly responded with "Shut the f up… I will kill you!"
Eventually, Shanteari surrendered without incident and was taken into police custody.
After her arrest, friends of Shanteari set up a GoFundMe account which quickly raised thousands of dollars before it was taken down by the site who has a policy of removing fundraisers for people accused of crimes.
Baltimore County Police say their investigation of the child abuse allegations is still open and James Weems has since been arrested and charged with two counts of third-degree sex offense, three counts of second-degree assault and one count of displaying obscene material to a minor, according to the Banner.
As for Shanteari, she is currently being held without bail on domestic violence and gun charges.
Shanteari's attorney, Tony Garcia told the media on Monday that they are "standing by our client. You know what I mean? Our client says she was defending herself, and we're standing by it and we're standing by her. And, we'll be proceeding going forward in that vein."