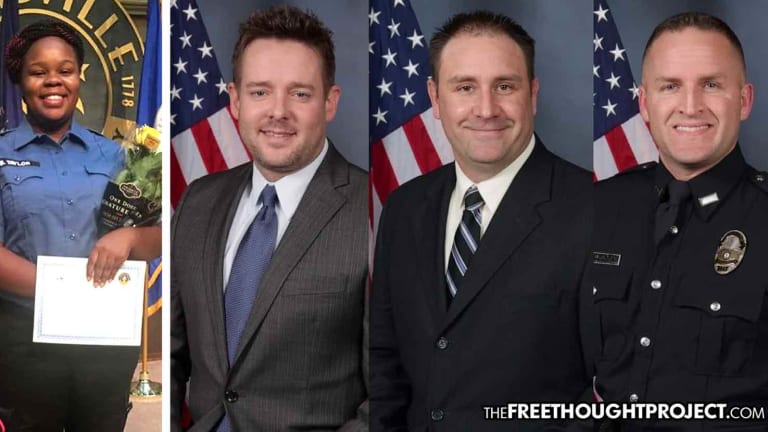 After Thinking They Got Off Scot Free, Four Cops Finally Charged in Death of Breonna Taylor
These cops likely thought they had gotten away with killing Breonna Taylor. Not anymore.
On September 23, 2020, knowing that there would be backlash for their decision, streets in downtown Louisville were blocked off officials, police put on high alert, and government buildings were boarded up as officials announced the charges against former officer Brett Hankison for his role in the raid which left Breonna Taylor dead.
The subsequent outrage was well deserved as Hankison was not charged for anything that led to the death of Taylor. Instead, this trigger happy cowboy cop was charged with "first degree wanton endangerment" for shooting like a madman which led to taxpayer-funded bullets flying into neighboring apartments during the raid.
In March, somehow, Hankison was found not guilty on the three counts of wanton endangerment in a move that led to another round of protests.
Then, last month, former officer Hankison had all mention of these charges erased from public record — as if he never fired recklessly into the home of innocent Breonna Taylor at all. This was a kick in the teeth to the family.
All that has now changed, however, and this week, the FBI swept in and arrested several of the officers involved. Four Louisville Metro Police Department officers have been charged by the FBI in relation to the slaughter of Taylor.
Former LMPD officers Joshua Jaynes, Brett Hankison, and Kelly Hanna Goodlett and current LMPD sergeant Kyle Meany were all arrested Thursday by the feds.
LMPD said in a statement after the DOJ's announcement that Chief Erika Shields began termination proceedings Thursday against Meany and Goodlett.
"While we must refer all questions about this federal investigation to the FBI, it is critical that any illegal or inappropriate actions by law enforcement be addressed comprehensively in order to continue our efforts to build police-community trust," the department said in a statement.
As the Courier Journal reports:
One of the new indictments that the DOJ announced Thursday relates to the untruthful actions Haynes, Meany and Goodlett took in obtaining the warrant to search Taylor's apartment.

In a separate indictment, Hankison is charged with using "unconstitutionally excessive force during the raid on Ms. Taylor's home" due to firing 10 shots that went into an occupied, neighboring apartment "without a lawful objective justifying the use of deadly force," Assistant Attorney General Kristen Clarke for the Civil Rights Division announced during a Thursday morning news conference alongside Garland in Washington, D.C.
The DOJ, as part of its probe, also has been completing a comprehensive review of LMPD's policies and training, along with an assessment of the effectiveness of its supervision of officers and its system of accountability, including its misconduct investigations.
Despite Taylor being completely innocent and murdered while unarmed inside of her own home, and despite her boyfriend, Kenneth Walker, being ruled justified in shooting at the officers during the raid — for two years not a single cop faced consequences for her death — until now.
As we reported at the time, Hankison and other officers fired more than 20 rounds at Taylor and her boyfriend that night in a botched raid, looking for non-existent drugs.
According to Breonna's boyfriend — who was originally charged with murder — Taylor did not die after being shot. Instead she struggled to catch her breath, in dire need of help, which the police refused to offer, in spite of Walker begging them for it.
"(Police are) yelling like, 'Come out, come out,' and I'm on the phone with her (mom). I'm still yelling 'help' because she's over here coughing and, like, I'm just freaking out," Walker said in a recorded police interview 3 hours after the shooting, as reported by USA Today.
Dispatch logs reveal that absolutely no effort was made to save Breonna's life that night and after she was fatally shot, she lay where she fell in her hallway for over 20 minutes.
"Breonna, who was unarmed in her hallway, was struck by several rounds of gunfire. She was not killed immediately," attorneys Sam Aguiar and Lonita Baker wrote in a revised lawsuit filed on behalf of Taylor's family. "Rather, she lived for another five to six minutes before ultimately succumbing to her injuries on the floor of her home."
Instead of helping the innocent EMT they just filled with holes, officers devoted their resources to applying a tourniquet to Sgt. Jonathan Mattingly's leg after Walker shot him, thinking he was an intruder.
Given the fact that the department refused to investigate or charge the officers involved in Taylor's death, these cops likely thought they had gotten away with it. Not anymore.