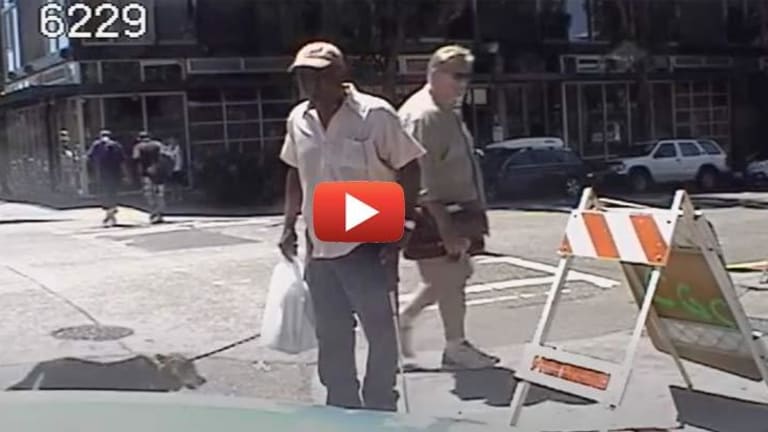 Cop Claims She was Fired for Being White After Video Showed her Abusing an Innocent Elderly Veteran
A Seattle Cop was finally fired after being caught on video abusing and arresting an elderly vet for walking with a cane.
Seattle, WA — An overzealous cop was fired on Tuesday after the officer was caught falsely accusing a 69-year-old man of swinging a golf club at her patrol car. Accused by the police chief of acting with racial bias in an unnecessarily aggressive manner, Officer Cynthia Whitlatch wrongfully arrested an Air Force veteran walking down the street using a golf club as a cane. Although Whitlatch argued that her dash cam video recorded the elderly man swinging at her, the video does not support any of her allegations.
At 1:06 p.m. on July 9, 2014, the dash cam video from Whitlatch's patrol car captured footage of the officer harassing 69-year-old William Wingate, who appears standing on the corner and using a golf club to support himself. After stepping out of her patrol car, Whitlatch immediately orders the elderly man to drop his golf club even though he is not using it in a threatening manner. Unable to hear the officer at first, Wingate removes an earbud from his left ear and repeatedly asks the antagonistic cop: "What's going on?"
As Whitlatch continues ordering him to put down the golf club, Wingate tells her to call someone because he's been walking in Seattle with that golf club for 20 years. After she informs Wingate that he's being audio and videotaped, the apparently delusional officer accuses the elderly gentleman of swinging his golf club at her.
"I ain't done nothing to nobody," Wingate explains to her.
In response, Whitlatch says, "You just swang that golf club at me."
"I did not!" Wingate defended.
"Yes, you did. Right back there. It was on audio and videotape," Whitlatch lied.
While Whitlatch can be heard requesting for backup on her radio, Wingate begins explaining to a bystander that he's being harassed for no good reason. After Whitlatch threatens to arrest him, Wingate tells her, "My church is up there, and everybody knows me."
As Officer Chris Cole approaches the scene, Whitlatch can briefly be seen brandishing a nightstick while following Wingate. After the frightened senior hands over his golf club, Whitlatch digs through his pockets but finds nothing illegal. The rest of the video depicts Wingate being loaded into the back of a transport van and sent to jail for committing no crime.
Falsely accused of swinging his golf club at a patrol car, Wingate spent over 25 hours in jail after being booked for obstruction and harassment. Although Whitlatch pushed the Seattle City Attorney's Office to charge the elderly veteran with obstructing a police officer, an assistant city attorney declined to charge him with obstruction but decided instead to charge Wingate with unlawful use of a weapon to intimidate.
Unable to afford decent legal representation, Wingate pleaded guilty to the misdemeanor charge under an agreement in which the case would be expunged after two years if he complied with all conditions ordered by the judge. But after reviewing the dash cam footage, the Seattle City Attorney's Office dismissed the charge, and the police chief formally apologized to Wingate nearly eight months after his arrest.
After the dash cam video was released to the public in January, Mayor Ed Murray ordered Whitlatch to be removed from public patrol duties. In a disciplinary action report filed on Tuesday, Police Chief Kathleen O'Toole accused Whitlatch of being inappropriately aggressive while unnecessarily escalating the situation.
"You never asked the individual any questions during the Terry stop to determine if he had, in fact, swung the golf club towards you and/or into a stop sign," wrote Chief O'Toole. "Despite that, and despite never actually seeing him swing a golf club toward your car or hitting a stop sign, you actively participated in moving forward with an arrest for obstruction and even called the prosecutor days later to push for prosecution of the individual."
In April, Wingate filed a lawsuit against Whitlatch for race discrimination, false imprisonment, intentional infliction of emotional distress, and violation of his civil rights. His lawsuit also accused her of making racially derogatory comments on her personal Facebook page after Wingate's arrest and the Ferguson riots. In her report, Chief O'Toole noted that Whitlatch also made disturbing comments about the race of a judge and deputy chief involved in expunging Wingate's criminal record related to his wrongful arrest.
"You expressed a strong belief that these actions were taken because the judge and deputy chief are black, and that race drove the decision-making of a high-ranking Department official and a long-serving Municipal Court Judge, not the legitimate factual and legal analysis by thoughtful and dedicated public servants," O'Toole wrote. "Such statements further indicate that your biased views prevent you from being able to honestly reflect on your own job performance and successfully receive constructive criticism of your policing techniques because you view the critiques as racially motivated."
Unwilling to admit any fault, Whitlatch claims that she is being targeted due to the fact that she is white. In her report, O'Toole wrote, "I was disappointed by your failure…to take any responsibility, or show any understanding that your conduct at issue here was inappropriate."
"Your inability to understand, even in hindsight, that your behavior was unnecessarily aggressive, an abuse of discretion, and negatively impacted the community's confidence in this police service, offers me no pathway to understand how you can improve and do better," O'Toole concluded. "For the reasons summarized above, and while giving careful consideration to your full employment history as well as the facts of this case, your employment is terminated."