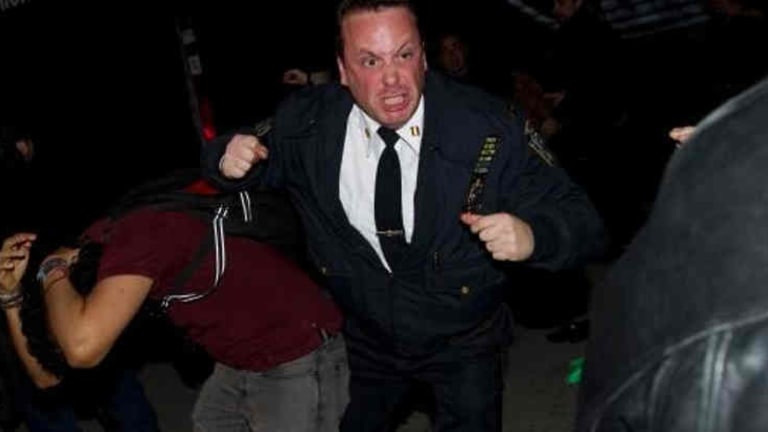 Alarming, Chilling, Disgusting: A Few Ways to Describe these Investigations into NYPD Corruption
"...disturbing patterns of police corruption and brutality, including stealing from drug dealers, engaging in unlawful searches, seizures, and car stops, dealing and using drugs, lying in order to justify unlawful searches and arrests and to forestall complaints of abuse, and indiscriminate beating of innocent and guilty alike."
Grass eaters, meat eaters, pads, bagmen, scores, and doing doors. These are a few of the nicknames cops in the New York City Police Department use for their colleagues engaged in the business of committing crime. It's no wonder these words have become part of the NYPD lexicon, considering its long history of corruption.
Patrick Lynch, the head of the Patrolmen's Benevolent Association, is attempting to use the senseless murder of two NYPD officers as the basis for irrational rants and calls to impose "wartime" measures on the citizens. But the more rational among us know that unprovoked murder is absolutely wrong and is rejected by those protesting police brutality.
Awareness of police brutality and corruption is growing exponentially, and, as you will see below, excessive force has risen dramatically in the NYPD since 1993. It should come as no surprise to authorities that people are showing their frustration through peaceful yet powerful protests.
It might make Mr. Lynch uncomfortable to know that the NYPD practically wrote the book on police corruption.
There have been five commissions investigating NYPD corruption, the first one occurring in 1894. Each of these provided a vivid exposé of cops and superiors engaging in criminal activity, from individuals taking protection money from brothels and gambling dens, to networks of uniformed and plainclothes officers dealing in drug and cash extortion. The 1992 Mollen Commission found:
"…disturbing patterns of police corruption and brutality, including stealing from drug dealers, engaging in unlawful searches, seizures, and car stops, dealing and using drugs, lying in order to justify unlawful searches and arrests and to forestall complaints of abuse, and indiscriminate beating of innocent and guilty alike."
In 1993 a permanent Internal Affairs Bureau (IAB) was set up to ferret out corruption. Known as the "rat squad" by NYPD cops, it relies heavily on cops snitching on other cops.
The IAB is normally shrouded in secrecy, but the New York Civil Liberties Union (NYCLU) managed to acquire 16 years of IAB reports through the Freedom of Information Law. Although the NYCLU study was performed in 2010, it is perhaps the best data we have of recent NYPD corruption.
The most striking fact is that the use of excessive force rose dramatically during those 16 years.
"In 1993, this type of case accounted for less than 1 percent of all IAB serious misconduct investigations. By 2007, nearly 20 percent of all IAB serious misconduct investigations were over use of excessive force."
There is no reason to believe this statistic has reversed its trend. The Free Thought Project documents badge abuse on a regular basis.
But even the IAB reports are not reliable. Statistics and corruption categories disappear from year to year, and the reports have become less informative. Lots of data are simply no longer provided, including "...information about the outcome of investigations, the rank of officers being investigated, the number of investigations in each precinct, the number of police officers arrested as a result of the investigations, and the number of drug and integrity tests conducted each year."
To top it off, the reports released to the NYCLU were missing 47 pages, purportedly to protect current or future investigations.
Here's another troubling finding from the study.
"Between 1994 and 2006, tips received by IAB about suspected police corruption and misconduct more than tripled, rising from 14,789 to 44,994. However, during the same period, the number of serious misconduct IAB investigations dropped from 2,258 to 1,057. While the IAB was investigating about 15 percent of tips in 1994, that figure fell to just 2.3 percent by 2006."
All of this points to a declining interest in confronting the culture of corruption that has persisted in the NYPD for more than a century. The Mollen Commission may have provided some temporary motivation, but that rapidly deflated as the years went by.
Instead of blaming protesters for the senseless actions of a deranged man, Mr. Lynch and associates should devote their energies to confronting the brutality and corruption plaguing their own men in blue.