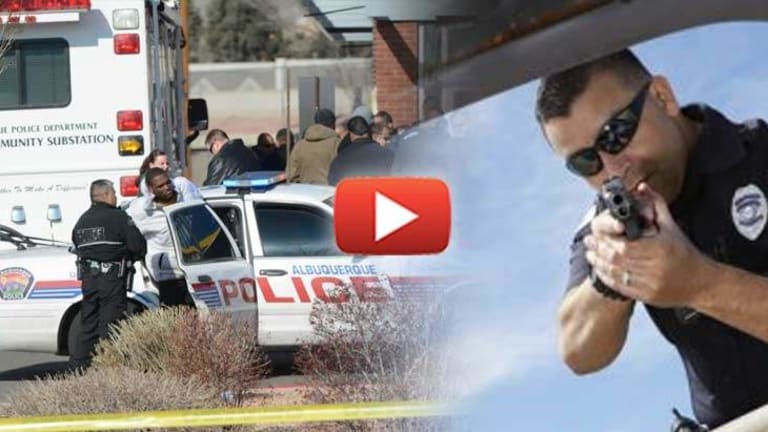 Albuquerque Cop Guns Down Fellow Officer, Purposely Attempting to Kill Him -- Still on the Job
In what other line of work could you purposely try to kill your co-worker and not only avoid jail, but keep your job?
Albuquerque, NM -- The city of Albuquerque and the Albuquerque Police Department may be facing a lawsuit by one of their own officers after an undercover officer was repeatedly shot by another member of the APD.
As we previously reported, Officer Jacob Grant was critically wounded after being shot approximately eight times by Lieutenant Greg Brachle during an undercover drug bust. Both officers were undercover at the time of the shooting.
According to the criminal complaint, Grant and his partner Holly Garcia met a suspect to buy $60 worth of "shards," another term for meth. The suspects got into Garcia's car, and she drove them to an Econo Lodge Motel. One of the suspects went into a room and returned to Garcia's vehicle with the meth.
Garcia then went to a McDonald's parking lot and gave the signal to begin the bust, the shooting took place shortly after.
According to Grant's tort claim, there are multiple reasons Brachle should not have fired the shots into the vehicle. Grant points out in the notice that Brachle knew him well, knew what clothes he was wearing, and even knew exactly where he would be sitting in the car. The court document states that there was no threat, and "rather than cease fire, Lt. Brachle instead re-positioned himself…and continued to fire," shooting until his gun was empty.
Grant is recovering and still undergoing physical therapy after being nearly killed and almost losing his arm. He is facing a long road to recovery, but making progress with each day, according to his wife, Laura. Holly Garcia, the other undercover officer in the vehicle during the shooting, suffered shrapnel wounds but is currently back on the job.
The Albuquerque Police Department released this statement Thursday:
"We know this is a very difficult situation for Detective Jacob Grant and his family. It is a case that has forever deeply affected those involved, their families, our community and the Department. We take Detective Grant's attorney's claims very seriously. The claims are under review by the city's legal department and the Police Chief's Office."
APD Chief Gordon Eden stated that even six months later, it is unknown why Brachle opened fire on his colleagues but maintains that the internal investigation is still open and active.
Jacob Grant is currently on paid administrative leave while he recovers. Lieutenant Brachle has been given the privilege of relaxing on desk duty while the notoriously corrupt department conducts its internal investigation.