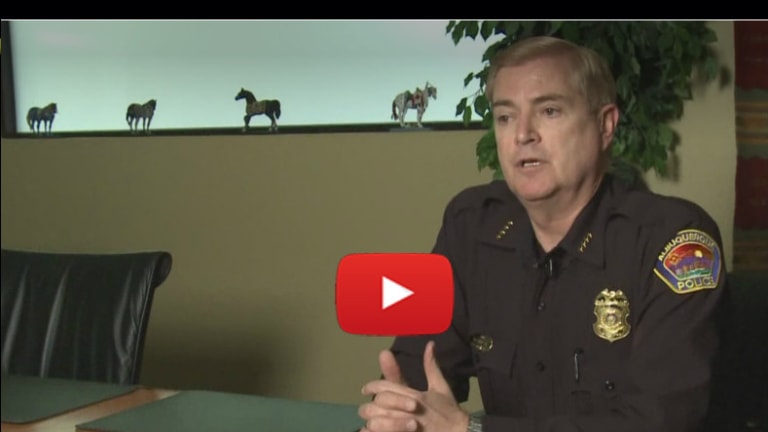 Albuquerque Police Chief Says Dept is "Stuck" with Officers Who "Shouldn't be on the Force."
In a shockingly honest and refreshing interview with USA Today, Albuquerque Police Chief Eden stated, "I believe there are people on the force who shouldn't be on the force,'' and admitted that they may be stuck with those dangerous officers; thanks to police unions making discipline for past actions extremely difficult.
Since 2009, the Albuquerque Police Department has been involved in 47 shootings, 32 of which were fatal. He told the paper that these numbers reflect a "systemic failure in our ability to track employee misconduct.''
In April, the department was accused of using excessive force by the Justice Department after the frightening murder of the homeless James Boyd when he was approached for "illegally camping". Although the review was scathing, they did not call for federal monitoring.
The DOJ findings state:
"Based on our investigation, we have reasonable cause to believe that APD engages in a pattern or practice of use of excessive force, including deadly force, in violation of the Fourth Amendment and Section 14141. Our investigation included a comprehensive review of APD's operations and the City's oversight systems. We have determined that structural and systemic deficiencies—including insufficient oversight, inadequate training, and ineffective policies— contribute to the use of unreasonable force"
"The DOJ called for extensive revisions to the department's policies. The term "force" would be more clearly defined, and officers would have to report to superiors when they used various tactics: chokeholds, kicks, leg sweeps and tackles. Under the recommendations, officers would be trained to rely more on verbal warnings and less on stun guns, and new recruits would be required to undergo psychological, medical and polygraph examinations to assess their fitness for the job. They also recommended clearer procedures for handling people with mental illnesses and minimizing the use of unnecessary force against them, as well as an expansion of the number of officers trained to work with them," the New York Times reported.
Unfortunately, according to the chief, these revisions will be extremely difficult to put into action with police union's power. An extremely troubling, yet obvious, assertion.
"Yes, there are some hoops to jump through because these are public jobs. But those are the cards we're dealt. Sometimes you have to fire people, and if there's a lawsuit, then there's a lawsuit." Albuquerque council member Lewis told local station KRQE.
When police unions's political power is presenting a danger to the public, while seeming unapologetically pro brutality (Hartford's police chief was attacked by the union for joining an anti-police brutality protest just last month), its pretty easy to see where the biggest problem lies.
If the Chief of police does not hold the power to remove dangerous officers, something is terribly wrong.
Officer cameras are not enough, we need to end police unions, and fast.