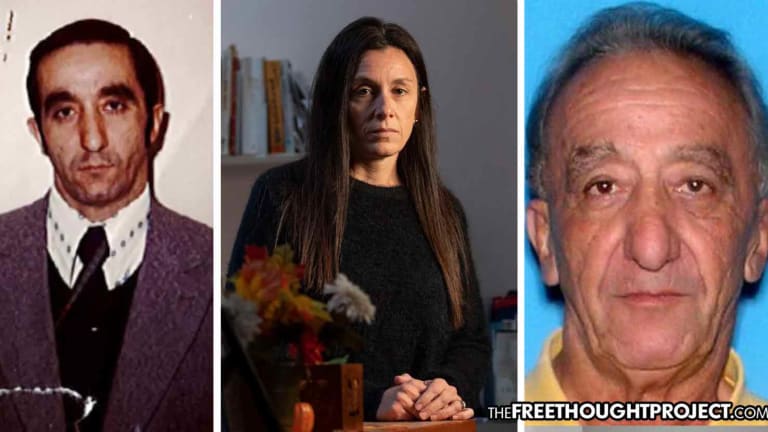 Alleged Pedophile Cop Has Escaped Jail By Faking His Own Death For 25 Years
A pedophile cop says he's dying and cannot be prosecuted. He's been dying for 25 years.
For over two decades, a former cop has been allowed to claim he was dying all to avoid going to prison for being a pedophile.
Leonard Forte, a now 78-year-old former detective with the Suffolk County District Attorney's Office, allegedly raped and sexually molested his daughter's 12–year-old best friend. That woman is now 45 and she has teenage children of her own. She has been deprived of justice for decades now, all because her rapist has avoided prosecution by claiming he's dying.
According to a USA Today expose', Forte has a long history of avoiding prosecution by claiming he's in poor health, so bad he has only months to live. The only problem with his claims is they're simply demonstrably, untrue.
USA TODAY Network reporters used police records and social media posts to show that in the past decade he has taken at least 11 extended trips, including RV jaunts to New York within 200 miles of the Vermont courthouse where he has said he is too ill to travel.
All the while, Forte keeps telling the court his health conditions are way too serious, preventing him from making court appearances. He is essentially faking his own death to avoid prosecution and getting away with it.
Forte has stalled his case, typically by claiming end-of-life conditions that then don't come to fruition. In 2012, he said he'd been removed from the transplant list because his situation was so dire. In 2014, he said he was undergoing a surgical procedure with up to an 85-percent likelihood of death. In 2017, he said he'd been referred to hospice care and had six months to live.
In a voice recording, Forte, arguably sounds like a kindergartner who is reporting being bullied, claiming the prosecutors are on a witch hunt, that he's innocent, and too sick to be tried. The whole display, one could say, sounded completely and utterly pathetic.
It's unclear if Forte's position as a detective inside a prosecutor's office has afforded him some degree of grace in escaping justice. Still, questions remain.
Does Forte' have incriminating evidence against prosecutors who refuse to get an extradition warrant for his arrest from Florida to Vermont to face justice? Is he so connected he will be able to escape the charges of raping a teenager? Or is his position as a police officer what keeps him from being locked up? What's the deal and why isn't he being placed on the FBI's most wanted list of fugitives from justice. The answer: the courts have sided with Forte every time he objected to being in court.
Also worth noting is the fact Forte was already convicted once of the crime and should have been put away for 40 years. However, the judge threw out the conviction saying the female prosecutor had been too emotional and prejudiced the jury against the former boy in blue.
What should have been an open and shut case of child rape has turned into a charade of justice. This man has no problem making the claim outright about his death. Forte plays the victim card well, apparently. In a phone-in court appearance, Forte told the judge:
I've been dying for 25 years, your honor...I'm sorry I'm still alive.
The 12-year-old is now 45. Her name is Michelle Dinko, and she still wants justice. However, she's likely never going to see Forte pay for any of his alleged crimes. Dinko's mother Rosalie Salemme explained why she believes her daughter was traumatized by a cop and did not receive justice. She once wrote:
If my daughter was pulled into a bush and raped by an assailant and he was caught, there would be some kind of punishment...Yet, because she was raped by a person who appears to be a respectable citizen we are still going through this nightmare.
Forte not only claims he's been dying for 25 years, he also claims he's impoverished. While Forte' says he's broke, the facts do not lie:
Detailed in court filings [Forte' owns a] four-bedroom waterfront home in Marco Island, Florida, that Forte listed as his primary residence, citing real estate listings to describe his pool, spa, 20-foot vaulted ceilings and "lovely long water views." The filings also note a 31-foot boat – Lady Irene, named after his wife – docked outside the home, along with seven other boats Forte had registered since 1988. The court filings also show several other vehicles registered in Forte's name, including a late-model Chevy pickup, a Ford convertible and a motorcycle.
The cop allegedly got away with rape, had his conviction overturned, was allowed to claim he was dying with absolutely no proof to back up his claims, and has escaped justice for over 25 years. Now, America, do you see why we keep telling you only cops can get away with crimes like that?
Forte allegedly has other victims, like most pedophiles do. They also testified to investigators to no avail. Those closest to the case say because most of the evidence was destroyed, Dinko will never get justice on this side of eternity. Forte retired from law enforcement and lives as a free man in Hendry County, Florida — on the taxpayers dime — and we call this "justice."
If anyone you know has been victimized by Forte', please report the crimes to the Hendry County Sheriff's Office. It may be too late for Dinko, but hopefully, someone can bring this man to justice.