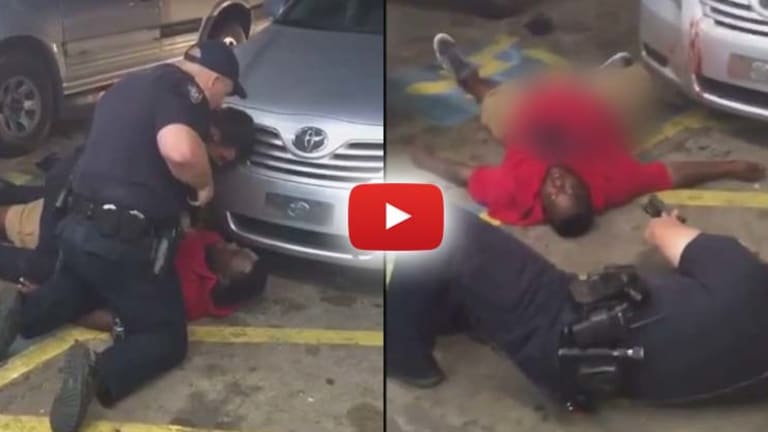 Graphic New Video Surfaces Showing Police Execute Alton Sterling as they Held His Arms Down
Graphic new cell phone footage was released Wednesday showing a clear picture of police killing Alton Sterling as the held both of his arms down.
Baton Rouge, LA -- A graphic cell phone video showing two officers execute a man at point blank range early Tuesday morning has prompted outrage in a Baton Rouge community. While the first video was enough to enrage the community, a new video, released Wednesday afternoon, is absolutely horrifying.
The victim, 37-year-old Alton Sterling was shot around 12:30 a.m. at the Triple S Food Market after Baton Rouge police officers responded to calls about a man selling CDs in front of the store who was armed. The store owner, however, knew Sterling and noted that he'd been selling CDs there for years.
State Rep. C. Denise Marcelle, who was briefed by the police chief, noted that the officers were wearing body cameras. However, both cameras fell off during the struggle and failed to capture the shooting.
At least one body camera can be seen dangling behind an officer in the new video.
Marcelle told WAFB there is at least one surveillance camera from the store and one dashcam that captured the shooting, but police have not released them.
"What I said to the chief is he has to have transparency in this matter because as you can see this is getting out of hand. People are clearly upset and they want transparency," Marcelle said.
Since this story began to gain traction, hundreds of peaceful protesters have gathered to bring justice to Sterling.
The original cellphone video was taken from a car parked next to the officers as they approached Sterling. It is short and grainy, but it shows police tackle Sterling to the ground and officers jumping on top of him and killing him.
The second and far clearer video shows the officers having complete control over Sterling's arms when they, or at least one of them, opened fire. The end result is nothing short of devastating.
"He has a gun!" yelled one of the officers.
"You f*****g move, I swear to God," says another officer just before firing two rounds into Sterling at point blank range. After the two rounds are fired, the person filming pans away in fear and we can hear at least three more shots.
According to police, Sterling had a gun, but it was in his pocket -- he was not holding it. In the new video, you can see the officer pull a small object from Sterling's pocket as the life leaves his body.
"His hand was nowhere (near) his pocket," Abdul Muflahi, the store owner, who was only feet away when cops shot Sterling, said.
"They were really aggressive with him from the start," Muflahi said about the officers.
"God bless his soul," said Muflahi. "It could have been handled differently, much differently. On both sides, it could have been handled differently."
East Baton Rouge Parish Coroner William "Beau" Clark said the initial results of an autopsy performed Tuesday show Sterling died due to a homicide and suffered multiple — meaning more than two — gunshot wounds to the chest and back, reports The Advocate.
The department has yet to name the officers involved in the shooting but noted they had been placed on paid leave, which is standard procedure.
Alton Sterling had his run-ins with the police before, but he was a good man and did not deserve to die -- and the gruesome video below shows this.
Below is the graphic footage.
Below is the owner of the store giving his eyewitness testimony.