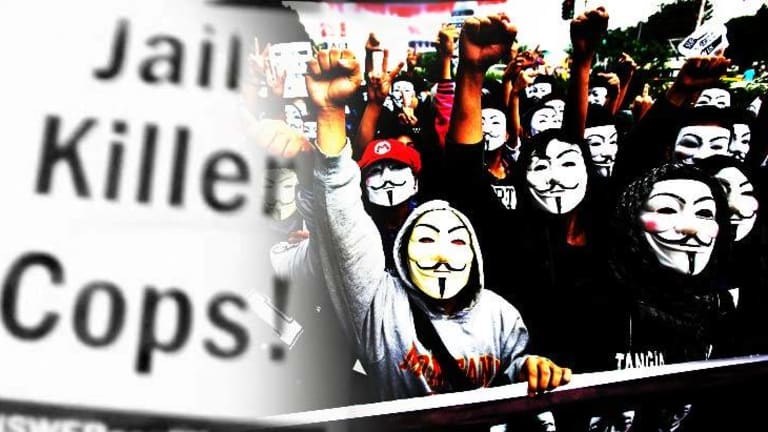 America's Waking Up - 300% Increase in Cops Charged with Murder in 2015 - Still a Long Way to Go
Because people are gradually becoming unafraid of speaking truth to power - Justice for killer cops is rising fiercely.
Cops in America can kill innocent people, even on camera, and not be charged. Not only will killer cops not be charged, but they can murder children while filming a reality TV show, and keep their jobs.
This disheartening lack of accountability has been increasingly becoming the norm in police state, USA. Cops in America are almost never indicted by grand juries, even after being caught on video and admitting to killing unarmed people.
Just a few years ago, officers Manuel Ramos and Jay Cincinelli were caught on surveillance footage beating an unarmed, non-violent, mentally ill man — to death. Kelly Thomas cried out for help as these two sadistic peace officers, along with four of their comrades, killed him on camera. None of the officers involved were convicted of a crime.
After their acquittal in January 2014, the precedent had been set; cops can kill unarmed innocent people on video, and walk.
But thanks to citizens Policing the Police this paradigm of injustice is coming to an end.
In August, it was announced that the two Albuquerque cops who murdered James Boyd on camera would be charged with murder. The same day, "two former East Point police officers were indicted on charges that they murdered a 24-year-old father by repeatedly using their Tasers on him while he was handcuffed and sitting in a creek," The Atlanta Journal-Constitutionreported.
Also in August, TheWashington Postreported that "a former Fairfax County police officer was charged with second-degree murder, nearly two years after he shot an unarmed Springfield man who stood with his hands raised in the doorway of his home."
In July, Officer Ray Tensing was officially charged with murder after his body cam showed him kill an unarmed man who simply tried to drive away.
In June, Officer Michael Slager was indicted after he was captured on video shooting Walter Scott in the back over a broken tail light.
In November, Officers Derrick Stafford and Norris Greenhouse, Jr. were charged and are currently being held, each with a $1 million bail for the murder of 6-year-old Jeremy Mardis and the attempted murder of his father, Chris Few.
Also in November, it was announced that Jason Van Dyke, the cop who killed Laquan McDonald by shooting him 16 times as he walked away, would be charged with murder.
In fact, Van Dyke became the 15th officer in America to face such charges in 2015, a 300% increase from 2014.
In ten of those 15 cases, the officers were seen on video killing their victims.
"If you take the cases with the video away, you are left with what we would expect to see over the past 10 years - about five cases," said Philip Stinson, the Bowling Green State University criminologist who compiled the statistics from across the nation told the Associated Press. "You have to wonder if there would have been charges if there wasn't video evidence."
The sentiment echoed by Stinson is true, but video is certainly not always effective in bringing about charges.
On July 26, Seneca Police Lt. Mark Tiller ran towards 19-year-old Zachary Hammond's car with his gun drawn as Hammond's date, Tori Morton, allegedly sold a few grams of marijuana to an undercover cop. For months the department refused to release the video of what happened next.
When authorities finally released the video, which clearly showed Tiller needlessly killing Hammond, they also announced that Tiller would not be facing charges.
Even when charges are brought, video evidence isn't necessarily a guarantee of a conviction. Officer Lisa Mearkle of the Hummelstown Borough Police Department was found not guilty of criminal homicide last month for the shooting death of 59-year-old David Kassick on February 2.
This acquittal was in spite of video showing her shoot an unarmed, compliant man in the back as he lay face down in the snow.
Or how about the killing of David Dehmann, John David Livingston,Lavall Hall,Anthony Hill,Antonio Zambrano-Montes,Rumain Brisbon,Jeraime Reid, Paul Castaway, or the countless other lives taken by police who faced no consequences for their actions?
The bottom line is that people are spreading information about police misconduct, and activists are taking to the streets to protest it, and this is having an enormous effect. But it is just the beginning.
Fascism cannot be taken down overnight, it takes winning the hearts and minds of people by exposing the crimes of the ones who claim to protect them.
Never be afraid to stand up for what is right, even when it's entirely unpopular to do so. That is the only way to end up on the right side of history.