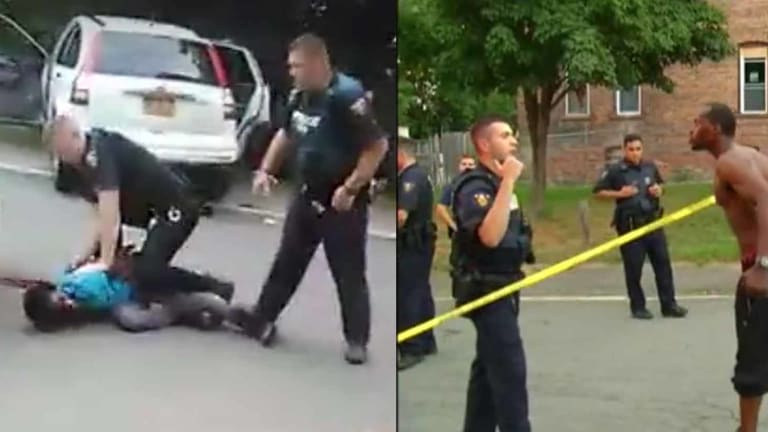 Graphic Video: Cops Shoot Man in the Face in Front of Multiple Witnesses, All Hell Breaks Loose
A graphic Facebook livestream captured the moments following police shooting an allegedly unarmed man in the face, protests immediately ensued.
Troy, NY — "Why'd you all shoot me? Why'd you all shoot me?" Dahmeek McDonald can be heard saying as he bleeds out on the street after being shot by cops for apparently no reason. The graphic video taken in the aftermath of the shooting immediately sparked an uprising in the community.
"I'm about to die," McDonald says. "They shot me in the head."
Onlookers watch in horror as McDonald writhes in pain on the pavement. "Get him to a hospital!" one woman yells as the expanding crowd becomes angrier.
Police claim the stop was over an alleged parole violation. According to law enforcement sources, McDonald was on probation for a drug possession charge and they were looking for him.
However, according to witnesses, there was absolutely no reason to shoot him.
Brittany Hughes, who witnessed the shooting, was talking to McDonald in his car before police arrived. She explained that as she was talking through his car window, police rounded the corner, blocked McDonald in, jumped out of their car with weapons drawn and immediately began firing.
"I literally stepped two steps back and pow, pow, pow," she said. As the Times Union reports, Hughes said she saw the officer draw his weapon before getting out of the squad car, "so you have all the intentions of coming to shoot somebody."
McDonald was inside the car when police shot him. Hughes' grandfather, Ed Williams also witnessed the shooting and said they heard someone outside yell, "Drop the weapon, drop the weapon," before shooting.
At that point, Officer Jarrod Iler opened fire on McDonald. Troy Police Chief John Tedesco noted how the other two officers involved in the shooting did not feel the need to fire. Tedesco explained that none of the officers have even been questioned yet and they are all on administrative leave — as is standard procedure when cops shoot people.
Aside from claiming there was a weapon, no weapon has been presented or otherwise found.
During a press conference on Wednesday, Tedesco couldn't say if McDonald had a weapon.
"That portion of the investigation is ongoing," Tedesco told reporters. Later Wednesday, police searched the scene and the car McDonald was traveling in for a weapon but did not announce any findings, according to the Times Union.
Rest assured, however, if police had found a weapon anywhere in the vicinity of McDonald it would have been plastered across the local media everywhere.
Either there was a weapon or there was not one, it is that simple.
What appears to be happening is police know they shot an unarmed man in the face and are trying to let the situation calm down before releasing it officially.
However, the town is not buying it. After the shooting, the community erupted in anger and shielded riot police were dispatched to the scene. The protests carried over into Wednesday when scores of protesters from all different backgrounds and races marched on City Hall to demand Iler be held accountable.
According to TU, at noon Wednesday, dozens of protesters marched from the scene of the shooting to Troy's City Hall, escorted by police. When they arrived, protesters chanted for Tedesco's removal and listened to McDonald's uncle, James "Messiah" Cooper, speak.
"Before we die on our knees, we will fight on our feet," Cooper said.
"We have to give them time," Cooper told an angry crowd, adding he and his family felt confident the mayor would hold the officer "accountable if need be."