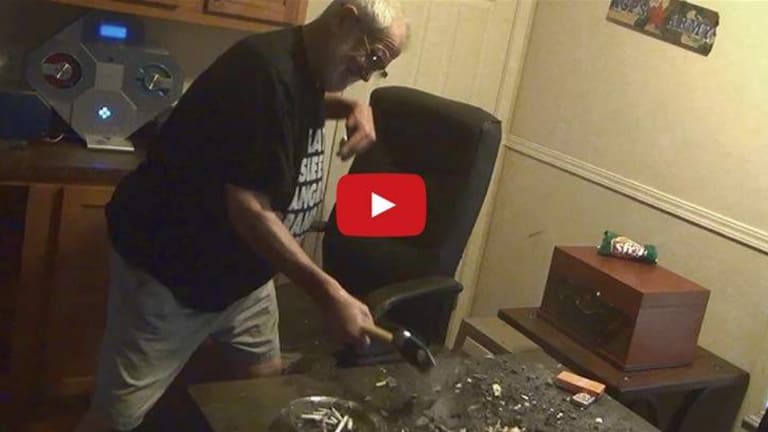 Angry Grandpa Cannot Contain His Fury After Watching a Cop in His Town Kill An Innocent Man
Charles Green, aka. Youtube's "Angry Grandpa," unleashes his anger in the wake of recent murder by police. His sentiment resonates with many.
In July of last year, Charles Green, YouTube's beloved "Angry Grandpa," went mega viral with his extreme reaction to the Eric Garner killing. This week, the normally comical grandfather, who often expresses his anger over candy or various television shows, had a message for North Charleston Police Officer Michael Slager.
" width="790" height="444" frameborder="0" allowfullscreen="allowfullscreen">
In the video, Green, a South Carolina resident himself, explains that this shooting took place 15 minutes away from his home.
"He was shot five times in the back, and he'd have gotten away with it. He would have completely gotten away with it if that gentleman hadn't had his camera on his phone and he actually filmed what happened, that man would have gone free! He would have been called a hero! "I feared for my life," no you bastard you shot and killed an innocent man, over a tail light? OVER A BRAKE LIGHT BEING OUT! First of all you tased him, and when the man got scared and ran, you shot him! YOU MURDERED HIM!" Green screams.
When asked by his relative if he believed giving the police body cameras would help to stop police brutality, Green responded saying, "Body cams??? Big f**king deal! They can turn those off and on, Michael! 'Oh, there's a man, let me turn it off first, I'm going to kill the bastard.'"
Soon after, the Angry Grandpa grabbed a hammer from inside a nearby cabinet and began smashing his table using the hammer to represent a gavel as he repeatedly deemed the officer guilty.
The video was uploaded to YouTube on Sunday, and by Wednesday evening it had nearly 400,000 views. Perhaps this extreme physical reaction is resonating with how many are feeling, but cannot express.