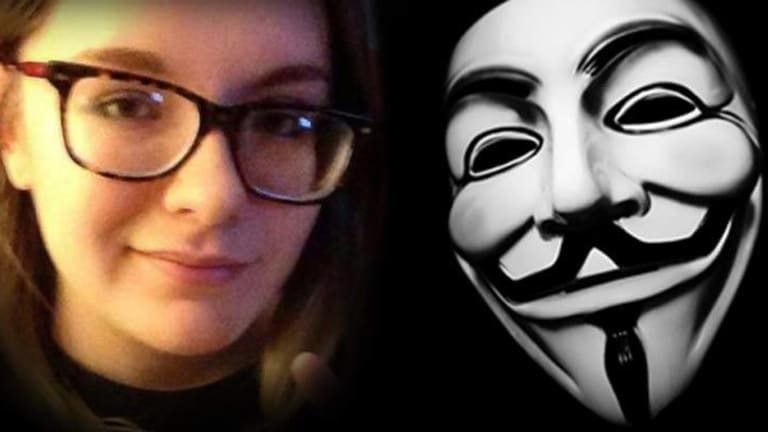 Anonymous Responds to Cops Killing Teen Girl, Launches #OpSLFOC (Stop Lethal Force on Children)

Longview, Texas- In a " target="_blank">video posted to YouTube this past Saturday, alleged Anonymous member AnonSec 101, announced #OpSLFOC (Stop Lethal Force on Children) in response to the recent killing of teenager Kristiana Coignard by Longview police.
The city of Longview confirmed Monday it had been targeted by hackers, according to the Longview News-Journal.
"We are aware that we were targeted. ... We have taken appropriate steps," city spokesman Shawn Hara said. "One thing that they targeted was the website."
The shooting of Coignard, who was killed by officers after entering the police station lobby and allegedly threatening officers with a knife, once again raises the question of why there is a nationwide epidemic of police on citizen violence/killing.
According to Think Progress, Coignard lived with her Aunt, Heather Robertson, in Longview.
Robertson said that her niece had been struggling with mental illness, including depression and bipolar disorder, since her mother died when she was four. She had been hospitalized twice in recent years after suicide attempts.

One time, she tried to hang herself. Another time, she drank toilet bowl cleaner. Since arriving in Longview in December, Coignard had been taking medication and regularly seeing a therapist. She had no criminal record and "was only violent with herself, " Robertson said.
Why are non-lethal options not being utilized when dealing with someone of the physicality of a petite 17-year-old girl?
While cops often claim the reason for deadly force is fear for their own life, the numbers indicate it's much more dangerous to be a citizen than a cop.
So far this year, roughly 78 citizens have been killed by cops, while zero officers have been killed in the line of duty.
The statement from attributed to Anonymous reads:
"Greetings World. We are Anonymous.

It has been brought to our attention that the lethal force of firearms by police is being used on our children in America. We will no longer stand for this. In longview, Texas, Kristiana Cognard, was shot and killed on January 22nd by police for pulling a knife and threatening officers.

We ask you, Longview police department, are you happy with the choice of actions taken by your officer? We ask you, what kind of people you hire as police officers that can't take a knife from a small 17-year-old girl? We ask you, why are your officers carrying tazors if they will only reach for their guns first?

A firefighter will endanger their life and enter a burning building for the POSSIBILITY of saving a life, a lifeguard will risk drowning for the possibility to save a life. But a COP will kill you, OR even a 10 year old child, because you POSSIBLY could have caused them harm.

To the citizens of America, it looks as if police are trained to kill and not to serve and protect us. Police are trained to not trust anyone they approach, so why do you believe we should trust the police officers? In 2014, we watched as police killed children and it started a army of angry Americans. This teen girl's death just put fuel on that fire, and also of Anonymous around the world.

This is only the beginning of what is to come from Anonymous. If we don't protect the children no one will. We are Anonymous. We are legion. United as one. Divided by zero. Expect us."
It's hard to imagine that the only option Longview police department had was to shoot and kill Kristiana.
Police killing of citizens, often times mentally ill or unarmed, is reaching disturbing proportions and needs to be seriously addressed as the problem is systemic.
The reality is that America is in the grip of a grave public health crisis.
Jay Syrmopoulos is an investigative journalist, freethinker, researcher, and ardent opponent of authoritarianism. He is currently a graduate student at University of Denver pursuing a masters in Global Affairs. Jay's work has previously been published on BenSwann.com and WeAreChange.org. You can follow him on Twitter @sirmetropolis, on Facebook at Sir Metropolis and now on tsu.