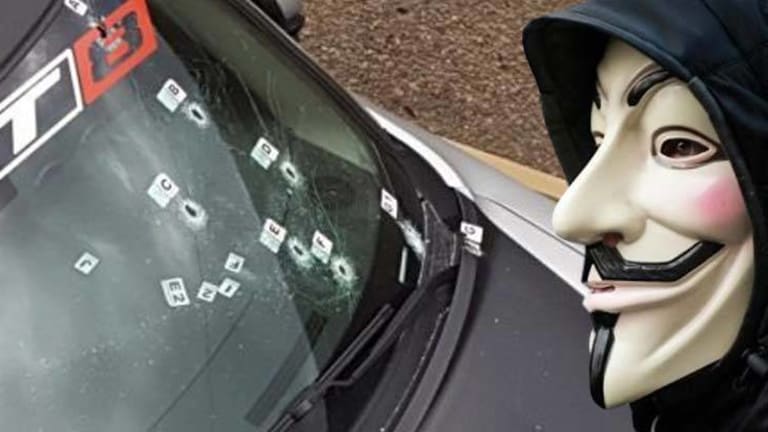 Anonymous Takes Down Police Website After they Killed an Unarmed Man in Front of His Family
After police gunned down an unarmed father in front of his wife and child, Anonymous is seeking justice.
Denver, CO -- After an unarmed father was gunned down by Denver police, Anonymous launched an attack on multiple websites to raise awareness and seek justice for the victim.
Members of the New World Hacking (NWH), an Anonymous affiliate, conducted a series of powerful distributed denial-of-service (DDoS) attacks against the city of Denver's website in retaliation for the killing.
Softpedia reports that NWH also attacked the Bank of Denver. The group said both attacks were in retaliation for the unlawful killing of a Denver man.

Hack Readdescribes the DDoS attacks by NWH as very powerful. One of the attackers was quoted in an interview with Techworm as saying "We see how Denver police don't care so if they don't care about killing and innocent; we don't care about continuous attacks on Denver."
For those unfamiliar, the NWH is the same group who claimed responsibility for shutting down Xbox online service, BBC news servers, HSBC UK's online banking, the official website for Donald Trump's election campaign, Salt Lake city Police and airport websites, according to Techworm.
On April 12, 39-year-old Dion Avila was gunned down by a Denver SWAT team as his wife and child watched in horror. Avila was unarmed and was not a threat to police.
Having just dropped off his wife and child at the courthouse to pay a traffic ticket, Avila was sitting in his parked car.
"I was coming here to pay a fine, and we parked. I asked my husband if he wanted to come in and he said no he'll wait in the car," said Avila's wife. "Then I see a truck come up and hit my car, and it startled me so hugged my son and grabbed him."
After smashing into his car, a SWAT team surrounded him to serve a warrant on the suspicion of robbery. Within seconds, he would be killed.
"I'm telling them, 'please don't shoot, I'm not armed my husband's not armed,'" she said.
Jeff Motz, a 23-year veteran, fired seven times after he feared for his life claiming the unarmed Avila made a "threatening-type maneuver."
Initially after the shooting, the Denver Police released a statement claiming they did not know whether or not Avila was armed. However, in a press conference the next day, the DPD admitted that no gun nor any dangerous items were found in the vehicle.
As the Unicorn Riot reports,
Prior to murdering Dion Avila Damon, Jeff Motz had been involved in two other high-profile, contested shootings.

In 2003, Motz, then an officer and not a technician, was one of eight cops who fired shots during theDenver Police killing of Shaun Gilman, a 20-year-old mentally ill man whose family called the police when he was having an episode. Shortly after Motz & other officers killed her son, Katie Gilman told the Denver Post, "Some training has to be done. And if the police officers feel threatened, they should be able to call somebody. There has to be something other than a bullet to help these people."

On January 16, 2013, Tech. Jeff Motz was involved in a pursuit of a suspect in a pickup truck who led police on a chase and a shootout ensued. After the chase ended, Michael Valdez, a bystander who had been riding in the truck, was shot in his back and his hand while he was detained face down on the ground. Valdez survived, and after being held in jail for months on over a dozen false felony charges, he sued five police officers including Jeff Motz. The case appears to be ongoing. According to the lawsuit,

"While prone on the ground with his face in the grass and his hands extended overhead, Valdez was shot by the defendant officers, once in his back and once to his fourth finger as he tried to shield his head from gunshots."
Almost 1 year to the date, before killing Avila, in 2015, Jeff Motz had received one of the department's highest honors, the Distinguished Service Cross, for his heroism and courage in the 2013 incident mentioned above.
Well, thanks to this hero, a young boy will now grow up fatherless and his mother a widow.
For being a suspect in a robbery case, this man, with his entire life ahead of him was murdered by police, carrying out what they will refer to as 'due process.'
[author title="" image="https://tftpstagingstg.wpengine.com/wp-content/uploads/2016/03/magorist-e1456948757204.jpg"]Matt Agorist is an honorably discharged veteran of the USMC and former intelligence operator directly tasked by the NSA. This prior experience gives him unique insight into the world of government corruption and the American police state. Agorist has been an independent journalist for over a decade and has been featured on mainstream networks around the world. Follow @MattAgorist[/author]