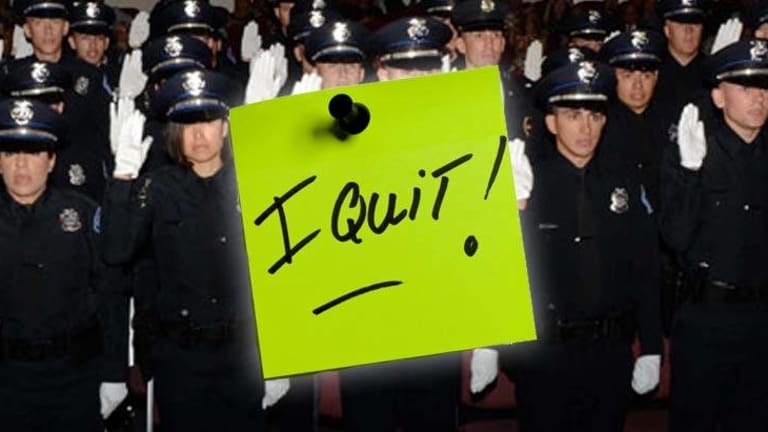 Police Cadet Quits Academy, Reports Cops After Witnessing Homeless Man Being Beaten By Officers
An Albuquerque Police Cadet has resigned after reporting two of his coworkers for beating a homeless man.
Albuquerque, NM-- District Attorney Kari Brandenburg has provided new details in the case of two Albuquerque police officers who are under investigation for brutality after allegedly beating a homeless man on March 20. According to Brandenburg, the person who reported the assault was a police cadet who has since resigned.
Few details are known about what exactly transpired, and Police Chief Gorden Eden told KOAT that it is partly because he's concerned for the safety of the cadet who reported the incident. Mayor Richard Berry says the fact that it was an employee shows there is a level of comfort and internal accountability within the department, as someone felt safe enough to come forward. However, the department is afraid for anyone to know the identity of the cadet - possibly implying that they do not even trust their own officers.
The department has not named the officers involved, provided any details on the beating or condition of the victim, or even reported where exactly the incident took place.
The only information shared by the chief came from a YouTube video posted to the department's Facebook page. He stated that an internal affairs investigation was immediately launched and the Department of Justice, FBI, and US Attorney's Office were also notified. The case is now being investigated by the state police
" width="790" height="444" frameborder="0" allowfullscreen="allowfullscreen">
Since 2009, the troubled department has been involved in 47 shootings, 32 of which were fatal. Chief Eden has stated that these numbers reflect a "systemic failure in our ability to track employee misconduct."
In April of last year, the department was accused of using excessive force by the Justice Department after the frightening murder of the homeless James Boyd when he was approached for "illegally camping." Boyd was shot by an officer who had discussed his plans to shoot him in the penis, hours prior to his death. Their own police chief openly admitted that he is stuck with officers who should not be on the force.
"Based on our investigation, we have reasonable cause to believe that APD engages in a pattern or practice of use of excessive force, including deadly force, in violation of the Fourth Amendment and Section 14141. Our investigation included a comprehensive review of APD's operations and the City's oversight systems. We have determined that structural and systemic deficiencies—including insufficient oversight, inadequate training, and ineffective policies— contribute to the use of unreasonable force," the Department of Justice wrote of the department.
While the APD may have lost a desperately needed actual "good cop", the violent duo accused of the assault are currently on paid leave.