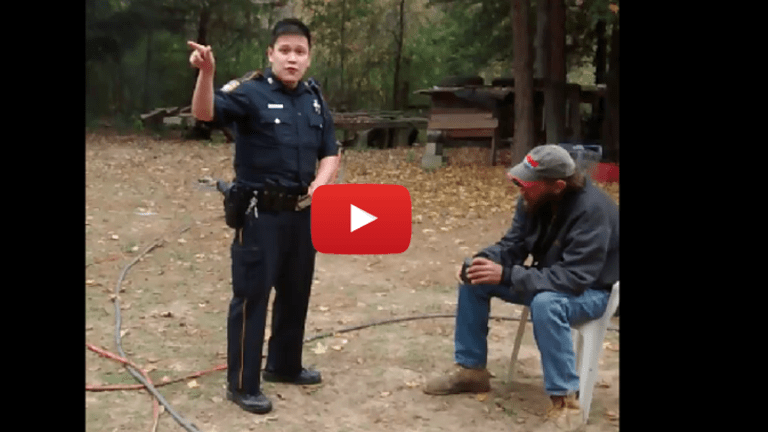 Apparently this Cop has Never Heard of YouTube OR the First Amendment, Now He Will
Houston, TX -- A video submitted to the Free Thought Project shows just how far we have to go before all police officers understand that they cannot stop someone from filming.
Michael Gardner was working on private property and had permission from the owners to be there when police showed up, responding to a 9-1-1 call.
Gardner, being the good citizen that he is, began filming this police interaction, of which he was not involved.
The responding officer, officer Hoang of the Harris County Sherrif's office, was there to question the man sitting in the chair as one of the residents at that property had called the police. Instead of focusing on the man in the chair, who the 9-1-1 call was about, Hoang turned his attention to the man holding him accountable.
Gardner was lawfully on private property and when officer Hoang told him to leave, this was an unlawful order. But that didn't stop Hoang from throwing a temper tantrum and arresting Gardner.
The man in the chair could have hindered this situation when he told him to "listen to the officer," however Gardner tells the Free Thought Project that this man was not the property owner and was not the person that gave Gardner permission to be there.
Eventually, Hoang has enough of being held accountable and subsequently deprives Gardner of his freedom for it.
Hoang will soon learn his lesson, as this video will likely go viral and the entire world will see his blatant rights violations, caught on camera.
Gardner says that he was handcuffed and placed in the backseat of the cruiser, with no seat belt. Officer Hoang then proceeded to drive over the posted speed limit all the way to the jail.
Upon meeting with the judge, Gardner was immediately released as the judge was obviously unable to find probable cause to charge him with anything, according to Gardner.
In the video, we can see Gardner make a pretty significant mistake and according to his Facebook page, he realized it and said, "I should have never answered his questions." Now he knows for next time. At the end of our interview with Gardner he tells the Free Thought Project, "I will not stop videotaping police. The public is awake to the police state. We have to stand strong in the fight against tyranny."
Bravo Michael Gardner, bravo.
Below is the video of Officer Haong, who apparently lives in a cave, without the internet, and has never heard of youtube or people filming the police or the First Amendment to the Constitution.
Dear rest of the police officers in America, this is how NOT to act when being recorded.

Below is the original facebook post from Gardner.
Post by Michael Gardner.