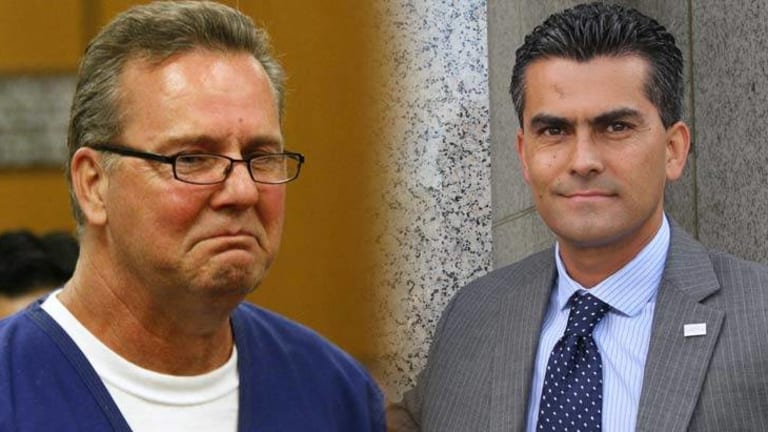 Two Innocent Men Framed by LA Cops who Lied and Threatened Witnesses, Can Now Seek Justice
The officers were never punished for threatening witnesses, withholding evidence, and sending innocent people to jail. But now there may be some semblance of justice.
Los Angeles, CA -- After collectively serving 47 years in prison for crimes that they did not commit, two wrongfully convicted men are allowed to advance lawsuits against the Los Angeles detectives and deputy who withheld exonerating evidence at their trials and pressured witnesses into falsely testifying against them.
A three-judge appellate panel denied immunity to police investigators on Wednesday after determining that they had been required to turn over exculpatory evidence in separate murder trials. Although attorneys for the police have argued that the lawsuits should be dismissed because the law was unclear in 1984 and 1991, officers have been required to disclose exonerating evidence since the 1963 Supreme Court decision, Brady v. Maryland.
Convicted of killing Jay French in 1984, Frank O'Connell spent 27 years in prison for a murder that he did not commit. Detectives focused on O'Connell after learning that he had been romantically involved with French's ex-wife, who was in the middle of a vicious custody battle with French. In 2009, O'Connell's conviction was overturned after a judge found that detectives J.D. Smith and Gilbert Parra had failed to turn over exculpatory evidence.
The prosecution's star witness, Daniel Druecker, initially identified O'Connell as the killer and testified against him in court. But years later, Druecker returned to court and testified that he had barely glimpsed the killer's profile and had not been wearing his glasses at the time. Druecker admitted in court that he had testified against O'Connell because he felt pressured and intimidated by the investigators. Another witness told investigators that he was "not positive" that O'Connell was the killer.
Instead of turning in the notes from their investigation, detectives Smith and Parra also concealed the fact that another suspect attempted to kill French four years earlier. Required to turn over all of their evidence, the detectives suppressed the exonerating evidence and tampered with witnesses in order to convict an innocent man.
At the age of 16, Francisco Carrillo Jr. was arrested and later convicted for the murder of Donald Sarpy on January 18, 1991. Six teenage boys who witnessed the drive-by shooting identified Carrillo as the gunman. After spending 20 years in prison, Carrillo was released after five of the six witnesses, including the victim's son, recanted their identifications. The sixth witness had refused to testify against Carrillo.
According to Carrillo's lawsuit, Deputy Craig Ditsch steered witnesses into identifying him and threatened a witness who had decided to recant his identification. Ditsch allegedly pressured an eyewitness named Scott Turner into identifying Carrillo after Turner chose several photographs of other suspects after the shooting. When Turner decided to recant his identification before Carrillo's second trial, Ditsch reportedly threatened him.
In 2011, L.A. County Superior Court Judge Paul Bacigalupo overturned Carrillo's conviction and ordered his release after concluding that the eyewitness testimony against him was false, tainted, or both.
On top of police officers being clearly required to disclose exonerating evidence since Brady v. Maryland, in 1978, the Ninth Circuit issued a similar ruling in U.S. v. Butler. This case made it "unmistakably clear that police officers and prosecutors alike share an obligation to disclose 'pertinent material evidence favorable to the defense,'" Judge Raymond Fisher wrote for the court on Wednesday.
Judges Carlos Bea, Jay Bybee, and Fisher unanimously decided this week to deny immunity to the investigators responsible for wrongfully imprisoning two men for collectively 47 years. Allowed to advance their lawsuits against the cops who withheld exculpatory evidence and pressured witnesses, O'Connell and Carrillo continue to seek a modicum of justice.
The three officers accused of concealing evidence and tampering with witnesses were never disciplined for their actions. Detective Parra has since died while Detective Smith and Deputy Ditsch have retired.
Last year, Carrillo, who now works as a Justice Advocate with Death Penalty Focus and is a student at Loyola Marymount University, gave a riveting talk at TEDx and described his experience.