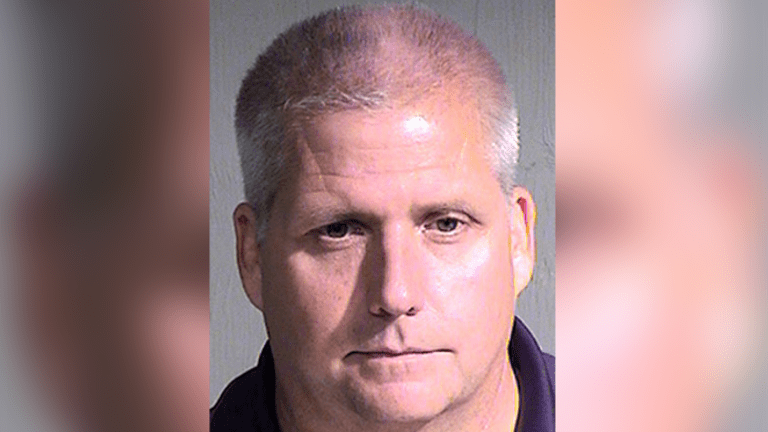 Phoenix Cop Arrested for Holding Arizona Congressman at Gunpoint

Phoenix - Former Arizona state congressman Armando Ruiz was on his way to church on Monday evening when he claims he was held at gunpoint and his life was threatened by Phoenix police officer Jeremy Sweet.
Ruiz told KPNX, that he and fellow churchgoer Monica Rivera were driving to Monday evening mass when they were cut off by a unmarked van, when he swerved to avoid a crash and honked at the van.
What happened next left Ruiz and his passenger terrified and fearing for their lives.
Ruiz, who served in the Arizona House of Representatives for nine years, said that after avoiding the crash, Sweet slowed down to 10 miles per hour allowing Ruiz to pass him.
At that point Sweet attempted to "ram" his vehicle, forcing Ruiz to speed up to avoid being hit according to Ruiz.
Ruiz said Sweet gave chase and pulled around Ruiz's vehicle maneuvering his van directly into the path of Ruiz, forcing him to stop.
What happened next is absolutely shocking. According to Ruiz, Sweet looked enraged and pointed his handgun at them through the passenger window.
It must be noted that Ruiz says Sweet never identified himself as an officer or even said anything to them as he pointed his firearm at them and held them at gunpoint.
Ruiz said that he put his hands in the air and that Rivera started praying.
"He's going to kill us," Rivera recalled thinking.
According to Ruiz, after being held at gunpoint for two minutes he noticed that Sweet was wearing a badge and recognized he was a police officer.
"I thought… 'Oh my God, this is a police officer. He's trained to shoot to kill,'" Ruiz said.
Ruiz said he felt that Sweet was looking for a reason to shoot him as he sat there with his weapon trained on him, "he just couldn't figure out what else to do, I think, at that point."
At that point Sweet finally broke his silence saying, "Be careful who you honk at the next time," before driving away, according to Ruiz.
Ruiz took down the license plate of the van and called 9-1-1.
Sweet was arrested Tuesday night on one count of aggravated assault, a Class 3 felony.
Police spokesperson, Sgt. Trent Crump went on record stating, "The Phoenix Police Department takes this incident very seriously and has taken swift and appropriate action to help ensure public trust remains high. We understand our role in the community of upholding the law and anything less will never be tolerated."
While great to see accountability in this case, one must question whether this would have happened if this were not a well respected former legislator who was the victim, but an everyday citizen without any connections within the halls of government.
The blatant disregard for the law shown by Sweet is jarring to the conscience, as his alleged behavior is more akin to that of a common street thug than of an officer sworn to uphold the law. Let's hope there are consequences for these actions rather than the standard slap on the wrist. Sweet is certainly in need of reminding that badges don't grant extra rights.
Jay Syrmopoulos is an investigative journalist, freethinker, researcher, and ardent opponent of authoritarianism. He is currently a graduate student at University of Denver pursuing a masters in Global Affairs. Jay's work has previously been published on BenSwann.com and WeAreChange.org. You can follow him on Twitter @sirmetropolis and on Facebook at Sir Metropolis.