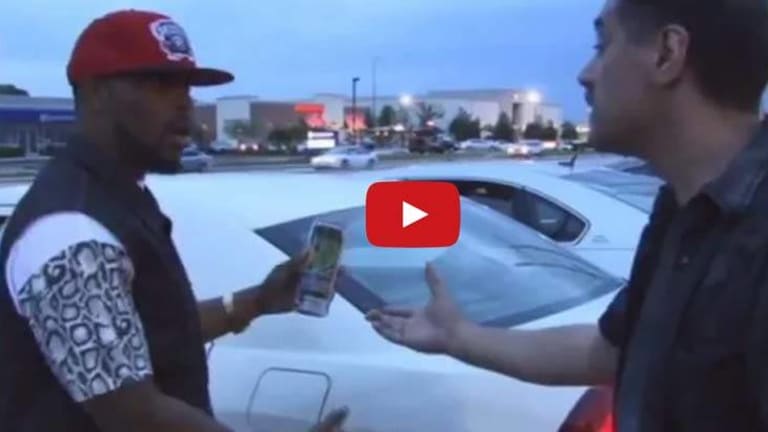 Justice! Arrest of Man for Drinking Arizona Iced Tea, Ruled Unconstitutional
Had this incident not been captured on video, it could have gone in quite the opposite direction.
Fayetteville, N.C. – Nearly two years ago a confrontation between Christopher Lamont Beatty and Alcohol Beverage Control (ABC) officer Rick Libero went viral. Libero arrested Beatty, as he drank Arizona brand iced tea in a parking lot, for refusing to allow him to inspect it, and then claimed Beatty was trespassing.
Beatty, a former staff sergeant with Fort Bragg's 82nd Airborne Division, was charged with resisting arrest and trespassing in relation to the incident, which took place on Aril 27, 2013.
The officer can be seen approaching Beatty and demanding he hand over his drink for inspection, thinking that it was alcohol. After being shown it was not alcohol, but not liking the demeanor of Beatty, Libero decides to throw his perceived authority around and attempts to be the typical bully with a badge.
One of the driving factors in the video going viral was that people were outraged to see a citizen's rights being violated, and him being arrested for not complying with a random demand to hand over his store bought non-alcoholic canned iced tea.
The interaction caught on camera is a stark example of the slippery slope into a police state and should be a wake-up call to every American.
" width="790" height="444" frameborder="0" allowfullscreen="allowfullscreen">
This past week, Cumberland Country District Court Judge Lou Olivera granted a defense motion to dismiss the case based on a lack of reasonable suspicion for the initial stop, according to the Fayetteville Observer.
In ruling the stop unconstitutional, all evidence gathered during the stop becomes inadmissible in court in what he referred to as "fruit of the poisonous tree," due to it having been illegally collected.
After numerous delays over the past 18 months, Beatty said, "I'm astounded this is finally over."
The viral video of Beatty's arrest has drawn more than 1.5 million views thus far on YouTube.
"There's an unfortunate culture in this community in relation to civil rights. Where a police officer, like Mr. (Rick) Libero, can order someone to hand over his can," said Allen Rogers, Beatty's attorney.
In a clear disconnect with the Constitution, Assistant District Attorney Charles Scott said,
"I clearly disagree with the decision. It's (a reflection of) what's going on in many parts of the country. If you arrest or attempt to arrest people, there appears to be great anti-police sentiment in certain quarters."
Perhaps if the police weren't continually violating people's constitutional rights and attempting to bully people into submission, there would be less "anti-police" sentiment.
It's deeply troubling that a prosecutor, after being so explicitly rebuked by the judge in this case as to the constitutionality of the stop, STILL doesn't seem to understand that police can't legally just walk up to people and force inspection without any reasonable articulable suspicion.
Libero attempted to explain to the court his justification for the stop.
"I had reason to believe that it may (contain) alcohol," said Libero from the witness stand. He went on to claim that he was suspicious of the way in which Beatty was carrying the can.
This point begs the question; how does one hold a can suspiciously???
Thankfully there was a camera there to film this interaction, or Beatty would have almost certainly had his rights violated and been turned into a criminal through no doing of his own.
How often does this scenario play out across America, but with no video to refute the "official" story?
This case highlights why it's so important to film interactions with law enforcement, in police state USA, contempt of a cop is a criminal offense that could potentially get you shot or killed.
Jay Syrmopoulos is an investigative journalist, freethinker, researcher, and ardent opponent of authoritarianism. He is currently a graduate student at University of Denver pursuing a masters in Global Affairs. Jay's work has previously been published on BenSwann.com and WeAreChange.org. You can follow him on Twitter @sirmetropolis, on Facebook at Sir Metropolis and now on tsu.