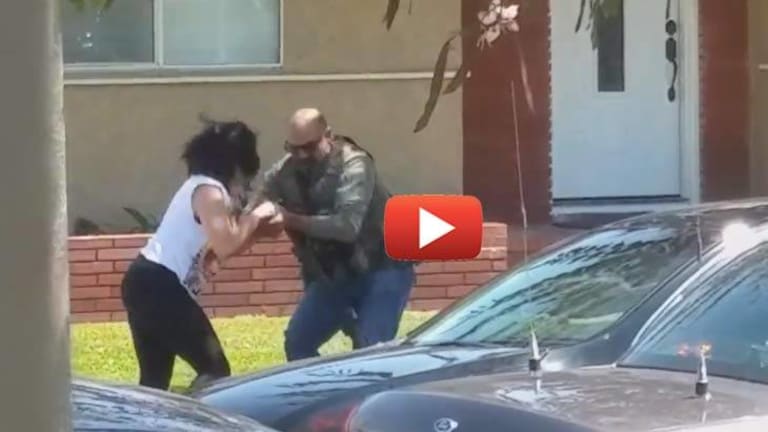 SHOCK VIDEO: Cop Armed with an AR-15 Charges at Woman Filming Police, Smashes Her Phone
This is what a tyranny looks like, public servants angered by accountability; to the point of assaulting an innocent woman.
South Gate, CA-- A shocking and disturbing video uploaded to YouTube on Sunday caught an armed police officer charge at a witness, snatch her camera, and smash it- before kicking it as hard as he could to destroy it. A witness who was quietly filming the confrontation from across the street gasped in horror as she thankfully captured the scene.
" width="788" height="443" frameborder="0" allowfullscreen="allowfullscreen">
The incident occurred in South Gate, a city in Los Angeles County. The officers appear to be in SWAT gear as you hear the woman asserting her right to be there. It is unclear what she was filming that the officers so badly wanted to hide.
"I have a right to be here, you need to stay away from him," the woman is heard asserting, calmly, a mere 15 seconds before an officer armed with an assault rifle beings to walk towards her. As the woman non-aggressively begins to distance herself from the officer, he begins running full speed at her, grabbing her phone and yanking it from her hands.
The woman who was also filming the scene is heard gasping in shock and horror, as the officer smashes the phone to the ground and kicks it as hard as he could away from the scene. It sounds as if one his buddies is cheering as the attack took place. The officer then calmly walks away as if it was business as usual and he had not just assaulted a woman.
The police are scared, they know that they are being held accountable by the public and by good citizens who look out for one another and film police encounters. This is why it is imperative that we continue to film the police. If you see someone else filming, find another vantage point and film with them. You can never have too many cameras. The bad can continue to be bad if the good stand by and do nothing. Sunlight is the best disinfectant.
We all need to contact the US Marshall's Officer at [email protected] and demand this officer be held accountable for this assault.
If anyone has more information on this incident, please contact us at [email protected]