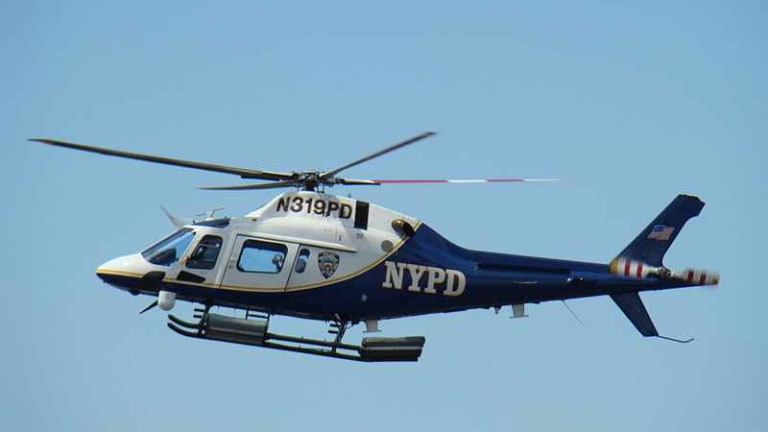 Men Arrested for Flying Drone Too Close to NYPD Chopper, Turns Out the NYPD was the One Too Close
Initially, the police claimed that the drone attacked the helicopter and attempted to fly into it, but audio that was later released by air traffic control tells a different story. In the air traffic control recordings, the NYPD helicopter pilot can be heard announcing that he is following the drone.
The two New Yorkers were arrested in July after an NYPD helicopter chased down a drone that they were flying. Wilkins Mendoza and Remy Castro were flying a 500$ DJI Phantom drone near the George Washington Bridge late one Sunday night when the aircraft was spotted by an NYPD helicopter.
The pilot told air traffic control which direction the drone was heading in, and kept the drone in his sights. Additionally, the pilot never said anything about the drone flying deliberately in his direction, he only mentioned that the drone was flying in the vicinity of the helicopter.
The men who were arrested also claim to have video evidence that the helicopter followed them.
"We have video proof that we are not following him, he's following us. He's endangering our lives and himself by following us. He's wasting taxpayers money following a little drone. He's wasting taxpayers' money. It's not our fault it's not illegal," Jonathan Castro, one of the pilot's brothers, told New YorkDaily News.
Below is a recording of the exchange with air traffic control, as well as the transcript:
NYPD—What kind of contact do you have … at this time.
Tower—What do you mean, what kind of contact?
NYPD—I don't know. We just had an aircraft do vertical climbs pretty fast.
Tower—I don't see anything on the radar. About how high would you say it went?
NYPD—I'd say 0 to about 2,000 [feet] in less than two seconds. And he's got green and red now. He's going up Spuyten Duyval [bridge], northbound at this time.
Tower—Really? I don't see anything on the radar. Im not seeing anything like that.
NYPD—He has to be military. He's moving. He's right over top of us right now, LaGuardia. He did a 180 really quick. Going down the east river at this time. I just want to make sure its not a drone.
Tower—I'll look out the window.
NYPD—LaGuardia we are 800 feet and he is level with us at this time.
Tower—He's level.
NYPD—Going Spuyten Duyval to the [George Washington Bridge]. He's got to be a drone.
Tower—Roger that.
NYPD—He's got red and green lights. Hes trucking, hes moving fast. LaGuardia, definitely a drone. Hes going up the streets now between buildings.
Tower—Ok, all right. Man, theres really gotta be a better way to maybe disable these guys.
NYPD—We are going to stay here and figure out where he puts it.
Tower—Take your time, you're the only ones in the air.
NYPD—Will do. Yeah, we got drone activity at the GW Bridge. We are trying to walk an RMP [remote mobile patrol] into it. We got the guys operating it on the ground. Hopefully we can get these guys collared up.
Tower—In the vicinity of the GW? They were at the GW. Now I got three, four, coming up to Fairview and 193, vicinity of.
Tower—All right, you want me to do anything from here.
NYPD—Nope, just letting you know.
NYPD—Ok we got these guys are saying these are just toys but these drones were flying in vicinity of [George Washington Bridge]. They buzz around us as well.
Tower—All right what altitude were you guys at.
NYPD—These things were well over 2,000 feet. They were above us at 1,000.
Tower—You still have a visual.
NYPD—No, we've got custody, we've locked the [radio mobile patrol police cars] into them. You know, we have the guys who were operating them. We really don't know exactly what we have, maybe a reckless. Not sure what exactly we got.
Tower—All right 10-4.
NYPD—Just so you know there was a class given to lt perez, I don't know if you want to disturb him or not, but he had all the info on that.
Tower—All right 10-4 thank you.
NYPD—Tiny little, we got them on the ground now. Tiny little drones with four blades on it. But, yeah, It was all the way over the GW. Now we are all the way over at Spuyten Duyval flying two miles away to 2,000 feet.
NYPD—They are with them right now, but we don't even know what we have.
NYPD—Definitely, we just don't know what kind of crime we have right now.
NYPD—Seems to me, if they were at 1,000 feet, they'd have to be operating that thing recklessly, regardless of whether or not it was a toy.
It was probably not the best idea to pilot a drone so close to a bridge, however it was the NYPD who created a dangerous situation, not the two men.
John Vibes is an author, researcher and investigative journalist who takes a special interest in the counter culture and the drug war. In addition to his writing and activist work he is also the owner of a successful music promotion company. In 2013, he became one of the organizers of the Free Your Mind Conference, which features top caliber speakers and whistle-blowers from all over the world. You can contact him and stay connected to his work at his Facebook page. You can find his 65 chapter Book entitled "Alchemy of the Timeless Renaissance" at bookpatch.com.