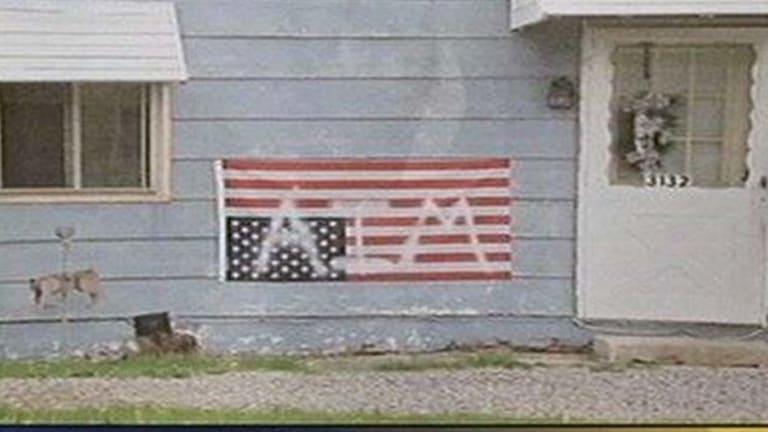 PA Man Arrested and Jailed for Flying a Flag Upside Down Gets $55,000
A Pennsylvania man was arrested and charged with insulting and desecrating the flag and has since filed and settled a lawsuit.
Blair County, PA -- A man from central Pennsylvania was kidnapped by police and deprived of his rights for doing nothing more than hanging an American flag upside down on his own property. Joshua Brubaker has since settled a civil rights lawsuit against the city for more than $55,000.
The Altoona Mirror reports Friday that supervisors in Allegheny Township, Blair County, have approved letting their insurance company pay the money to Joshua Brubaker.
In May of 2014, Brubaker said he was standing up for his American Indian heritage when he hung the upside down flag outside of his home with the letters AIM spray painted on it. AIM stands for American Indian Movement.
The flag was to protest the plans to route the proposed Keystone Pipeline through the site of the Wounded Knee confrontation in South Dakota.
Brubaker had harmed no one and was merely exercising his 1st Amendment right to free speech when the Allegheny Township police descended on his home.
"I was offended by it when I first saw it. I had an individual stop here at the station, a female, who was in the military and she was very offended by it." said Allegheny Township police Assistant Chief L.J. Berg.
Berg took down the flag and charged Brubaker with desecration and insults to the American Flag.
According to WPXI, Brubaker defended his actions after his arrest, "I found that Wounded Knee is up for sale. Not only privately, but commercially. It's just not right, and simply because I express myself in a way that somebody else doesn't like or agree with doesn't mean I should be persecuted for having beliefs."
Luckily for Brubaker, a judge would later dismiss all the charges against him. The township has since advised its police to stop enforcing the state's tyrannical and 1st Amendment-violating flag desecration laws.
"If I don't have a right to fly that flag upside down, which means a sign of distress, which this country is in so much distress right now, then what's the point of having it?" Brubaker asked
However, the 1st Amendment hating police department said that there were other ways he could've expressed himself, other than "Defacing a symbol so many have fought hard to protect."
"People have made too many sacrifices to protect the flag and to have this happen in my community, I'm not happy with that," Berg said.
Apparently, Chief Berg and the other oppressive neighbors, haven't seen the many veterans and active duty military in this country flying their flags upside down.
To be offended is to take the first step in being a totalitarian megalomaniac. Acting on that offense with state force is the epitome of intolerance and tyranny.
To be offended by what someone else says is your own choice, as you don't have to care about what other people think, and nothing has happened to you. Information merely passed from their mind to yours.
To state that you are offended means that you wish the person hadn't said it and won't say anything similar again. In other words, you actually want to stop certain information from being communicated.
You must believe that you have some sort of right to dictate not only what people can and can't communicate, but what they can and can't think.
[author title="" image="https://tftpstagingstg.wpengine.com/wp-content/uploads/2016/03/magorist-e1456948757204.jpg"]Matt Agorist is an honorably discharged veteran of the USMC and former intelligence operator directly tasked by the NSA. This prior experience gives him unique insight into the world of government corruption and the American police state. Agorist has been an independent journalist for over a decade and has been featured on mainstream networks around the world. Follow @MattAgorist[/author]