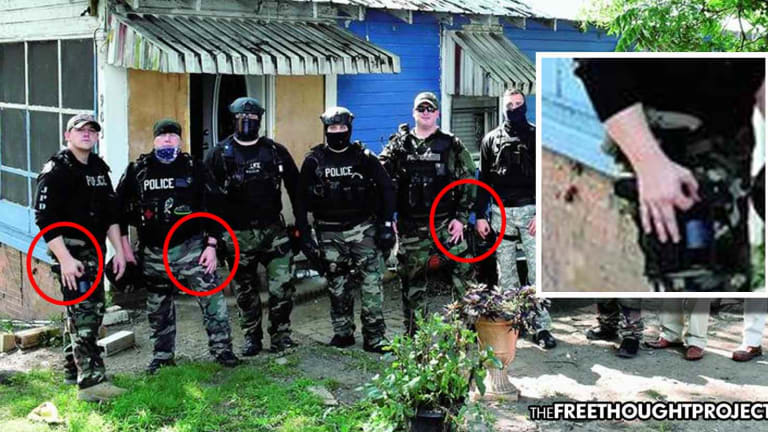 As Cops Rape and Kill With Impunity, Officers Facing Discipline for Playing 'Circle Game'
Cops in Alabama are in hot water after playing a child's game with their hands while cops across the country kill, beat, and rape with impunity.
Jasper, AL — In just the last few months, multiple cops have been caught with child porn, attempting to have sex with children, robbing people, and killing a 6-year-old boy and not a single one of them have gone to jail — many of them weren't even disciplined. Illustrating just how twisted and backward the justice system is in this country, as the cops mentioned above escaped accountability for horrific crimes, multiple officers in Alabama are facing discipline for playing the 'Circle Game' with their hands.
For those who are unfamiliar, the circle game involves making a circle with your index finger and your thumb and tricking others around you into looking at it while it is displayed below your waist.
The controversy started after the Jasper Police Department raided a man's home for the suspected sale of drugs. After the bust, the officers posed for a photo outside of the home in which four of the men displayed the circle below the waist with their hands.
When the city's mayor, David O'Mary saw the photo, he noted that some people thought police were making the "white power" symbol with their hands, not the circle game.
While for many people, the symbol means nothing more than an "a-okay," since a meme depicting the Pepe the Frog—declared racist by the ADL—flashing the symbol began being circulating on alt-right channels on social media in 2015, the symbol has taken on more sinister undertones. Apparently, the three raised fingers form a "W" and the "P" is formed by the index finger and thumb, standing for "white power." After the mayor made the announcement that the officers were suspended without pay for making the gesture, citizens in the community came forward to explain how they see it differently. "It's a kid game. Going around and hitting everybody when you see it," said one man in downtown Jasper according to ABC33. Indeed, because the officers aren't holding their hands upside down and not up to make the 'WP' shape, and because their hands are below their waists, it is clear that they are most likely not displaying this alleged white power symbol. "That's contradictory to how we run our city. That's not our mindset. That's not the way we do things and they used poor judgment," the mayor said. O'Mary explained on Tuesday that the officers, whose names have not been made public, will be suspended for two weeks and lose a week of pay. "We talked to two senior African-American law enforcement officers that are on the City of Jasper's payroll and they think it's fair and that's a pretty good sounding board," O'Mary said. When we contrast this discipline with that of other officers, a disturbing pattern appears—even when it comes to actual provable racism. Last October, the Verdigris Police Department announced that one of their officers, Brandon Jarvis, would not be suspended or disciplined in any way after his Facebook account left a demeaning and racist comment on a post. The post was about the recent NFL protests and how players were taking a knee. The racist post was made in the comments of a post by another person who joked about hockey players "standing for two anthems." "Precisely why I don't watch NFL bunch of f–in overpaid greasy headed (expletive) expecting everything for nothing!! It would make my day to bitch slap the Jerry juice outta everyone of them's hair!! F— em!! #sorrynotf–insorry" Jarvis' account was quoted as saying. These words were recorded from his own account, yet nothing happened to the officer. Or, consider the case of Officer Jesse Hill, who shot and killed an innocent mother while attempting to kill her dog. For killing the innocent woman, officer Hill faced no discipline. In December, The Free Thought Project reported on the tragic death of 6-year-old Kameron Prescott whose life was stolen from him when police opened fire on an unarmed woman suspected of stealing a car. Now, the officers who killed him will not face discipline and are back on the job.

After the mayor noted that the officers in the photos were going to be suspended, the chief came forward and explained that this was a miscommunication.
"That was a miscommunication on my part. At no time has an officer lost pay. Now I'm not saying that they won't but that's something that we've got to determine and we've got a due process that we need to follow through our Civil Service Board," said Jasper Police Chief J.C. Poe.
Regardless of the discipline these officers receive, the fact that officers across the country can kill and maim with impunity is a massive problem and if half the scrutiny given to this child's game was given to cases of police brutality and overt racism, perhaps that wouldn't be the case.