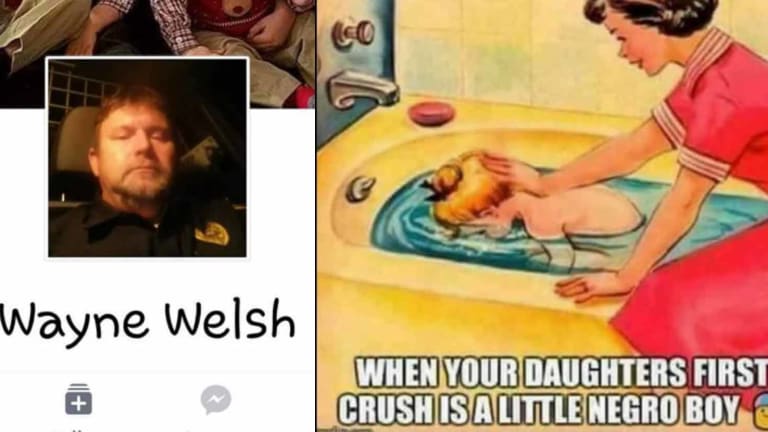 Racist Cop Quits After Facebook Post Saying He'd Drown His Daughter If She Dated a "Negro"
A bigotted and apparently clueless Asst. police chief didn't think it was a problem to post disgusting racist memes on Facebook, now he's under fire.
Estherwood, LA - The assistant chief of police for the Estherwood Police Department has resigned after coming under public scrutiny after sharing a racist meme on Facebook that went viral. After initially attempting to defend his actions on the social media website, the officer reportedly submitted his resignation on Tuesday night.
Tendering a resignation before disciplinary action can be taken is a common tactic among police, as it allows their record to remain untarnished, thus being able to continue operating as a police officer in another municipality – with their new employers being none the wiser as to their previous heinous actions.
The incident was first reported on Monday by KATC, which refused to identify the officer in question due to him having not been charged with a crime. Thankfully, social media stepped up to the plate, as a Twitter user going by
Cops: "You shouldn't fear us if you haven't done anything wrong."

Also cops: pic.twitter.com/3Ie84hhEcg
— Black Aziz Ansari ? (@Freeyourmindkid) August 1, 2017
" target="_blank" rel="noopener">@Freeyourmindkid found, and posted, incriminating screenshots of officer Wayne Welsh's Facebook page.

The racist post featured a caption stating, "When your daughters [sic] first crush is a little Negro boy," with a picture of a white woman forcing a little girl's head underwater in the bathtub.
Welsh attempted to delete the post — while making numerous other posts in reference to the original post – which were subsequently shared as screenshots by Twitter users.
Welsh reportedly posted an apology at 5 p.m. Monday, according to KATC.
"Well, I posted something on Facebook that made a lot of people mad," he wrote. "Well, I'm sorry for what happen. Ya have a blessed day."
Revealing his disconnect from reality, Welsh reportedly posted about the "race card" and how people want to say he's a "bad guy," according to KATC.
"I shared somebody else's posts and everybody mad at me again," he wrote. "So Facebook police mad at me."
A short time later Welsh backtracked and offered an apology:
"Well, I'm sorry for what happen. Ya [sic] have a blessed day."
It seems as if Welsh is completely oblivious to the fact that sharing racist memes, when you are an officer of the law, who is supposed to apply the law equally to all people, regardless of race, creed, religion, or color, denotes that you likely lack the ability to treat people equally in your interactions as an officer – and that you most likely harbor racist views towards black people in particular.
Chief Ernest Villejoin Sr. spoke with Welsh by phone Tuesday morning, according to KATC. Villejoin noted that although Welsh had apologized, he could not allow Welsh's actions to taint his department, and apologized for the racist post shared by Welsh.
"When I found out about it, I couldn't believe I had to call him. I called him at work and asked him what the hell is going on," Villejoin told local news outlet KADN. "He done it. He said it and he realized what he had done after he done it and he deleted it but it was too late."
Villejoin, confirmed Wednesday that Welsh had resigned and said the "situation has been taken care of," according to the Huffington Post. Estherwood City Hall also attempted to distance itself from the situation, writing on Facebook Monday that it had no control over employment at the police department.