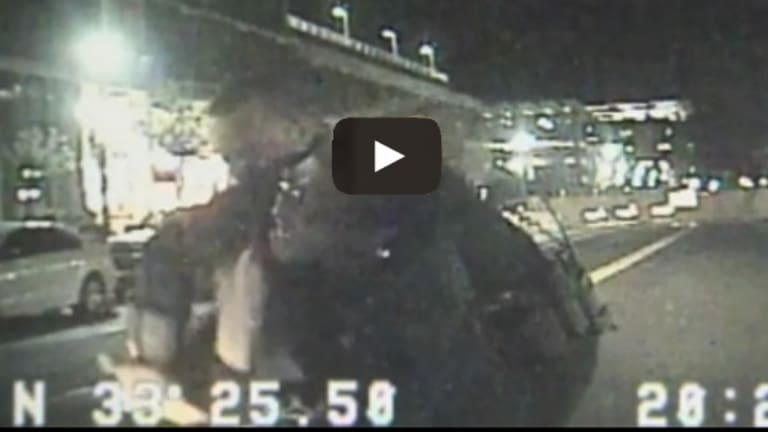 ASU Professor Thrown to Ground, Charged with Assault for Walking Across the Street
June 28, 2014
Dr. Ersula Ore is a professor at Arizona State University.
She was crossing College Avenue just like so all of the other students and faculty at ASU.
However, this time, she crossed paths with Officer Stewart Ferrin.
"The reason I'm talking to you right now is because you are walking in the middle of the street," Officer Ferrin said to Ore.
Within seconds the conversation was escalated as Ore didn't feel that she was doing anything wrong.
Since the area has been under construction students have been walking in this manner because the normal route is obstructed.
"I never once saw a single solitary individual get pulled over by a cop for walking across a street on a campus, in a campus location. Everybody has been doing this because it is all obstructed. That's the reason why," Ore said to the officer. "But you stop me in the middle of the street to pull me over and ask me, 'Do you know what this is? This is a street.' "
"Are you aware that this is a street?" Ferrin asked.
"Let me finish," Ore said.
"OK, put your hands behind your back," Ferrin said.
"Don't touch me," Ore said. "Get your hands off me."
The situation quickly escalated to violence. Ore ended up being thrown to the ground in a short skirt, exposing herself to everyone around.
Obviously she was upset with the notion of this cop making her flash all of ASU so she acted in self defense and tried to stop it.
Ore was subsequently arrested and charged with aggravated assault on a police officer in addition to criminal damage and obstructing a thoroughfare. She intends to fight the charges.
According to AZ Family News, Ore's attorney, Alane Roby, says Ore is claiming self-defense, and rightfully so. Badges certainly do not grant the ability grope assault with immunity.
The situation was so bad that a passerby actually called 9-1-1 to report the officer's use of excessive force.
"She was exposed, told officer she was exposed," Roby said of her client while she was on the ground. "Her dress was up; the officer was reaching toward her anatomy. She felt uncomfortable with hands going there."
ASU released this statement to 3TV:
"ASU authorities have reviewed the circumstances surrounding the arrest and have found no evidence of inappropriate actions by the ASUPD officers involved. Should such evidence be discovered, an additional, thorough inquiry will be conducted and appropriate actions taken.