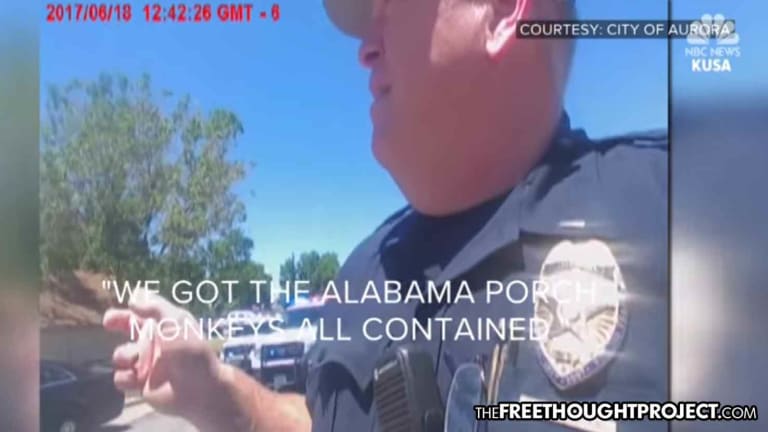 WATCH: Cop Calls Group of Black Citizens "Alabama Porch Monkeys" on Video and Keeps His Job
A racist Aurora cop, with a history of violence was caught on video making disgustingly racist comments about an innocent group of black people, he was fired, but has just been rehired.
Aurora, CO -- In 2017, Aurora Police Department Lt. Charles "Chuck" DeShazer was captured on another officer's body camera making extremely racist and derogatory remarks about a group of African Americans. When the body camera footage was discovered, the racist cop was fired, and rightfully so. However, thanks to a corrupt and broken justice system, this threat to peace with a racist and violent history was just reinstated as a police officer.
On that day, DeShazer had been called in as backup to assist other police officers who were chasing a suspect into Aurora. During the chase, DeShazer singled out an innocent group of black bystanders and felt it necessary to make disgusting remarks to his fellow officer -- clearly not worried about his comments being recorded on the officer's body camera.
DeShazer was recorded on body camera referring to the innocent group of black people as "porch monkeys."
"We got the Alabama porch monkeys all contained," DeShazer candidly said.
At the time, Aurora Police Chief Nicholas Metz came forward and noted that on June 18, 2017, then-Aurora police Lt. Charles "Chuck" DeShazer "made a highly inappropriate and racially inflammatory comment while on the scene of a Denver Police Department officer involved shooting following a police pursuit."
"The offensive statement was caught on the body worn camera of another officer, and was reported internally by two APD supervisors who were also at the scene and heard the comment. An internal affairs investigation was immediately initiated. Following the investigation," the chief wrote. "I terminated Lt. DeShazer on September 1, 2017."
After he was fired, DeShazer appealed his termination. In spite of being caught on video making these vile remarks, DeShazer was reinstated to his position by the Aurora Civil Service Commission. The commission even admitted that DeShazer's behavior was repugnant and noted that he had been caught making other racist remarks as well. Nonetheless, this racist tyrant was given back his badge and gun.
Illustrating how terrible of a move it was to reinstate this racist cop, his own police chief tried to stop it, but he was powerless.
According to Metz, "pursuant to rights provided by the City Charter, Lt. DeShazer appealed his termination to the Civil Service Commission. The Commission held a hearing on June 19 - 20, 2018. It issued an order on June 29, 2018, agreeing with me on the policy violation and the need for "substantial discipline." However, the Commission reduced the termination to a demotion from lieutenant to sergeant and denied any payment of back pay for the ten months Sgt. DeShazer was out of work."
"The racially insensitive comment made by Sgt. DeShazer is in direct contradiction to the values of the Aurora Police Department. We hold ourselves to the highest standards, and when one of our officers fall short, we strive to take immediate and necessary action to ensure they are held accountable," Metz wrote in a statement on Facebook.
But this is little more than lip service considering DeShazer's past. In 2006, he was witnessed calling Loree McCormick-Rice, then 51, and her 12-year-old daughter Cassidy, both black, "F**king n***ers" in a grocery store parking lot after accusing the mom of illegally parking.
After making these racist remarks, DeShazer then pulled the pair over. Being afraid to stop, the mother, went back to the front of the well lit supermarket and parked.
At this point, as Heavy Charles DeShazer: 5 Fast Facts You Need to Know" target="_blank" rel="noopener">notes, the daughter jumped out of the car to run for help. DeShazer got out of his car and yelled at the young girl to get back in the car. DeShazer ran to Cassidy and jerked her arm so hard that he broke her collarbone. DeShazer then began to choke Cassidy, while McCormick-Rice screamed for help. At some point several other officers appeared on the scene, as did the store security guard and the cops, security guard and mother and daughter tussled. The mother and daughter were charged with resisting arrest and failing to obey an order though those charges were later dismissed. After being released from custody, the mother and daughter went to the hospital for the girl's injury, a "fractured shoulder."
Imagine for a moment that a manager at Walmart was filmed calling their customers "porch monkeys" or "f-ing n-words" or beating up a little girl. Do you think that for one second that person would be able to keep their job? However, not only did DeShazer keep his job but the next year, after he broke a little girl's collar bone, this man was given a promotion.
Indeed, in any private sector establishment, if an employee was caught multiple times using racist and sexist slurs, they'd be fired and the company would be sued into oblivion. However, if your job is to ostensibly "protect" society at the expense of the taxpayers, you can repeatedly say and do these things -- even on video -- and get to keep your job and retire off the tax dollars of the very people you physically and verbally attacked.
And this is what we call government and justice in the "land of the free."