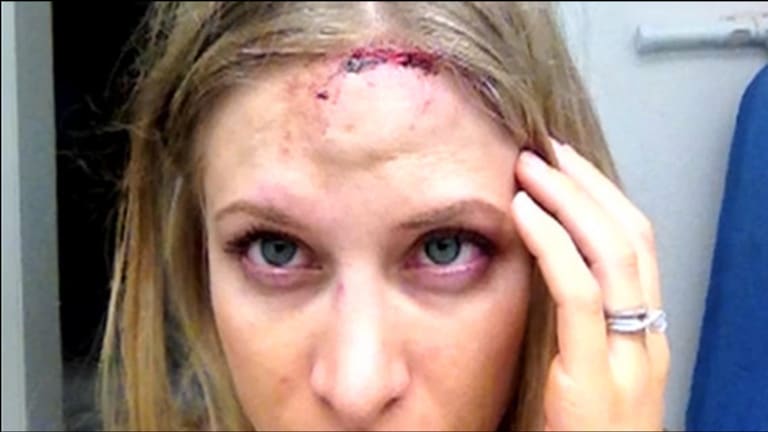 Austin Police Beat Woman During SXSW Then Lied About It, Victim Claims
Police report contradicted by multiple witness testimony
Adan Salazar
Infowars.com
March 28, 2014
A San Antonio woman is claiming Austin police unnecessarily brutalized her after she got into a minor altercation with another woman during the SXSW music festival, but her story contradicts the account Austin police provided in their report.
When Margaret Woodbury and her friends saw a woman crying on the street, they stopped to see if she needed help. But the woman didn't want help, and pushed Woodbury away; Woodbury reciprocated.
That's when she says an Austin police officer struck her over the head with a baton, disorienting her and causing her to bleed, hear ringing and black out.
"She became really upset and pushed me and then I pushed her back, and then she fell on the floor, and from there she's on the floor and the police officer came behind me and hit me," Woodbury told KVUE, claiming she could feel the pain in her teeth.
Woodbury's head injury / Screen capture via KVUE.com.
"I blacked out and fell to the ground and when I came to they were pulling me up and putting me in zip ties," Woodbury said.
Woodbury claims officers next intimidated her by threatening arrest. "I was threatened to be arrested, and I can see how that would make people less inclined to come forward about it," she said.
A witness who snapped photos of the aftermath also told KVUE she saw an officer strike Woodbury in the forehead with a baton.
Close up of Woodbury's head injury / Screen capture via KVUE.com.
However, the Austin PD's account of the incident differs greatly.
The police report claims, "Margaret was injured during the fight from a kick by Amri [Estrada] to Margaret's head, causing pain," according to KVUE.
APD then arrested the sobbing woman who had initially pushed Woodbury, and charged her with Assault with Injury, a Class A misdemeanor.
Woodbury has filed her own report with the police monitor's office, who says they take these sorts of claims "seriously."
KVUE went to the area where the incident played out, and reports there are at least two HALO (High Activity Location Observation) cameras in the vicinity that might have captured the event.
"Both the woman with the head injury and the witness tell me they believe these cameras will prove their statements," reports Heather Kovar.
If one of the parties is found to be lying, Kovar says "the police department can file criminal charges."
Source: Infowars.com