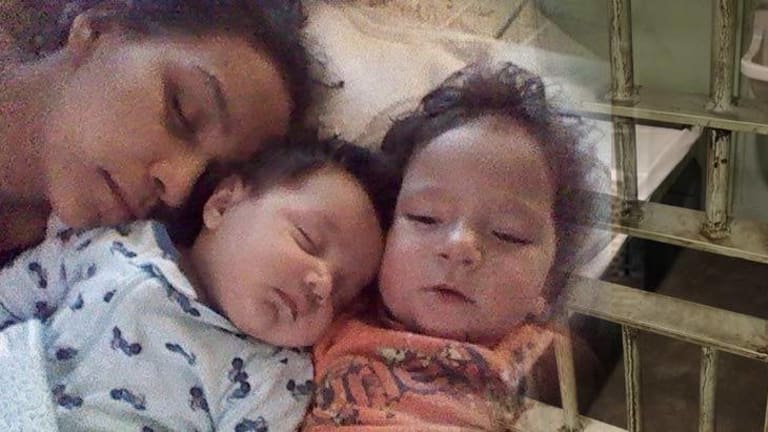 Officials Claim Pregnant Native American Mom Died of Meth Overdose, After Being in Jail for 2 Days
An autopsy report states that Sarah Lee Circle Bear died of a meth overdose, despite their being blood on her jumpsuit, and her crying for help prior to being found dead.
Sioux Falls, SD - After a month-long investigation, on Thursday, the South Dakota Attorney General announced that Sarah Lee Circle Bear's death, while in police custody, was the result of an acute methamphetamine overdose.
Attorney General Marty Jackley said an autopsy on Sarah Circle Bear, of Claremont, found acute methamphetamine and amphetamine toxicity in her blood, according to Aberdeen News.
Circle Bear's family questions the circumstances surrounding her death and have doubts as to the veracity of the announced findings.
The 24-year-old Lakota woman was found unresponsive in a holding cell on July 5, some 52 hours after initially being arrested.
According to Indian Country Today, witnesses said that Circle Bear was pleading with jailers that she was in excruciating pain.
Jail staff responded by dismissing her cries for help, telling her to "knock it off," and "quit faking." Inmates cried out for the jail staff to help Circle Bear, to which they eventually responded by picking her up off of the floor, dragging her out of the cell, and transferring her to a holding cell. Circle Bear was later found unresponsive in the holding cell.
The state's investigation will now focus on the source of the meth. Having been in custody for two full days prior to being found unresponsive on the holding cell floor, questions as to when and how the drugs were ingested by Circle Bear are paramount to the investigation.
According to Red Power Media:
Generally, when an inmate goes through the intake process at the Brown County Jail, he or she is required to undergo a health screening. Staffers ask the inmate a series of medical questions, including about the use or ingestion of any drugs or alcohol.

Authorities have not said if Circle Bear was intoxicated or on drugs when she was booked into Brown County Jail.
As earlier noted, witness reports indicate that whatever medical crisis Circle Bear was facing upon admittance into the jail was not taken seriously by those responsible for her care.
In an interview with Red Power Media, Circle Bear's father, Terrence Circle Bear, raised questions about the official explanation regarding the death of his daughter.
"How did she get that much meth?" Terrence Circle Bear said by phone Friday.
Circle Bear said another daughter, Adrienne Yancey, is in possession of the jumpsuit Sarah Circle Bear was wearing at the time of her death.
"It had blood on it," Terrence Circle Bear said. "How do you explain that from a meth overdose?
The family said they were surprised by the findings as they had not know her to use. To add to this tragedy, Sarah Circle Bear had told friends that she was expecting her third child prior to being arrested, according to Indian Country Today.
Yancey said Circle Bear had complications with her last pregnancy and was consulting with physicians prior to her death.

"She had a hard time carrying her last baby," Yancey said. "She had to go see the doctor all the time."
The autopsy also found no indication that Circle Bear had swallowed any drugs, often indicated by plastic bags. Authorities have refused to comment until the state investigation into the source of the meth is completed.
While the circumstances surrounding Circle Bear's death seem suspicious, even if there were no explicit outward actions of aggression towards Circle Bear by law enforcement which led to her death, the idea that someone can be taken into police custody and be refused care or treatment while suffering a medical emergency is startling.
Circle Bear said on Thursday that he has been in contact with a witness that claims his daughter was suffering and repeatedly asked for help but was ignored, according to Aberdeen News. While refusing to name the witness, he did say that he was working with an attorney to examine the case.
"I'm getting justice for a native girl that was crying and they didn't want to help her," he said.
All people have a right, when in the custody of law enforcement, to receive proper medical treatment and attention. In South Dakota, a state with a record of extremely poor treatment of Native Americans, one must question the reported medical neglect of Circle Bear, while in the midst of a reported medical crisis, which ultimately resulted in her death.
Please share this story if you think those that chose to deny Circle Bear medical treatment must be held accountable under the law for her death. Native Americans are killed at a higher rate than any other group in America. The genocide of America's native peoples must end!
Jay Syrmopoulos is an investigative journalist, free thinker, researcher, and ardent opponent of authoritarianism. He is currently a graduate student at University of Denver pursuing a masters in Global Affairs. Jay's work has been published on BenSwann's Truth in Media, Chris Hedges' truth-out, AlterNet and many other sites. You can follow him on Twitter @sirmetropolis, on Facebook at Sir Metropolis and now on tsu.