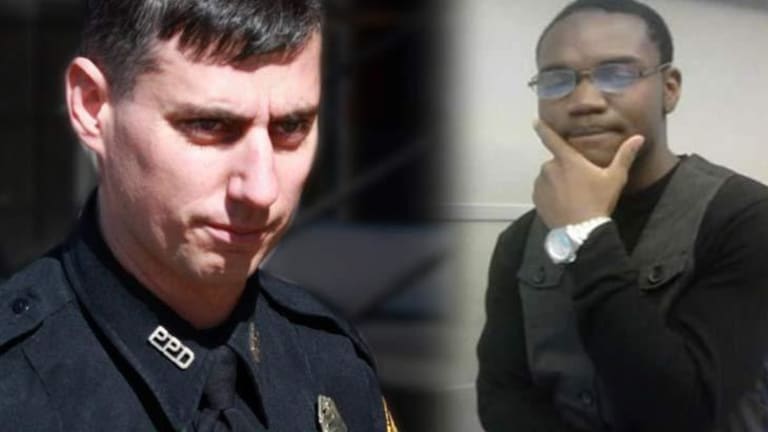 Autopsy Shows Unarmed Teen Was Too Far to Pose a Threat to Cop Who Killed Him in Walmart Lot
A year after being reinstated for killing an unarmed man, this cop, who was called "dangerous" by his supervisor, killed another unarmed man. Meanwhile he's posting Nazi photos to Facebook.
Portsmouth, VA -- The autopsy of an 18-year-old killed by a police officer in a Walmart parking lot reveals that the unarmed teen had been shot at a distance and was too far to pose a threat to the officer.
Although the teen was suspected of shoplifting, police and store managers refuse to confirm whether any stolen merchandise was found on his body. This is the second unarmed man Officer Stephen Rankin has killed on duty. A US Navy veteran trained in martial arts, Officer Rankin has previously been disciplined for insulting the deceased's family and posting Nazi images online.
On the morning of April 22 in Portsmouth, Virginia, Walmart employees called the police to report a shoplifter. Responding to the 911 call, Officer Stephen Rankin confronted 18-year-old William Chapman in the parking lot as he was leaving the store. At 7:35 a.m., witnesses reported seeing Rankin attempting to handcuff the teen against a parked car.
According to two construction workers who witnessed the incident, Chapman broke free from the officer's grip and knocked Rankin's Taser out of his hand. Although the two construction workers witnessed the same shooting, Paul Akey and Peter Woodman told slightly different versions to local news stations.
"It looked like, at one time, he had a handcuff on him, like his left hand was behind him," Akey told WAVY.com. "Then, all of a sudden, the guy went nuts and started whaling on the cop, and that's when he looked like he knocked something out of the cop's hand. I don't know if it was a Taser or what."
While watching from the cab of his crane, Akey recalled, "Because the guy started hitting the police officer, the police officer backed up like 10 feet. The guy came at him, and we heard two shots, and the guy went down."
But Woodman described the altercation as a "tussle" and confirmed that Chapman wasn't close enough to hit the officer when Rankin opened fire. While talking to reporters, Woodman recalled, "[Rankin] stepped back a couple steps and the guy, he pulled his shirt off and took a couple steps towards the cop like he was ready to fight. So the cop opened fire and that was the end of it."
After the shooting, Rankin rolled Chapman onto his stomach before handcuffing him. The 18-year-old was pronounced dead at 7:45 a.m. According to his autopsy report, Chapman had no drugs or alcohol in his system.
Police and store managers refuse to confirm whether any stolen merchandise was actually found on Chapman's body. In the autopsy report, the medical examiner lists Chapman's clothes as his personal effects, including a pair of pants with the pockets turned inside out, but no stolen items.
The medical examiner found that Chapman had been shot in the head and chest at a distance, not at close-range. No gunpowder burns or residue were found on Chapman's body or clothing. Pathologists have determined that Chapman was at least 30 inches away or farther from Rankin when the officer shot him.
After reviewing the physical evidence, Jon Michael Babineau, an attorney for Chapman's family, determined that the teen had not been close enough to Rankin to pose a threat. Babineau asserted, "If an unarmed person is not in close proximity to the police officer, not in his so-called 'wingspan', then to say the officer shooting and killing that person is pretty excessive may be the greatest understatement of the year."
Although Rankin earned a gray belt in the Marine Corps martial arts program, the officer claims that he felt threatened by a 5' 8", 185lbs, unarmed 18-year-old. Weeks before killing another unarmed man in 2011, one of Rankin's supervisors reportedly warned senior commanders that Rankin was "dangerous" and likely to harm someone. Another officer who worked with Rankin said he was "unsteady" and "afraid of his own shadow."
On April 23, 2011, Rankin responded to a call about a 26-year-old Kazakhstani cook named Kirill Denyakin drunkenly banging on the door where he had been staying with friends. Accusing Denyakin of reaching towards his waist before charging at the officer, Rankin shot him 11 times in the chest and limbs. No weapons were recovered from the scene or Denyakin's body.
While defending his actions on a local newspaper's site, Rankin posted roughly 250 comments, including insults to Denyakin's family for filing a $22 million civil lawsuit against him. Rankin wrote: "22 mil wont buy your boy back…let alone a habitual drunk working as a hotel cook."
Rankin also changed his Facebook profile picture to a photograph of a dead Serb who had been lynched by Nazis in 1943.
After being placed on paid administrative leave for nearly three years, Rankin returned to active duty in March 2014. A year and a month later, he killed another unarmed person. Rankin currently does not face any criminal charges.