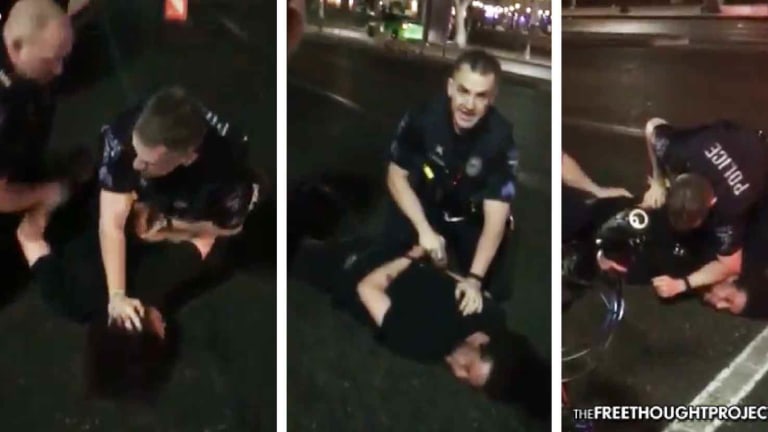 WATCH: Cops Mistake Innocent Man's License for a Fake, So They Beat and Arrest Him
Incompetent Arizona police officers mistook a man's New York license for a fake ID, so they proceeded to tackle, punch, and elbow him.
Tempe, AZ — Jazmine Faye and her boyfriend Bryan Acosta were trying to have a night out on Tempe, Arizona's famed Mill Avenue June 7th. They'd partied at the Zuma Grill before, and had a great time, so they thought they'd go back. Little did they know the night would end with Bryan getting a beatdown by the Tempe Police Department for mistaking his legitimate New York Driver's License for a fake one.
It all started when Acosta's driver's license was confiscated by the bar's security guard because the Arizona bouncer said the New York drivers license looked fake to him. Instead of returning the questionable identification, he simply put it in his pocket and ignored his requests to get back his license.
"If you want it back, you'll have to call police," he said, before informing Faye he'd keep it at the bar because it seemed fake to him. While the couple was trying to make sense of the situation, another security guard called the police.
After Tempe Police bike patrol officers arrived, a brief discussion with the bouncers took place. They then called Acosta over, who explained the situation to the officers. After they ran his identification through their system, they then asked Acosta to confirm the last four digits of his social security number.
Acosta told them the last four of his social, but that's where things took a turn for the worse. He said one officer told him to put his hands behind his back, while the other officer told him to put his hands on the police cruiser.
Not knowing which officer to obey, he just stood there. At that point, they said he was resisting arrest, and slammed him to the ground. Faye knew what to do. She started recording.
From her video, Tempe officers can be seen applying painful arm bars and placing their knees on his neck. All the while, Acosta is screaming that he wasn't resisting arrest. He even tried to reiterate his social security number to end the conflict, still thinking if he gave the right numbers they would release him.
But this was to no avail. Police kidnapped her boyfriend and drove off.
Faye asked one of the officers where she should go to bond him out of jail. He told her Acosta would be taken to the Tempe jail, but he never made it to jail.
Faye tells the Free Thought Project what happened next. "I arrived at the police station at 1:55 and called to ask for him. They politely explained that no one has been brought in by that name yet and to call in 10 to 15 minutes," she said. "Eleven minutes later I called and the man on the phone just rudely said no one was there named Bryan and hung up."
Instead of taking Acosta to jail, officers took him away from Mill Ave., returned his driver's license, gave him a citation for "resisting arrest" and dropped him off at 6th Street. Acosta was never booked into jail, didn't have to bond out, but suffered numerous injuries.
Acosta got a black eye and now complains of constant back and neck pain. He has scabs from scrapes on his arms, elbows, and knees, all because a bouncer in Tempe, AZ thought his ID was fake and called the cops.
No one ever read him his Miranda rights, there's no proof he was taken to jail, yet now he has to show up for court June 20th. He says he's being forced to get a lawyer to defend himself for doing nothing more than wanting to party at the club.
Ironically, it was Acosta who wanted the bouncer to call the police. He wanted his identification back. He wanted to party. He didn't want any trouble. But, apparently, providing the last four digits of one's social security number for verifying his identity is a crime on Mill Ave.