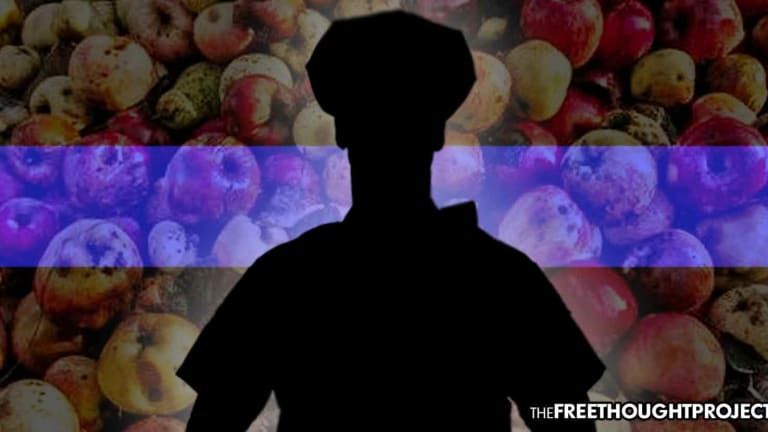 Bad Apple? Over a Dozen Troopers Resigned or Fired During Investigations in Just One Year
The term "bad apple" doesn't begin to describe the problem of police misconduct and the utter lack of repercussions officers face for their crimes.
In case after case, the Free Thought Project covers infuriating stories of police officers under investigation allowed to quietly resign before facing any consequences. These officers often become "gypsy cops," moving between departments to avoid accountability. The problem is so common that a single department in Massachusetts had more than a dozen cops resign while under investigation for misconduct in just one year.
"It's a mess," said Dennis Galvin, president of the Massachusetts Association for Professional Law Enforcement. "This directly relates to hiring and training procedures."
Galvin is referring to the 14 troopers in the last year who have left the force amid investigation for disgracing the badge. The troopers' alleged misconduct ranges from from "inappropriate" texting to "ethnic slurs" and sloppy oversight of weapons, according to a report in the Boston Herald.
"There's an over-average abundance of bad behavior," Galvin said when told of the 14 troopers let go.
According to the Herald, one of those troopers is Michael Atton, who quietly resigned amid "two internal affairs investigations." This "hero" cop was arrested once for beating his wife in front of their children last year and was never fired. While the department "investigated" the domestic violence, he was arrested again for violating the restraining order.
This string of bad cops in the department is nothing new. In 2019, Gov. Charlie Baker appointed Col. Christopher Mason to "clean up" the department and crack down on the bad apples but nothing has changed.
"This list writes its own story, and no further comment is needed than this: the State Police under Colonel Mason, his Deputy, and his Command Staff are seeking discipline commensurate with conduct violations, which is what the public rightfully expects," said agency spokesman Dave Procopio, according to the Herald. But is allowing a cop to quit, or firing them and dropping the investigation really "what the public expects"?
Some of these bad apples were making salaries well into six figures as well. Below is that list:
Nidu Andrade – probationary employee — inappropriate texts sent; base pay $69,542
Corey Lee – Off duty incident – ethnic slurs used; base pay $69,542
John Wosny – Troop E AIRE audit — irregularities; base pay $90,606
Todd Glidden – Troop E AIRE audit — irregularities; base pay $113,258
Robert Outwater – Transfer of surplus weapons/missing weapons; base pay $93,304
David Nicastro – Failed to stop motorist for MV violations and later cited him; base pay $80,146
Nicholas Holden – Violated Last Chance Agreement settlement by violating social media policy; base pay $115,326
Andrew Patterson – Off duty incidents alcohol-related; base pay $89,725
Keith Sweeney – Troop E AIRE audit — irregularities; base pay $113,258
Daniel Crespi – Troop E overtime audit; base pay $113,101
John Adams – Troop E overtime audit; base pay $181,662
Paul Conneely – Sustained internal affairs charges – retired prior to conclusion; base pay $85,803.
While some of these officers were fired, it is possible for all of them to be rehired in other departments. This is a major problem among policing and all too often, when we see cops committing violent acts and harming innocent people, it's likely that they have been fired or resigned from other departments.
As TFTP reported last June, several teenagers were hanging out with friends, on their own property when officers with the Woodlynne police department walked up to them. Without provocation, Woodlynne police officer Ryan Dubiel randomly pulled out his pepper spray and blasted one of the teens in the face with the spray before spraying several others. This move led to charges against this officer but when his case began to face scrutiny, we learned he had an extremely tainted history and should have never had a badge that day.
At the time the charges were released, prosecutors admitted that in his short career, the 31-year-old has worked for nine police departments.
Nine departments! This man should have never been hired with the Woodlynne police department, nor the 6 or 7 other departments before that, yet he was. He has faced misconduct allegations before but like this list of state troopers, was allowed to resign before facing any consequences.
It is high time the policy of allowing cops to resign before they are held accountable is brought to a halt. How many more innocent people must suffer because police departments fail to rid themselves of bad apples by stripping them of their law enforcement licenses or actually charging them? One more person is too many.