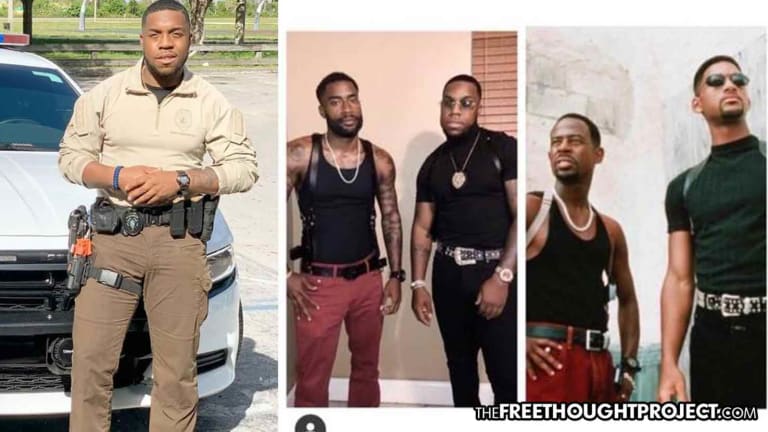 Cops Who Bragged About Being 'Bad Boys' Jailed for Cocaine Trafficking Conspiracy
Two cops who built a massive social media following for being 'bad boys' are now in jail after conviction in cocaine trafficking conspiracy.
Miami, FL -- As John Dalberg-Acton famously stated, "Power tends to corrupt, and absolute power corrupts absolutely. Great men are almost always bad men..." When society grants authority to people -- who are prone to corruption -- many times, these people will use this authority to enrich themselves and violate the laws of the system that grants them their power. Because of the war on drugs, bad cops are put into positions all the time that allow them to make money breaking laws which they will arrest others for violating.
Two of those corrupt cops are Miami-Dade County officers Roderick Flowers and Keith Edwards Jr. who were arrested last year for their participation in a cocaine trafficking conspiracy. They were doomed from the start of this venture, however, as the cocaine was fake, and the people paying them to traffic it were DEA agents.
Next week, Flowers and Edwards will start their prison sentences and for "being bad," they will sit in a cage for the next 15 months. Upon finishing their sentences, both "bad boys" will remain on house arrest for two more years before serving five years of probation.
According to the Miami Herald, as part of their probation, both were also ordered by U.S. District Judge Paul Huck to serve up to 1,000 hours of community service a year.
The bad luck for these self-proclaimed "bad boys" started when the DEA began meeting with a money launderer for the Sinaloa Cartel, Manuel Hernandez. Hernandez helped launder more than $100,000 for the DEA source and began investing into cocaine shipments, according to the DEA.
In September of 2020, Hernandez bragged to the undercover DEA agents that he had Miami cops on his payroll. As WINK reported at the time, the source asked Hernandez if an officer could identify a license plate number for him. Hernandez got the information back within 10 minutes. The DEA says computer records show it was Flowers who looked up the plate.
Now that the DEA source knew that Hernandez was not bluffing about having Miami cops on the payroll, the source told him that he needed the cops to provide protection to move a shipment of cocaine. Flowers quickly obliged and even bragged about his shooting prowess, adding that he had another cop friend who could help.
Flowers, whose dad is a police chief in a suburb of Miami and whose sister is also a cop, then set up a meeting to introduce Edwards to the DEA source. The DEA says Edwards agreed to take part, saying that while he understood the source's business, his job would be to provide personal protection and he would have nothing to do with the actual drugs, saying he is a "cop's cop." The source also paid him $5,000, WINK reported.
Edwards and Flowers then traveled with the source who picked up what they thought was a massive amount of cocaine, 10 kilos, and moved it 50 miles to a hotel. In a move that could've been in a Hollywood movie, after they trafficked the fake cocaine, the DEA source hugged both cops and said "welcome to the Sinaloa Cartel."
Fast forward to last November and after the DEA and FBI built their case, these two corrupt cops were arrested.
Ironically enough, these two cops often acted as if they were the "Bad Boys" from the Hollywood movies. Flowers even used the name "Mike Lowrey" as his Instagram handle.
Edwards posted a photo of himself and Flowers dressed up like the fictional detectives with the caption: "We ride together. We die together. Bad Boys 4 Life."
It is important to point out that America's war on drugs is what created this entire scenario. If drugs were legal, there would be no cartel smuggling cocaine and the temptation from bad cops to help the cartels traffic it, would be non-existent.
Luckily, people are beginning to realize this and the drug war is crumbling.