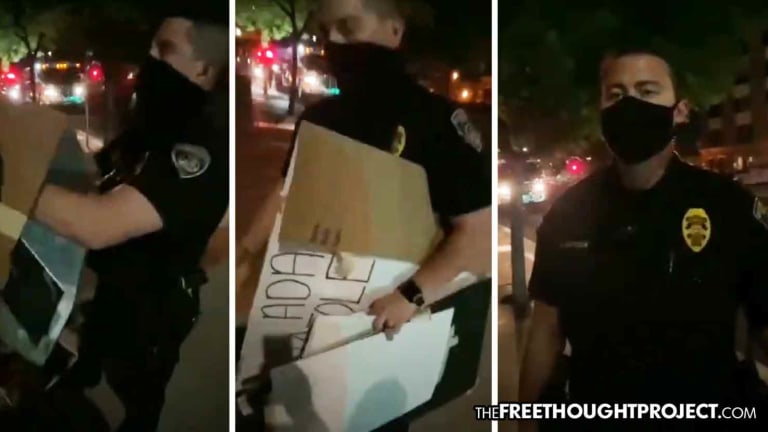 Cops Caught on Camera Destroying Memorial to Adam Toledo and Daunte Wright
Tone deaf cops in Bakersfield were captured on infuriating cellphone video destroying a sidewalk memorial to Adam Toledo and Daunte Wright.
Bakersfield, CA — It is disheartening enough to watch police officers shoot and kill often innocent and even more often, unarmed individuals, and do so with impunity. But for many cops, this is not enough, some of them need to celebrate these kills by getting tattoos, bending their badges, and even going back to the scene to reenact the manner in which the innocent person was killed. In the following case, Bakersfield cops decided to destroy a memorial to Adam Toledo and Daunte Wright.
Saturday night in Bakersfield, residents held a vigil to honor those recently killed by police in the country. Several memorials were created in inconspicuous and out of the way places on the sidewalks as not to impede travel or foot traffic.
Video uploaded to TikTok by Erika Harris shows a Bakersfield cop walk up to a memorial that had been setup for Adam Toledo and Daunte Wright. In the video, the cop is seen destroying the memorial, taking the enlarged photos of Toledo and Wright and then begins walking to his cruiser, where he is met by his fellow cop.
The woman asks the officer for his badge number and after multiple attempts he finally replies. However, when she asks for the signs back, the officer decided he would not oblige this request, instead giving the woman the excuse that the memorial was a fire hazard before throwing the photos into the back of his cruiser.
"This would not be the first time a vigil went up in flames so things have to be removed to avoid a fire," said the officer, as he left all the actual lit candles on the ground.
The idea that police would destroy a memorial to a 13-year-old child and an unarmed 20-year-old is a kick in the teeth to those who have been pushing for police accountability.
Daunte Wright died from a gunshot wound to the chest, which was put there by Brooklyn Center Police Department Kim Potter. He was pulled over for a minor traffic offense — an air freshener, according to his family, or an expired sticker, according to the folks who killed him.
According to police, when they pulled over Wright, after running his information, they realized he had a warrant out for his arrest. When police attempted to arrest Wright over this warrant, Wright tried to sit back down in his car.
As the graphic body camera footage shows, police attempted to pull him out as officer Kim Potter, a 26-year veteran of the department, pulled out her gun and put a bullet in Wright's chest.
Potter has been charged with second degree manslaughter for killing Wright.
As for Adam Toledo, he was killed by Chicago police officer Eric Stillman — also with a bullet to the chest. Like Wright' death, Toledo's was captured on video. The video shows Toledo had his hands in the air and was complying with the officers orders before Stillman fired.
Last week, police issued their own heavily edited version of the video in which they claim Adam was holding a gun. However, at the time the shot was fired, Adam's hands appear to be empty and in the air.
Unlike officer Potter, officer Stillman has yet to be charged with a crime. Instead, the police union and department have circled the wagons to protect their child-killing brother in blue.
Instead of attempting to mend the broken spaces between the police and the policed, Bakersfield officers decided to tear down a memorial to the two young men whose lives were unnecessarily brought to an early end by the thin blue line. Shameful indeed.