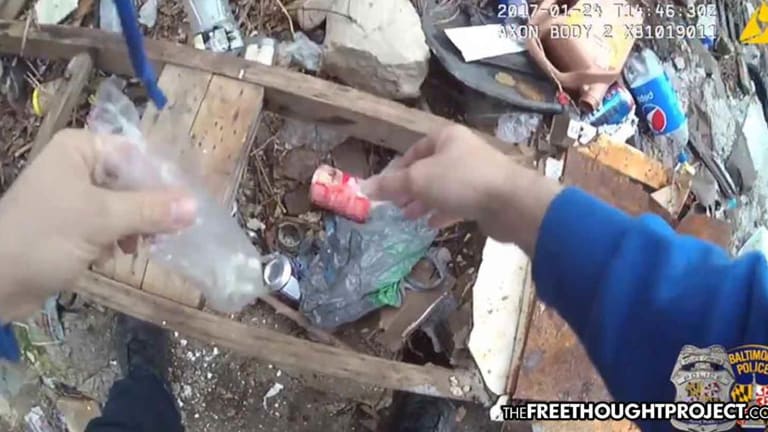 Cop Found Guilty of Planting Evidence on Video, was NEVER FIRED, Still Collecting Paycheck
Despite a conviction for planting evidence that was caught on video, a Baltimore cop is still on the job collecting a paycheck.
Baltimore, MD — After their department gained national shame in 2017 over a video showing an officer planting drugs to frame an innocent man while his fellow cops watched, the Baltimore police department quickly came under fire again the following week. The Baltimore Public Defender's office released a second video in August 2017 that "appears to depict multiple officers working together to manufacture evidence." One of those corrupt cops was Baltimore police officer Richard Pinheiro Jr.
A year after getting busted planting evidence, this crooked tyrant was convicted of fabricating evidence and misconduct in office. He appealed last week and lost again. Twice, he has been convicted for being an insanely corrupt tyrant who plants drugs on people to secure false convictions.
In all transparency, Pinheiro's defense was that he had found the drugs before his body camera turned on, so he "reenacted" finding the drugs to show his case. He just forgot to mention that in the report until he was caught.
One would think that a two-time convicted cop, who was seen on video planting evidence on innocent people would have a hard time landing a job. And, one would be right. But Pinheiro was never fired and, in fact, is still on duty, collecting a paycheck. Seriously.
Prosecutors recently announced that they have dropped all cases that relied on Pinheiro's police work and noted that they will never call him as a witness again. Yet he remains on the Baltimore police department, collecting his check and working a desk job. 
Thanks to a ridiculous special set of rights granted only to cops, this corrupt slime ball who ruined the lives of countless victims, has been collecting a check for years, even after he was caught.
As the Baltimore Sun reports:
Police officials said the process for handling officers like Pinheiro is out of their control — determined by the state's controversial Law Enforcement Officers Bill of Rights. They say the "eventual outcome will be appropriate."

Calling Pinheiro's continued paycheck a disgrace, police reform advocates and defense attorneys say the department's claims about its hands being tied are misleading, and that the state law it's hiding behind should be dismantled as a legal relic that for too long has allowed officers to avoid accountability.
"It perfectly encapsulates everything that is wrong with the BPD, everything that is wrong with policing in Maryland, and everything that is wrong with policing in the United States," said David Rocah, senior staff attorney with the ACLU of Maryland. "It's all wrapped up in a nice little bow for everyone to see, staring us in the face, and yet we continue to do nothing to address the problems."
In 2017, it was announced that nearly three dozen people had their charges dropped when video showed Pinheiro planting drugs while Officers Hovhannes, Simonyan, and Jamal Brunson stood by and did nothing.
In a truly just world, Pinheiro would be in a cage and would have been fired immediately after that video. But we do not live in a just world.
"Whether this was an independent BPD decision, or one imposed on them due to legislation and/or the collective bargaining agreement with the union, appropriate accountability measures for serious misconduct are urgently needed and should include termination for this level of established police misconduct," Deborah Levi, director of special litigation for the Baltimore public defender's office said.
Following the public release of the video, 34 cases were immediately dismissed that relied on the testimony of Pinheiro, Simonyan and Brunson.
Even after prosecutors watched Pinheiro plant the evidence in the video, they still had him testify in another case, just days later showing the insanity within the BPD.
"They had knowledge. They watched it and were appalled by what was on the video, and then for whatever reason made the choice to continue to call him as a witness," said Levi.
Exactly why he wasn't immediately arrested and thrown in jail after being seen on his own body camera planting drugs to frame an innocent man remains a mystery. And now, we see that he wasn't even fired.
As you watch the video below, remember Levi's words above — "hundreds of individuals" have been kidnapped and caged by these cops. Some of them are fathers and mothers, who had their lives ruined because of it. Still, somehow, authorities in Baltimore still refer to this entire process of keeping this convicted felon on as a cop, as 'justice.'