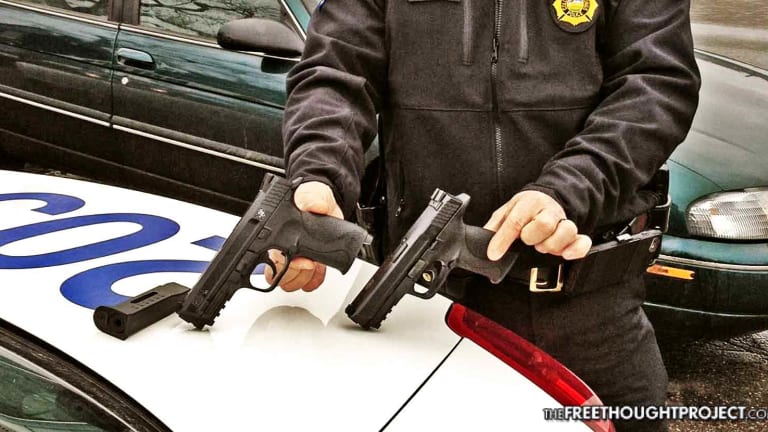 Corrupt Cops Admit To Keeping BB Guns to Plant On Unarmed People They Kill
In one of the largest police corruption trials in Baltimore's history, police have admitted to acts which show their mafia-like nature that lays waste to innocent lives.
Baltimore, MD — (ZH) Over the past year, the Baltimore Police Department has undoubtedly gained national attention in a corruption scandal involving the Gun Trace Task Force, running wild on the streets of Baltimore.
Members of this elite group were charged with "racketeering and other corruption, accused of robbing citizens, making illegal arrests and filing for thousands of dollars in overtime they never worked," said the Baltimore Sun.
Maurice Ward, one of the Gun Trace Task Force detectives, took the stand Tuesday in the case of officers Daniel Hersl and Marcus Taylor who were charged with robbery, extortion, fraud and firearm charges.
Ward's testimony provided a somewhat shocking account of how detectives used GPS locators to follow drug dealers, and then, eventually rob them of their cash and drugs.
According to the Baltimore Sun, here are some notable and shocking moments from the testimony during Tuesday's proceedings:
Ward testified that his squad would prowl the streets for guns and drugs, with his supervisor, Sgt. Wayne Jenkins, driving fast at groups of people and slamming on the brakes. The officers would pop their doors open to see who ran, then give chase and detain and search them. Ward said this occurred 10 to 20 times on slow nights, and more than 50 times, "easy," on busier nights.

The officers had no reason to target the crowds other than to provoke someone who might have drugs or a gun into running. "A lot of times" guns and drugs were recovered in this way, Ward said.

Ward said Jenkins liked to profile certain vehicles for traffic stops. Honda Accords, Acura TLs, Honda Odysseys were among the "dope boy cars" that they would pull over, claiming the drivers weren't wearing seat belts or their windows were too heavily tinted.

Ward said Jenkins also believed males over the age of 18 carrying bookbags were suspicious and attempted to stop them.

Jenkins would portray himself as a federal agent, telling drug dealers that he was taking their money and drugs but would let them go because they weren't his ultimate target.

Ward said the officers used illegal GPS trackers to follow the movements of some targets.

Jenkins would ask suspected drug dealers, "If you could put together a crew of guys and rob the biggest drug dealer in town, who would it be?" The officers would use the answers to determine who to target, Ward said.
In Ward's testimony, he described some detectives carried around fake guns to plant on suspects in case they got into a jam. He further detailed an incident where detectives stole $100,000 from an illegal search of a home. The testimony shows detectives were in the game of robbing drug dealers, but on a positive note, the task force removed plenty of guns from the war-torn streets.
Ward said the officers kept BB guns in their vehicles "in case we accidentally hit somebody or got into a shootout, so we could plant them." He did not say whether the officers ever planted a BB gun on anyone.
In one incident, police took a man's house keys, ran his name through databases to find his address, went into the home without a warrant and found drugs and a safe. The officers cracked open the safe, which had about $200,000 inside. They took $100,000 out, closed the safe back up, then filmed themselves pretending to open it for the first time. "Nobody touch anything," Jenkins can be heard saying on the video, which was played for jurors.

After the man's arrest, Jenkins listened to the man's calls made from jail. He was discussing the officers taking his money, and said he wanted to hire a good lawyer to go after them. Ward said Jenkins determined the man's wife was arranging his legal matters, and wanted to cut her out. They wrote a note purporting to be from another woman, saying the man had gotten her pregnant, and left it in the man's door, Ward said.

Later, Ward said Jenkins contacted him about wanting to rob the man again. They met at an apartment, where Jenkins and Detective Daniel Hersl sipped Twisted Teas and discussed a robbery. Another time, he proposed a different robbery, and showed the officers a large black bag that was full of balaclava ski masks, black clothing and shoes. Another bag contained tools such as a crow bar, battering ram, and a rope with a grappling hook. "I didn't understand that part," Ward said of the grappling hook. Both bags were emptied out for jurors in the courtroom.
A federal prosecutor described the elite team of Baltimore detectives as a "perfect storm" of corruption in the opening arguments at the Gun Trace Task Force trial on Tuesday.
Justin Fenton, a crime reporter for the Baltimore Sun provides more updates on the ongoing trial: