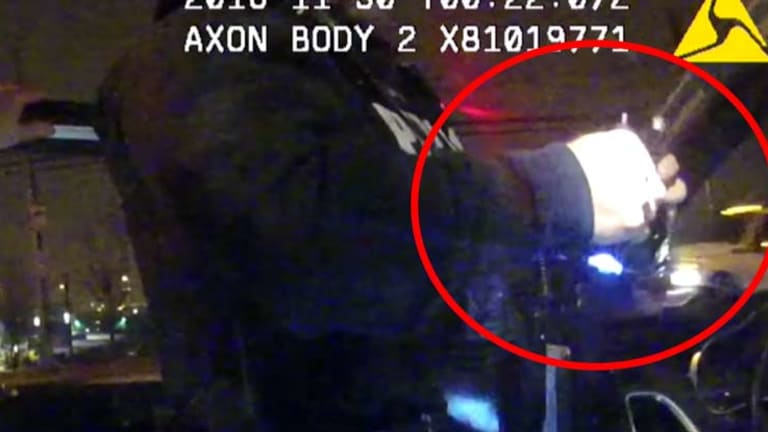 ANOTHER Body Cam Just Released Shows MORE Cops Planting Drugs to Frame People
In less than a month, two videos have been released showing Baltimore cops appear to plant drugs on innocent people to frame them.
Baltimore, MD — Baltimore cops are on the nation's radar this week after not one, but two, videos from police worn body cameras allegedly show officers planting drugs on innocent people. The second video, which was just released, appears to show an officer planting marijuana and heroin in a woman's car.
Attorney Josh Insley showed the body camera footage to prosecutors this week which led to charges being dropped against his client, Shamere Collins.
Insley said he believes the body cam footage shows the Baltimore cops "engage in what appears to be a staged recovery of narcotics," and that he will be pursuing legal action against the police department.
As the Baltimore Sun notes, Insley's client, Shamere Collins, 35, was arrested on Nov. 29, 2016 after police stopped her vehicle after observing a passenger conducting what officers believed was a drug deal, according to case records. After stopping the vehicle, police said they smelled marijuana, searched the car, and recovered heroin and marijuana. Charges were filed against Collins and the passenger.
"Those drugs were not in that car when we were pulled out, the state dismissed the case against me and my attorneys are reviewing the tapes to see what steps to take next," Collins said in a statement.
As TFTP reported, the existence of the footage was announced Monday by the Baltimore Public Defender's office, who said it "appears to depict multiple officers working together to manufacture evidence."
The office described the footage as a series of body camera videos which show multiple officers thoroughly searching a vehicle — including the driver's side — while turning their cameras on and off in an unexplained way.
"When the cameras come back on one officer is seen squatting by the driver's seat area. The group of officers then wait approximately 30 seconds," the public defender's office said in a statement. "Shortly thereafter, another officer asks if the area by that compartment has been searched. Nobody responds, and the officer reaches in and locates a bag that appears to contain drugs right by where the prior officer was, and where the car had been thoroughly searched about a half an hour prior with absolutely no results."
The Baltimore police department and union are urging people not to rush to judgment over the videos showing cops planting evidence. They have come up with a theory of police officers accidentally failing to turn on their body cameras to catch the original finding of drugs and therefore try to recreate them by putting the drugs back and turning on their cameras. A conspiracy theory indeed.
The Baltimore police department released a statement to the Sun on Tuesday in regard to this theory.
"In light of recent events, you are reminded to activate your body worn camera at the initiation of a call for service or other activity that is investigative or enforcement-related (e.g., crime scene, car stop, or pedestrian stop). If you are on-scene where a search for evidence or property inventory is being conducted, your body worn camera shall remain activated until you leave the scene so as to capture all of the circumstances surrounding the recovery of evidence," Police Commissioner Kevin Davis wrote.
"In the event your body worn camera is not activated during the recovery of evidence, under no circumstances shall you attempt to recreate the recovery of evidence after re-activating your body worn camera."
Judging from the history of the Baltimore police department, we don't buy their re-enactment theory. A department who has been called out by one of their own for illegally shaking down thousands of people, beating innocent women, and even "Pissing and shitting inside suspects homes during raids, on their beds and clothes." is certainly not beyond planting evidence to frame people.
Below are a few of the Tweets from former Baltimore cop, turned whistleblower, Michael A. Wood, about the horrors of what goes on inside the department.
Sadly, it seems Wood's attempt to 'fix' the department have done very little.