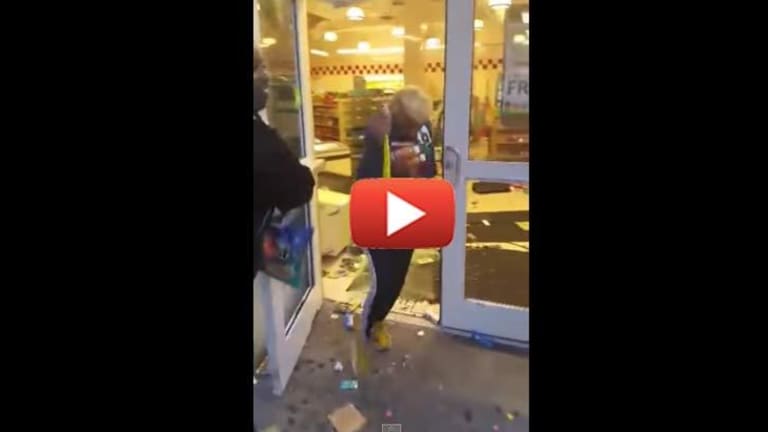 Two Baltimore Law Enforcement Officers Caught on Video Looting 7/11 During April Riots
Two Corrections officers were identified as participants in looting that took place during riots in Baltimore last month.
Baltimore, Maryland - It was reported this week that two Baltimore corrections officers were arrested for looting during the riots that took place last month. According to The Baltimore Sun, Tamika Cobb and Kendra Richard were seen on video looting the now infamous 7-Eleven on W. Baltimore Street.
Both officers were charged with theft and burglary and placed on paid administrative leave. Their bails were set at $35,000.
The video shows Richard holding Slim Jims and Cobb holding a bag of chips.
According to Baltimore Sun:
Public Safety and Correctional Services Secretary Stephen T. Moyer praised investigators for "immediately" following up on a tip that led to the officers' arrest.
The fact that some of the looters are now confirmed as members of law enforcement raises the question of whether or not they were agent provocateurs, sent in to create a pretense for police violence.
Agent Provocateurs are people that work for the police, but pretend to be a part of an anti-establishment crowd. While undercover, these agents commit acts of violence and vandalism to give the police a pretense to use force against the demonstrators. Once the agent smashes one window or throws one rock on behalf of the group they have infiltrated, the authorities are able to send in the heavy guns and turn the protest into a war zone.
"We will not allow the vast majority of our employees who are honest and hardworking to be tainted by the actions of a few," Public Safety and Correctional Services Secretary Stephen T. Moyer said in a statement.
h/t Antimedia.org