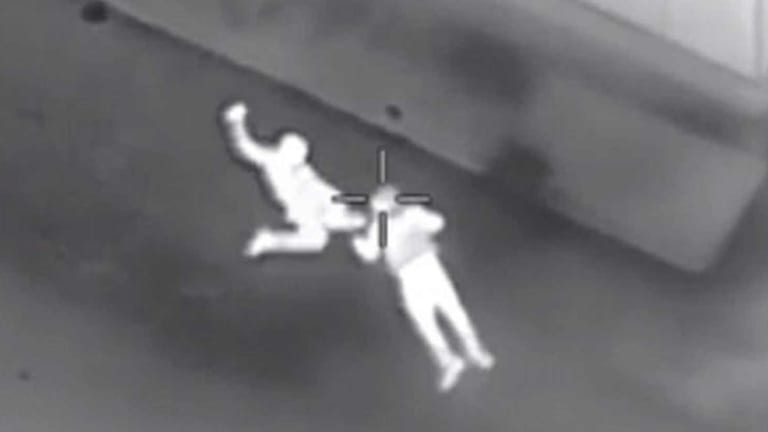 "Good Cop" Praised After Video Showed Him Kick Surrendering Man's Head Like a Football
After a Baltimore cop was found not guilty for kicking surrendering man in the and then spitting on him, he was praised for his "service."
Baltimore, MD — (RT) A Baltimore jury found police officer Christopher Spivey not guilty of assaulting a suspect in an incident caught on police helicopter cameras.
Baltimore County officer Spivey was found not guilty of four counts of second-degree assault on Thursday in a case built around infrared police helicopter footage.
The camera captured the stolen car chase and foot pursuit on January 25. After suspect Diamontae Tyquan Farrar, 20, had surrendered and was on the ground Spivey began kicking him. The officer was accused of excessive assault in the incident.
Video footage played in court on Tuesday shows Farrar running from the crashed car to a parking lot. Baltimore police had reportedly refused to release the helicopter footage before the trial. The footage shows Farrar running in a carpark, where he stops and lies on the ground before the officers reach him. Spivey is seen running to Farrar and kicking him, even as other officers handcuff the suspect. Spivey was also accused of spitting on Farrar. The jury acquitted the officer within half an hour, and thanked the officer for his service after the trial, CBS Baltimore reports.

Farrar, who is serving time for the theft, appeared in court and said he was kicked only twice and that the spit was accidental, and he wasn't injured. The defense argued he hid his hands from police and resisted being handcuffed. The Baltimore City Police helicopter captured the incident, and two officers, Edward Nero and John Bilheimer, testified that they were concerned by the video and decided to report it to their supervisors. Nero was one of the six officers acquitted in the Freddie Gray case. Gray was arrested and fell into a coma in a police van. He died of spinal cord injuries after being shackled in the van without a seatbelt in 2015.

"Four not guilties in less than half an hour, 35 minutes, or whatever. I think it sends a powerful message as to the weight of this, or the merits of this case," defense attorney Brian Thompson told media outside the court.
"We certainly hope that in the future they will investigate these matters more thoroughly before they charge a good cop like Chris Spivey," he added.
"I take my responsibility to police the police very seriously," Baltimore County State's Attorney Scott Shellenberger said after the trial. "I watched that video dozens of times before we made the decision to go forward. My decision will always be made based on the facts and the law."
Spivey was suspended with pay during the trial.